Red wine beef stew is a good, hearty stew with a thick, rich sauce. It has a great flavor and has been one of the family's favorite dinner dishes.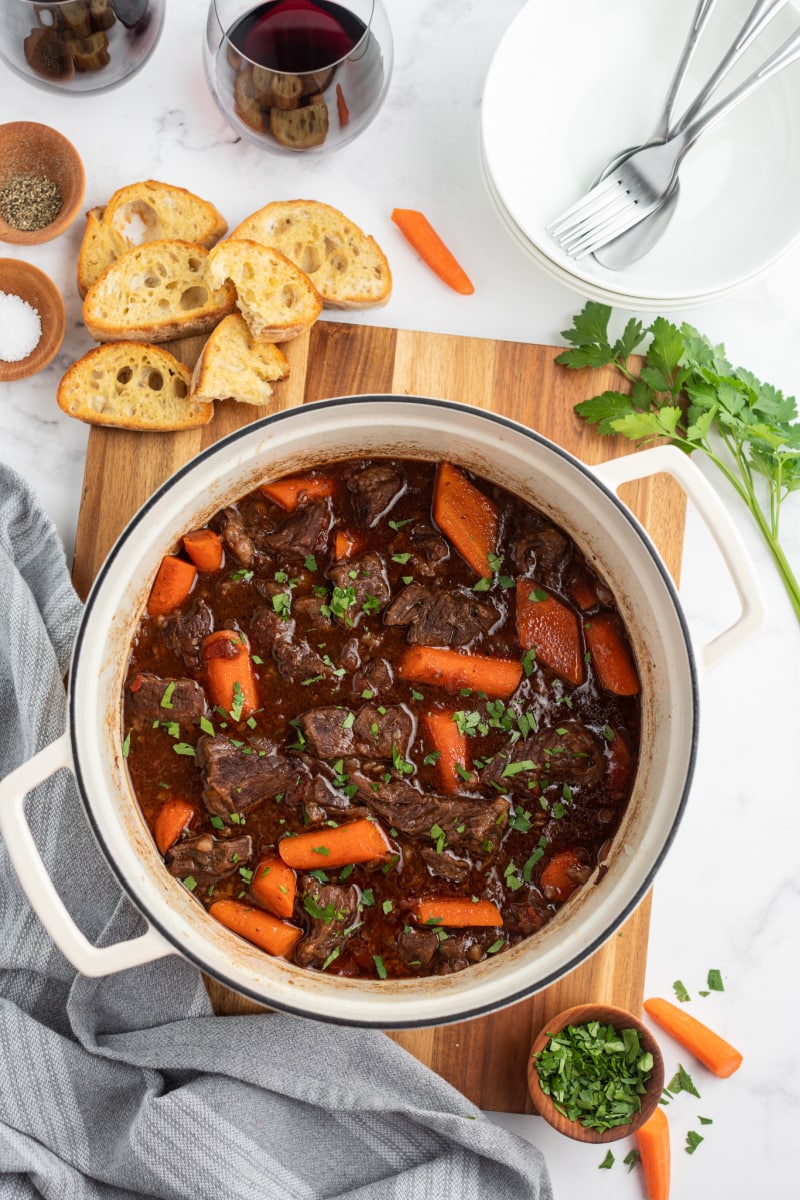 This is a simple recipe to make (from Enjoy your meal magazine), but it does require a bit of care and simmering time. So pick a late afternoon or evening to whip up this red wine beef stew that you can hang out in the kitchen. I suggest doing this on a cold day where you can warm up the kitchen by cooking it on the stove. Put on your favorite movie and enjoy the smell of cooking stew on the stove!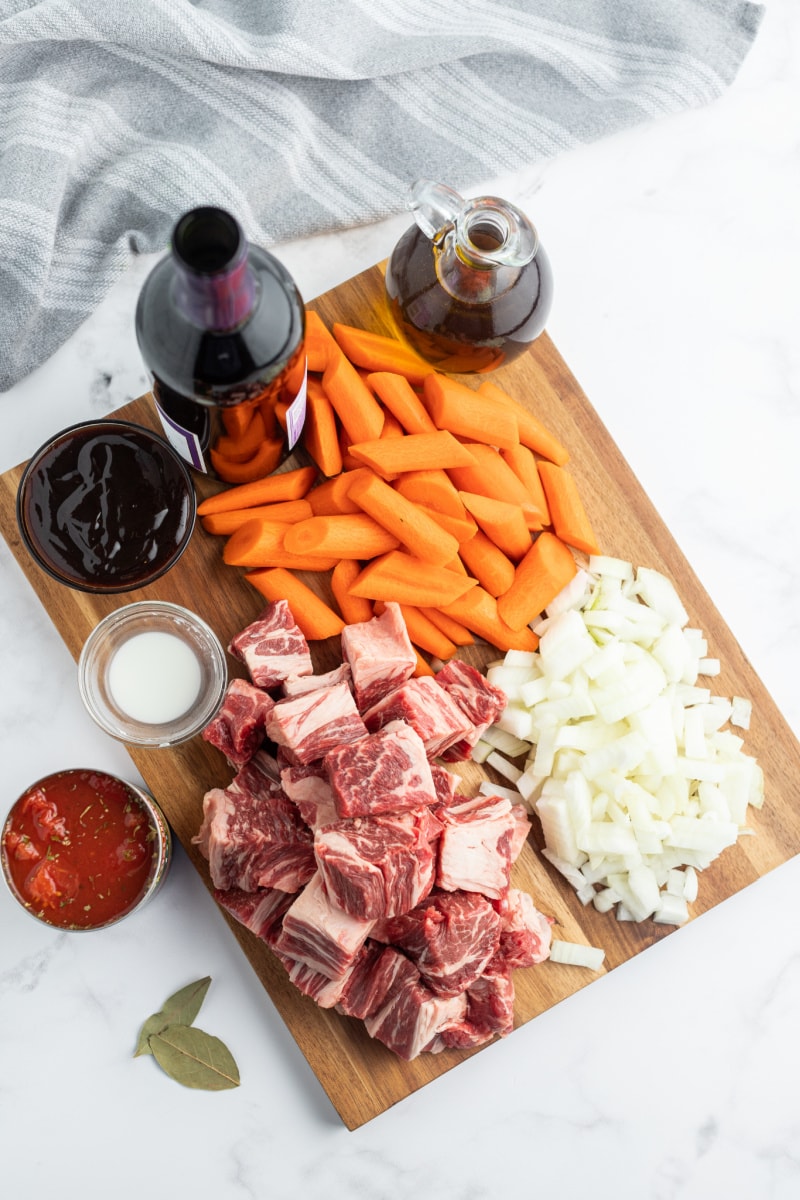 Ingredients needed:
olive oil
beef chuck roast
onions
Cabernet Sauvignon
canned diced tomatoes
hoisin sauce
bay leaves
carrots
cornstarch
Fresh parsley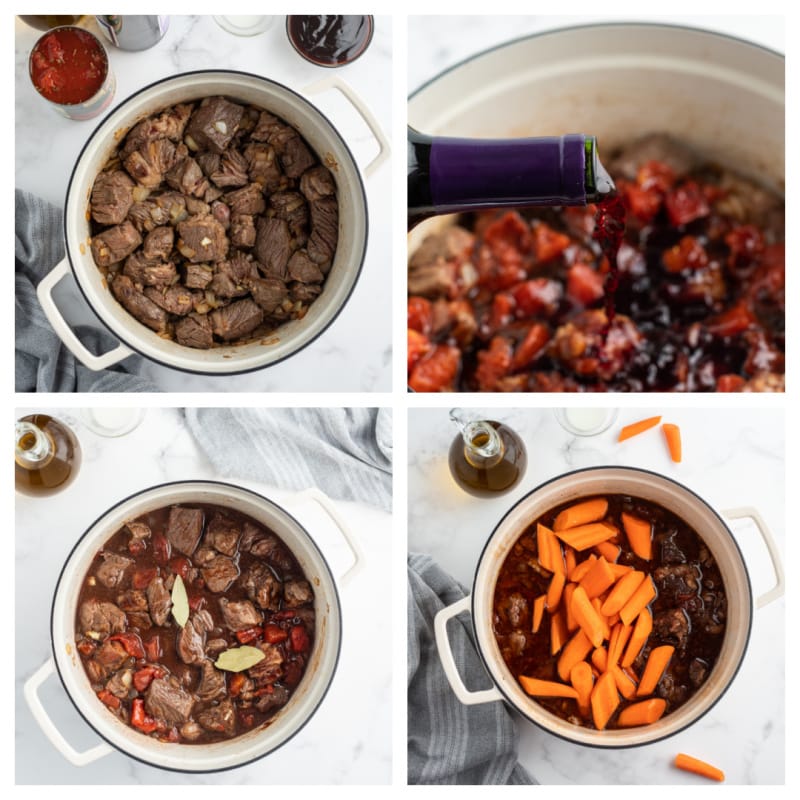 How to make a red wine beef stew:
Heat the oil in a casserole. Brown the beef on all sides. Add more oil and then the onions. Cook the onions until golden brown. Add 1 cup of wine, tomatoes, hoisin sauce and bay leaves and bring to a boil.
Reduce heat to low, cover and simmer for 45 minutes. Add another cup of wine and the carrots. Simmer longer. Add the cornstarch mixture and discard the bay leaves. Season with salt and pepper.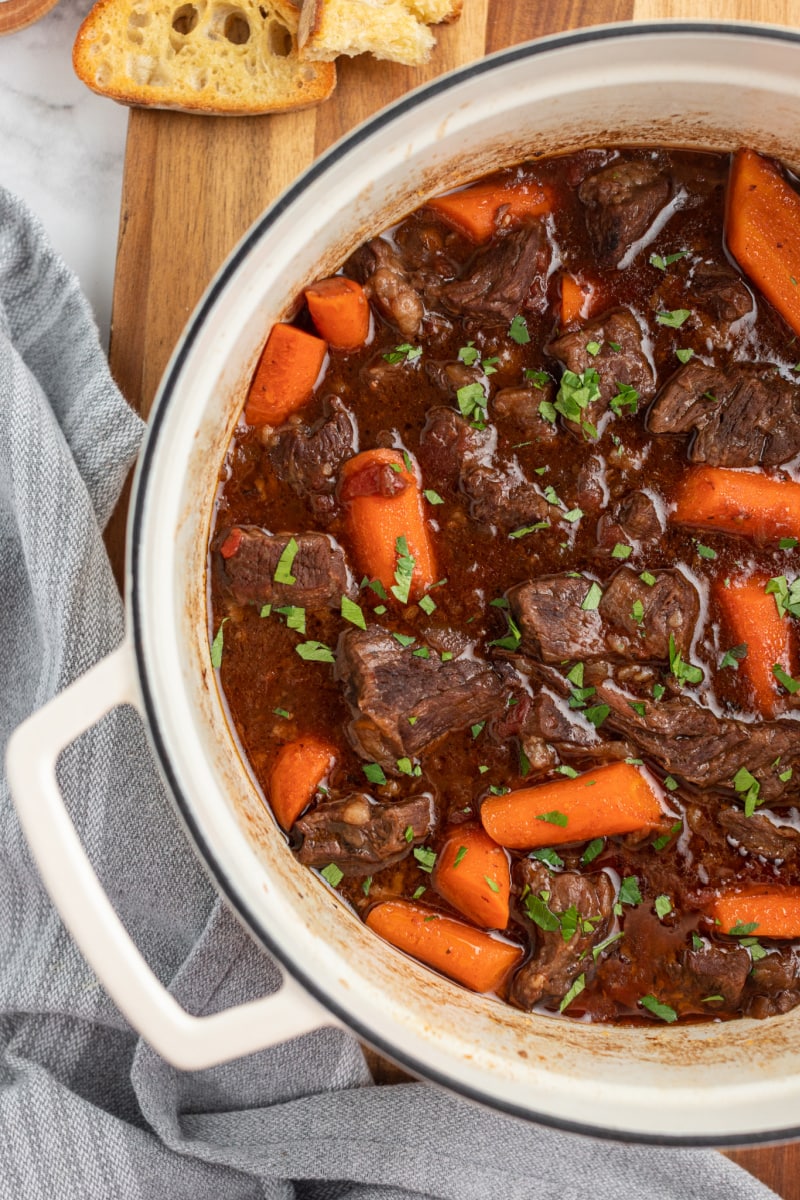 Garnish with fresh parsley. The sauce for this stew turns out to be thick, rich and wonderful. And with all that slow cooking, the beef turns out to be very tender.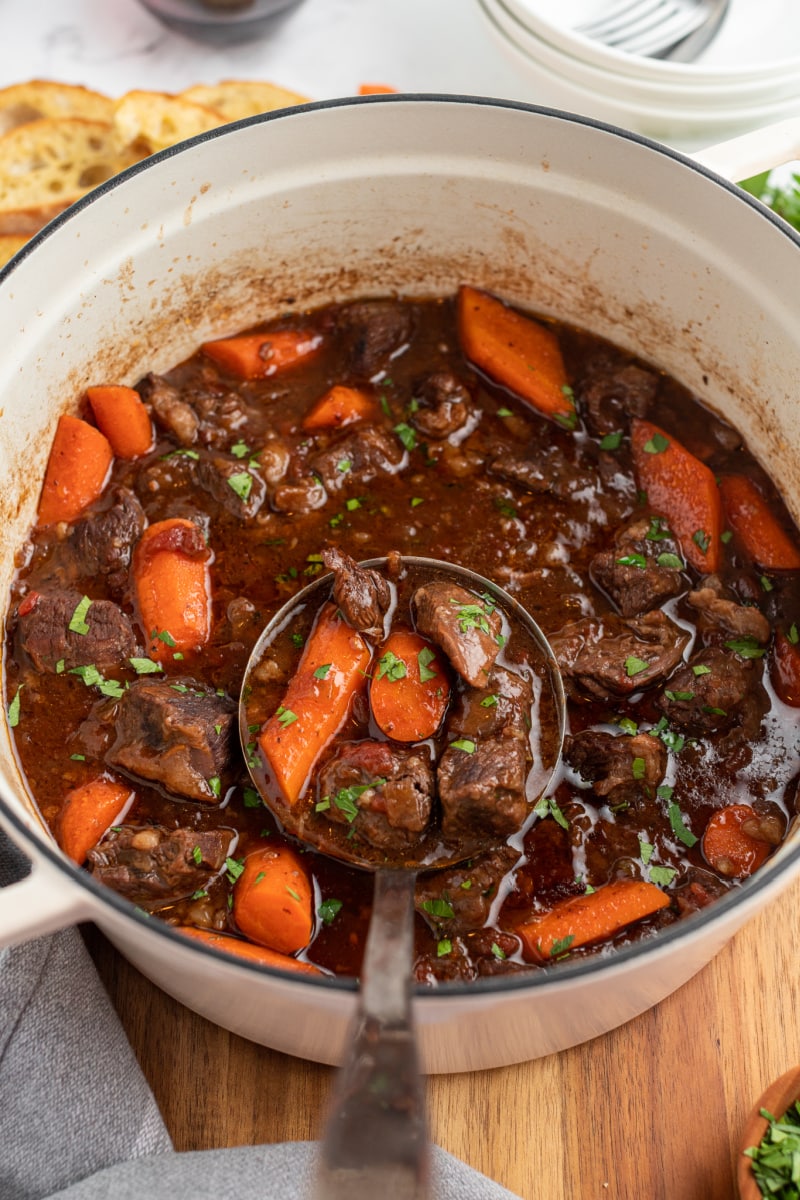 I love serving this red wine beef stew with a generous scoop of horseradish puree. As for the vegetables, a simple green salad and a few garlic bread make this dinner perfect. A good red wine completes this meal!
What is the best red wine to use for cooking beef stew?
Specific flavor notes are lost during the cooking process, so there is no need to use expensive red wine for cooking the stew. I recommend using a mid-priced cabernet sauvignon. You can also use a Pinot Noir or a Merlot. Consider buying two bottles of the same wine so that you can cook with one and drink the other with your stew. If you have any wine left over, use it to make red wine truffles or red wine mushrooms.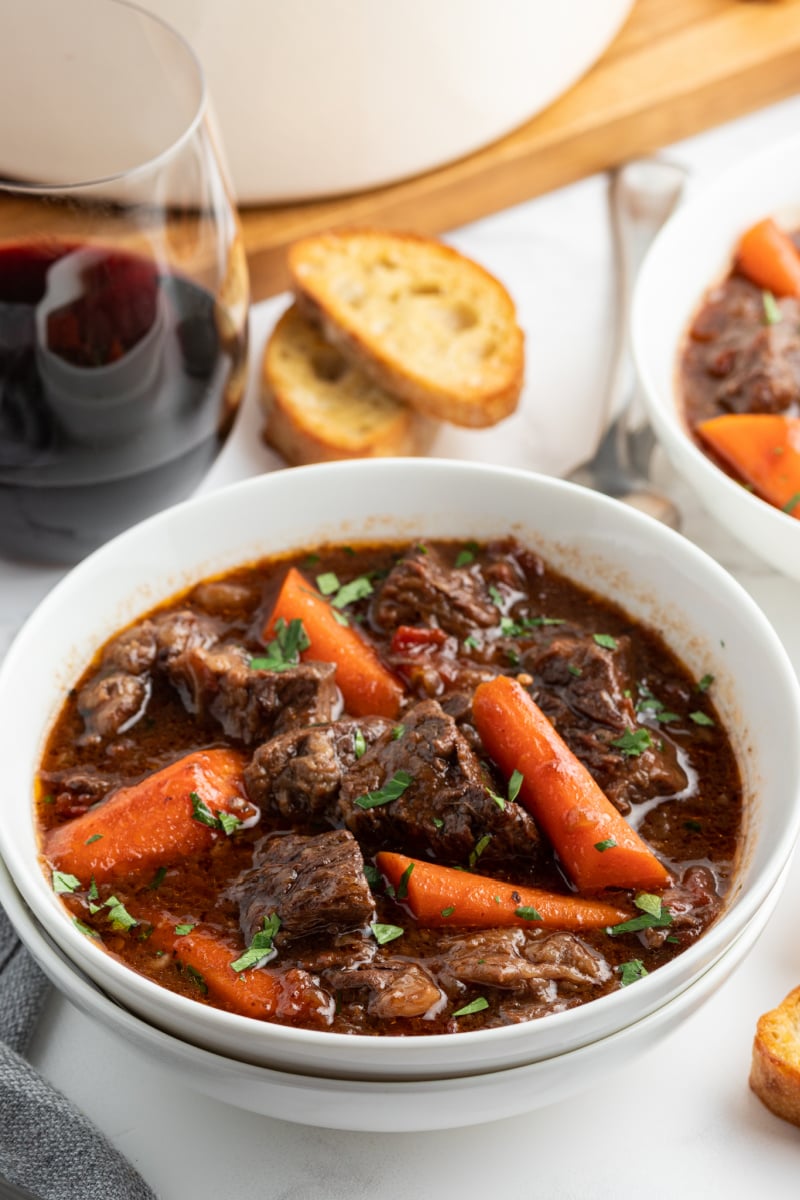 Can you replace red wine with something else?
The red wine helps give this stew its wonderful, rich flavor. If you don't like cooking with alcohol, you can substitute red wine for beef broth.
Red wine beef stew
A nice hearty and comforting beef stew with red wine!
Recipe details
Servings: 6 portions
Calories: 762kcal
Ingredients
4

soup spoons

extra virgin olive oil,

Split

3½

pound sterling

boneless beef blade roast (trimmed),

cut into 2½ inch pieces

3½

cups

diced onions

2

cups

Cabernet Sauvignon,

Split

A

14.5 oz can

Italian diced tomatoes,

undrained

½

Cup

hoisin sauce

2

together

bay leaves

16

ounces

carrots,

peeled and cut diagonally into 1-inch lengths

1

teaspoon

cornstarch

(mixed with 1 tablespoon of water)

2

soup spoons

chopped fresh parsley
Instructions
Heat 2 tablespoons of oil in a large, heavy saucepan over high heat. Sprinkle the beef with salt and pepper. Add the beef to the pot; sauté until golden brown on all sides, about 10 minutes. Push the meat to the sides of the pan. Reduce the heat to medium; add an additional 2 tablespoons of oil to the pot. Add the onions; sauté until golden, about 15 minutes. Mix the meat with the onions. Add 1 cup of wine, the tomatoes with their juice, the hoisin sauce and the bay leaves. Bring to a boil.

Reduce the heat to low, cover the pot and simmer for 45 minutes, stirring occasionally. Add the carrots and the last cup of wine. Cover; simmer 30 minutes, stirring occasionally. Uncover, increase the heat to high; boil until sauce thickens slightly, stirring occasionally, about 15 minutes more. Reduce the heat to medium, add the cornstarch mixture and simmer until the sauce thickens, stirring occasionally, about 8 minutes. Discard the bay leaves. Season the stew with salt and pepper. Transfer the stew to a large bowl. Sprinkle with parsley; to serve.
Remarks
MOVE AHEAD: Can be done 1 day in advance. Cool slightly. Refrigerate uncovered until cold, then cover and store in the refrigerator. Bring to a boil before serving, stirring occasionally.
* Hoisin sauce is available in the Asian food section of most supermarkets.
* Save time (and tears) chopping onions in a food processor.
Nutrition
Portion: 1portion, Calories: 762kcal, Carbohydrates: 32g, Protein: 54g, Large: 41g, Saturated fat: 15g, Trans fat: 2g, Cholesterol: 183mg, Sodium: 739mg, Potassium: 1422mg, Fiber: 5g, Sugar: 15g, Vitamin A: 12880UI, Vitamin C: 20mg, Calcium: 125mg, The iron: 7mg