This baked cauliflower mac and cheese recipe is the BEST way to eat your veggies! A creamy and gooey cheese sauce coats the tender cauliflower florets.
I don't think any recipes can be more fun than this cauliflower mac and cheese. It's delicious, heartwarming, and completely ironic. You won't find "macaroni" here, nor "cheese". What you will find is a bunch of cauliflower coated in a gooey, creamy vegan cheese sauce and baked with crispy panko breadcrumbs on top.
If you are skeptical, don't be. This cauliflower mac and cheese is surprisingly addicting. The first time I did it, I used a small scoop. A few minutes later, I returned for another… and another… and another. Of course, it's not exactly like the classic mac, but it ticks off the same cozy, "cheesy" boxes. I can't get enough of it, and I don't think you will be able to either.
Cauliflower Mac and Cheese Recipe Ingredients
You just need a handful of ingredients to make this Cauliflower Mac and Cheese Recipe:
Cauliflower, of course! Look for a fairly large cauliflower head, just over 2 pounds. For this recipe, be sure to break it into small florets, about the size of a macaroni.
Vegan Cheese Sauce – This creamy, gooey sauce looks like it's made with cheddar cheese, but I promise it's totally dairy free! Its rich and creamy texture comes from a mixture of potatoes, sweet potatoes and cashews. Nutritional yeast adds a delicious cheesy flavor.
Smoked paprika and cayenne pepper – I incorporate them into the cheese sauce for a smoky and spicy kick.
And panko breadcrumbs – For the crunch! To prepare this gluten-free recipe, use gluten-free panko.
Find the full recipe with the measurements below.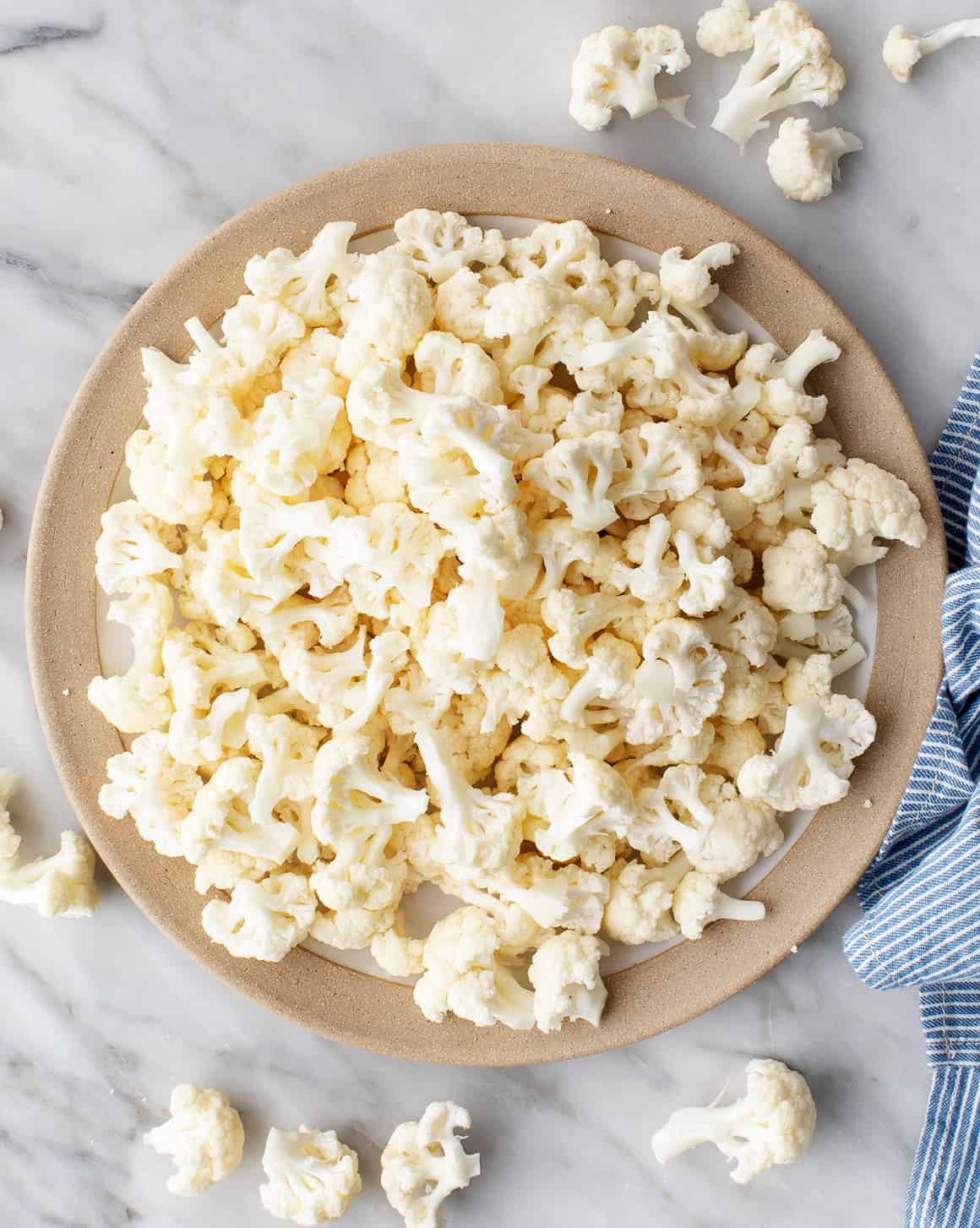 How to make cauliflower macaroni
This cauliflower mac and cheese recipe is super easy to make! Here is how it goes:
Start by making the cheese sauce. Mix the ingredients for the vegan cheese sauce, adding an additional clove of garlic, smoked paprika, cayenne pepper and salt to enhance the flavor. Season to taste and set aside.
Then cook the cauliflower. Place the florets in a large pot of salted boiling water and cook for 5 minutes.
Then fold the cooked cauliflower in the cheese sauce. When the cauliflower is tender, drain it and transfer it to a large bowl. Pour in the cheese sauce and stir until the florets are evenly coated.
So creamy!
Finally, grill. Transfer the cauliflower mac and cheese to a baking dish and sprinkle with the panko. Grill until the filling is lightly browned.
Enjoy!
Serving suggestions of cauliflower mac and cheese
This "mac n cheese" is fantastic as is, but don't hesitate to serve it with a little extra cheese (or "cheese"). I love topping mine with vegan Parmesan, and Jack always showers it with freshly grated Parmesan. We both sprinkle fresh parsley on top.
Enjoy this recipe as a full-fledged light meal, with a piece of crusty bread or focaccia to sip on the cheese sauce at the bottom of your bowl. It is also a delicious side dish. Serve it with your favorite protein, veggie chili, tomato soup or a baked potato with all the fixings.
More Favorite Comfort Food Recipes
If you like this recipe, then try one of these healthy comfort foods:
Do you like cauliflower? Find more of my best cauliflower recipes here!
Mac and cheese and cauliflower
Preparation time: ten minutes
Cooking time: 20 minutes
Serves 4
This cauliflower mac and cheese recipe is so fun and delicious! Much like regular mac and cheese, it's creamy and comforting, but it's made with veggies instead of pasta.
1

Recipe

Vegan cheese sauce

1

extra garlic clove

½

teaspoon

additional sea salt

Heaping ¼ teaspoon smoked paprika

Pinch

from Cayenne

1

big cauliflower

,

a little over 2 pounds broken into ½ inch florets

¼

Cup

panko breadcrumbs

Parmesan or vegan parmesan

, to serve, optional
Prepare the cheese sauce according to this recipe, incorporating the extra garlic clove, the extra ½ teaspoon of salt, smoked paprika and cayenne pepper.
Preheat the broiler.

Bring a large pot of salted water to a boil and boil the cauliflower florets for 5 minutes. Drain and transfer to a large bowl. Stir in cheese sauce and toss to coat. Transfer to an 8 x 8-inch baking dish and top with panko. Grill for 2 minutes or until topping is lightly browned. Remove from oven and serve with Parmesan or vegan Parmesan, if desired.