December 4, 2020
Fluffy gnocchi, garlic cream sauce, tender and juicy chicken thighs and sneaky kale? Yes, 1000% yes.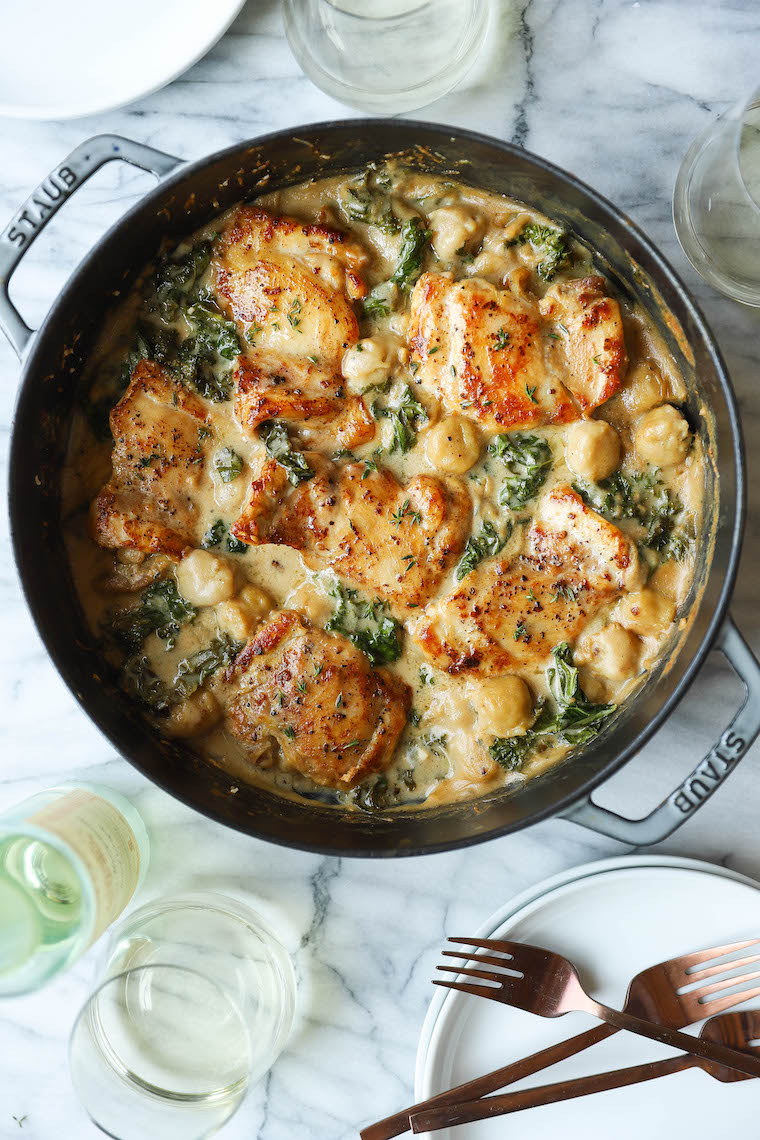 If you need one of those nights with a tall glass of white wine (which you can also use in this recipe) and the best kind of comfort food you can eat in the most comfy sweatpants, this is for you.
It's filling, it's comfortable and it's super easy to prepare.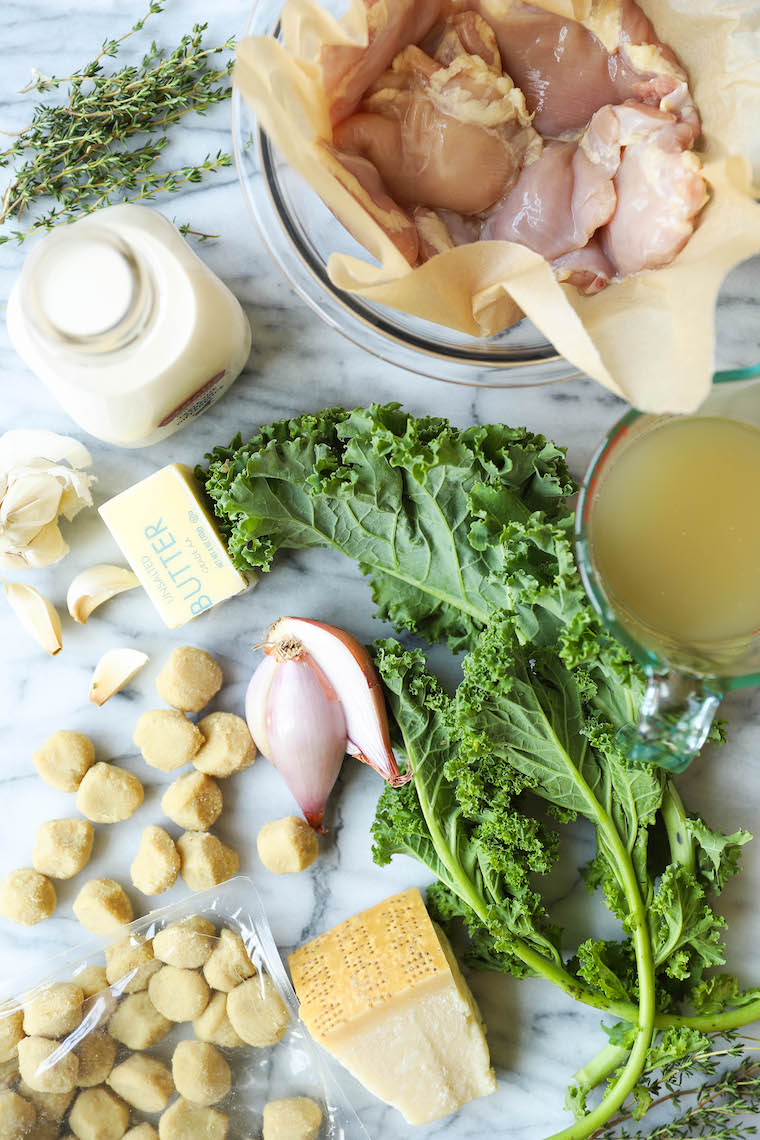 You can now use store-bought cauliflower potato gnocchi (I used the one from Whole Food's here – it seemed a lot lighter and less dense than the regular gnocchi type), or you can put in the effort. extra and use the homemade gnocchi recipe here.
EVERYTHING IS FINE. There is absolutely no wrongdoing here. Just know that the cream sauce is absolute perfection.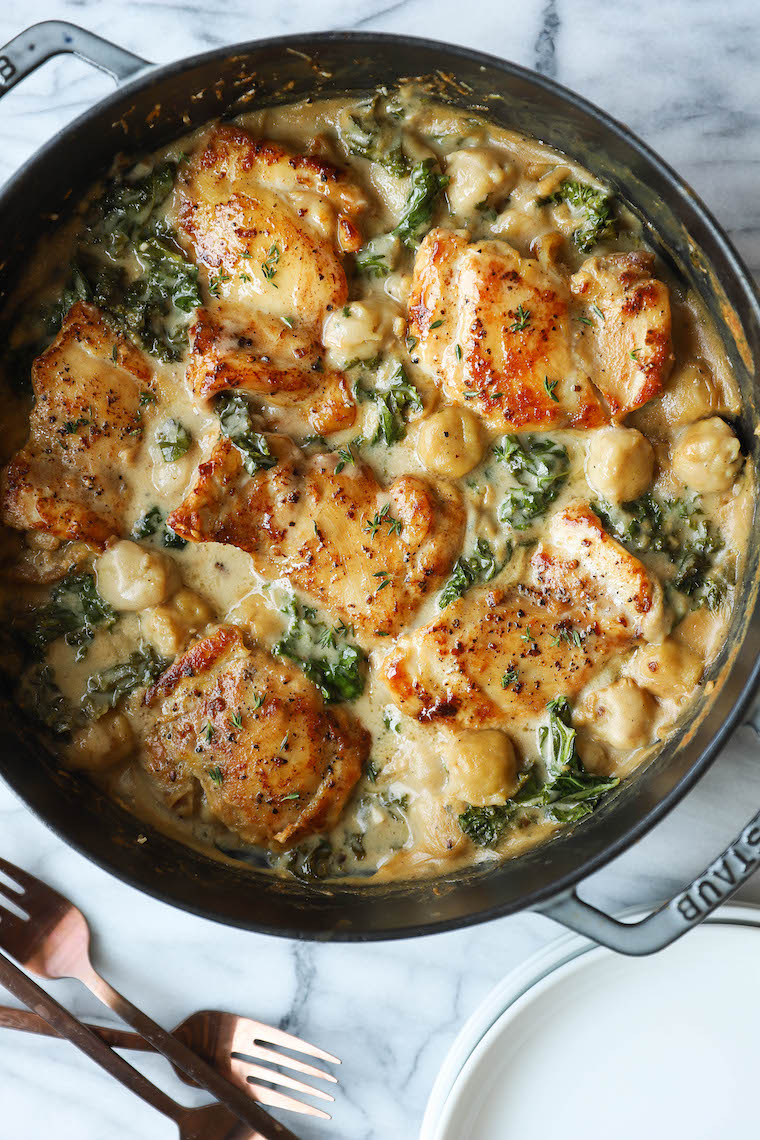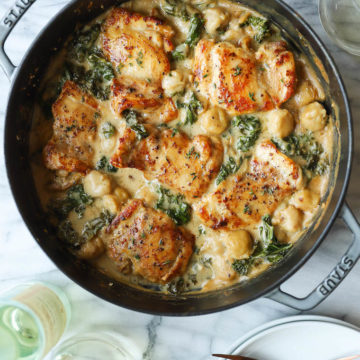 Creamy Chicken and Gnocchi
Fluffy gnocchi, garlic cream sauce, tender and juicy chicken thighs and sneaky kale? Yes, 1000% yes.
Entrance
Creamy Chicken and Gnocchi
20 minutes40 minutes
Chungah rhee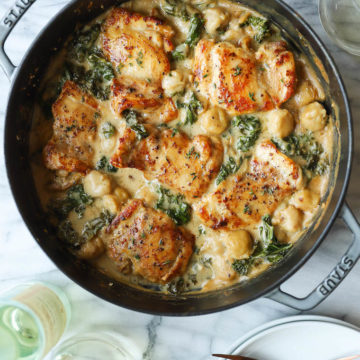 Ingredients:
1 pkg. (16 ounces) cauliflower potato gnocchi
1 1/2 pounds boneless, skinless chicken thighs
Kosher salt and freshly ground black pepper, to taste
5 tablespoons unsalted butter, divided
1 medium shallot, diced
3 garlic cloves, minced
2 teaspoons of chopped fresh thyme leaves
3 tablespoons all-purpose flour
1 1/4 cup chicken broth
1/4 cup dry white wine *
1/2 cup half and half
1 bunch of kale, stems removed and leaves torn into bite-size pieces
1/2 cup freshly grated Parmesan, about 2 ounces
Instructions:
Preheat the oven to 400 degrees F.
In a large pot of salted boiling water, cook the gnocchi according to package directions; drain well.
Season the chicken with 3/4 teaspoon of salt and 1/2 teaspoon of pepper.
Melt 2 tablespoons of butter in a large skillet over medium heat.
Working in batches, add the chicken to the pan in a single layer and cook until golden brown and cooked through, reaching an internal temperature of 165 degrees F, about 4 to 5 minutes per side; put aside.
Melt the remaining 3 tablespoons of butter. Add the shallot and cook, stirring frequently, until tender, about 3 to 5 minutes. Stir in garlic and thyme until fragrant, about 1 minute.
Stir in flour until lightly browned, about 1 minute.
Gradually stir in chicken broth and wine and cook, whisking constantly, until mixture thickens slightly, about 3-5 minutes. Stir in half and half until thickened, about 1 to 2 minutes; Season with salt and pepper to taste.
Stir in gnocchi and kale until cabbage is wilted, about 1 to 2 minutes. Return chicken to skillet; sprinkle with Parmesan.
Place in the oven and cook until bubbly, about 10-12 minutes.
Use immediately.
Notes:
* Additional chicken broth can be used for white wine as a non-alcoholic substitute.
Did you make this recipe?
Label @damn_delicious on Instagram and hashtag #damndelicious.