Mini Chicken Pies are the perfect portioned dishes of that favorite comforting pie.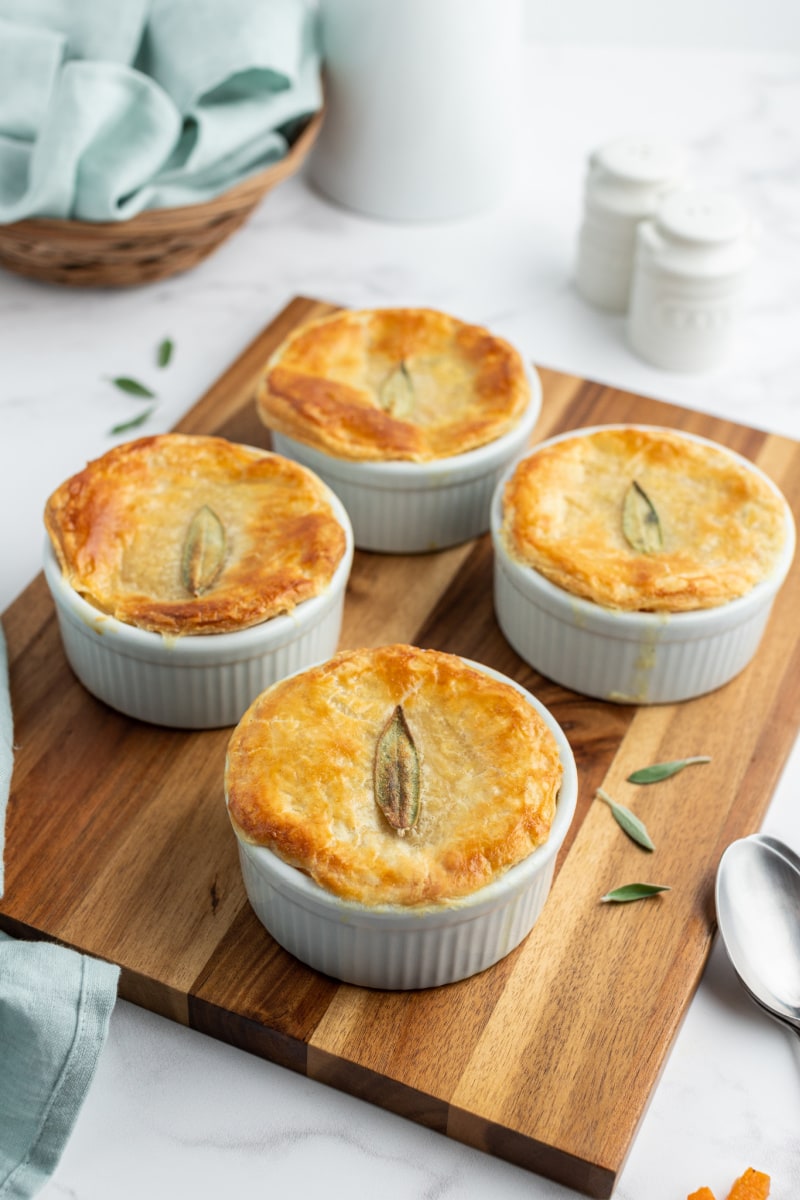 Making mini chicken pies is a great use of leftover roast chicken with added roasted veggies, a light creamy sauce, and puff pastry. When you buy or make a roast chicken for dinner, use your fingers to go in and get the leftovers of that chicken and save it for this recipe! Alternatively, you can use grated turkey instead of chicken.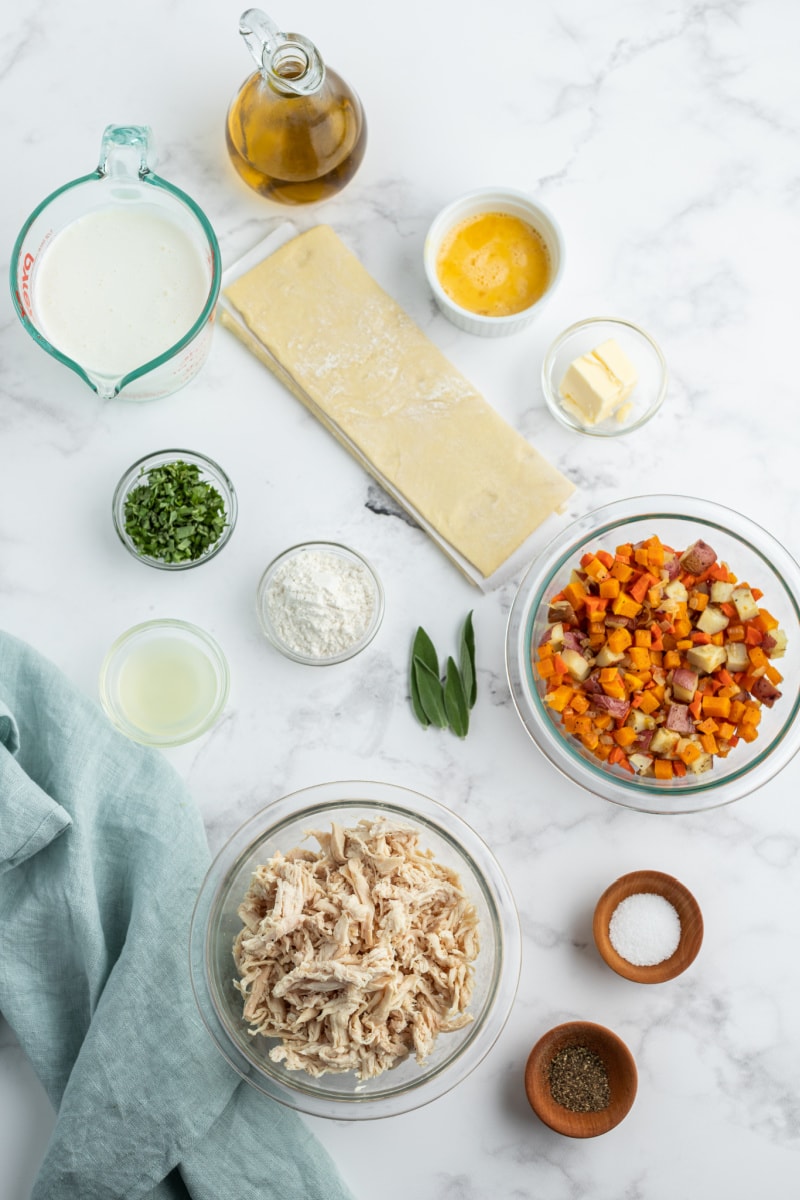 Ingredients needed:
butternut squash
onion
carrot
Potato
olive oil
butter
puff pastry
flour
Milk
lemon juice
shredded chicken
fresh basilic
fresh sage
egg white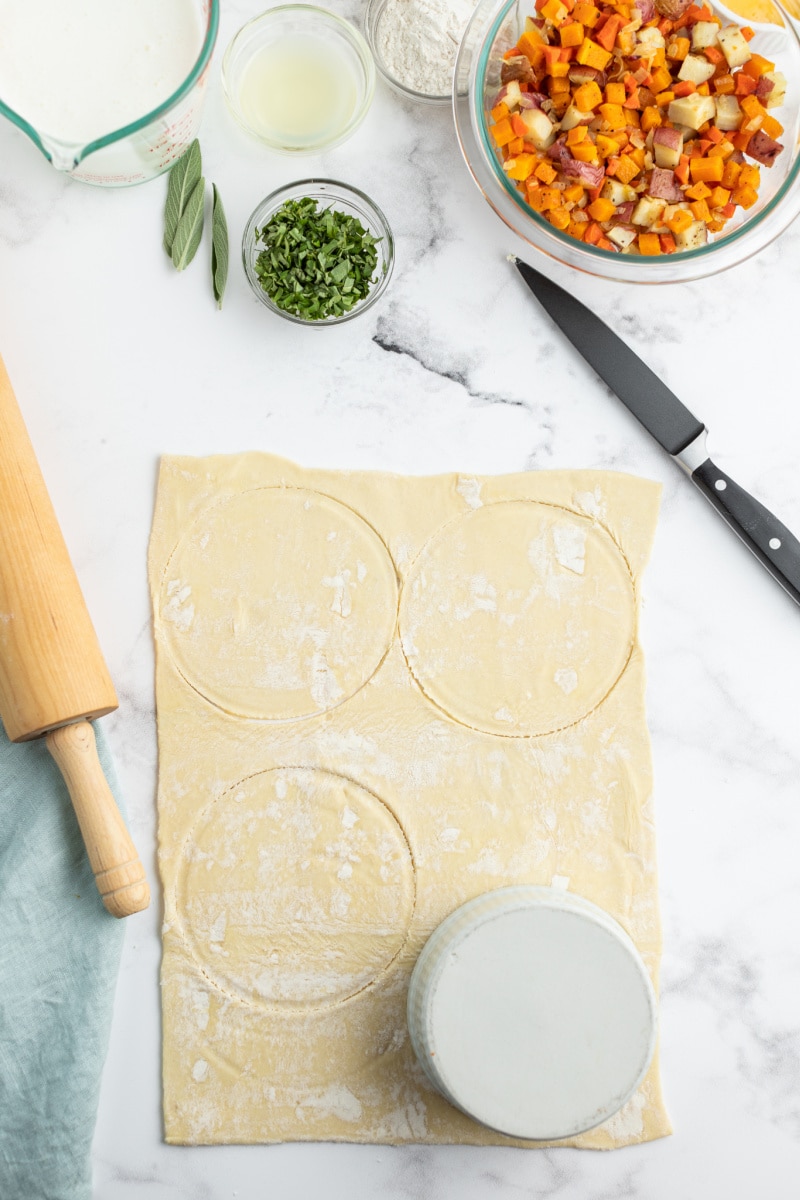 How to make mini chicken pies:
The first thing you will do in this recipe is roast the vegetables. The vegetables are mixed with olive oil and a pinch of salt and pepper. They are roasted for about 25 minutes, until softened.
Use small baking dishes or 8 oz ramekins cut circles in the puff pastry. This will be the top crust of these mini chicken pies.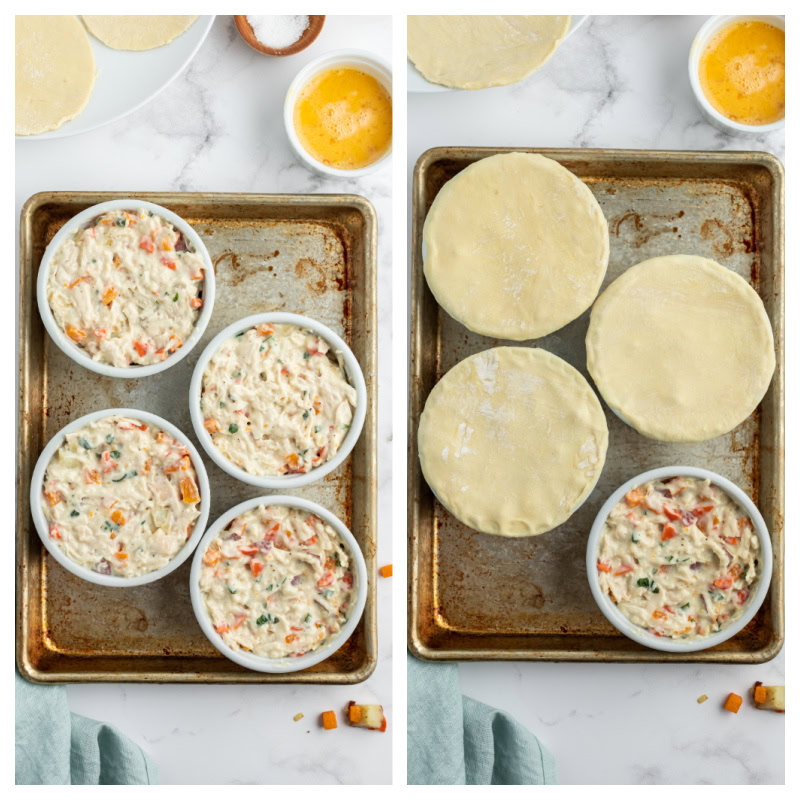 The next step is to prepare the white sauce. Butter and oil are heated with flour and milk. Lemon juice, roasted vegetables, chicken, fresh basil, salt and pepper are mixed together to complete the filling of the mini chicken pies. The filling is poured into the dishes. The dough rings are positioned on top and pressed around the edges to seal.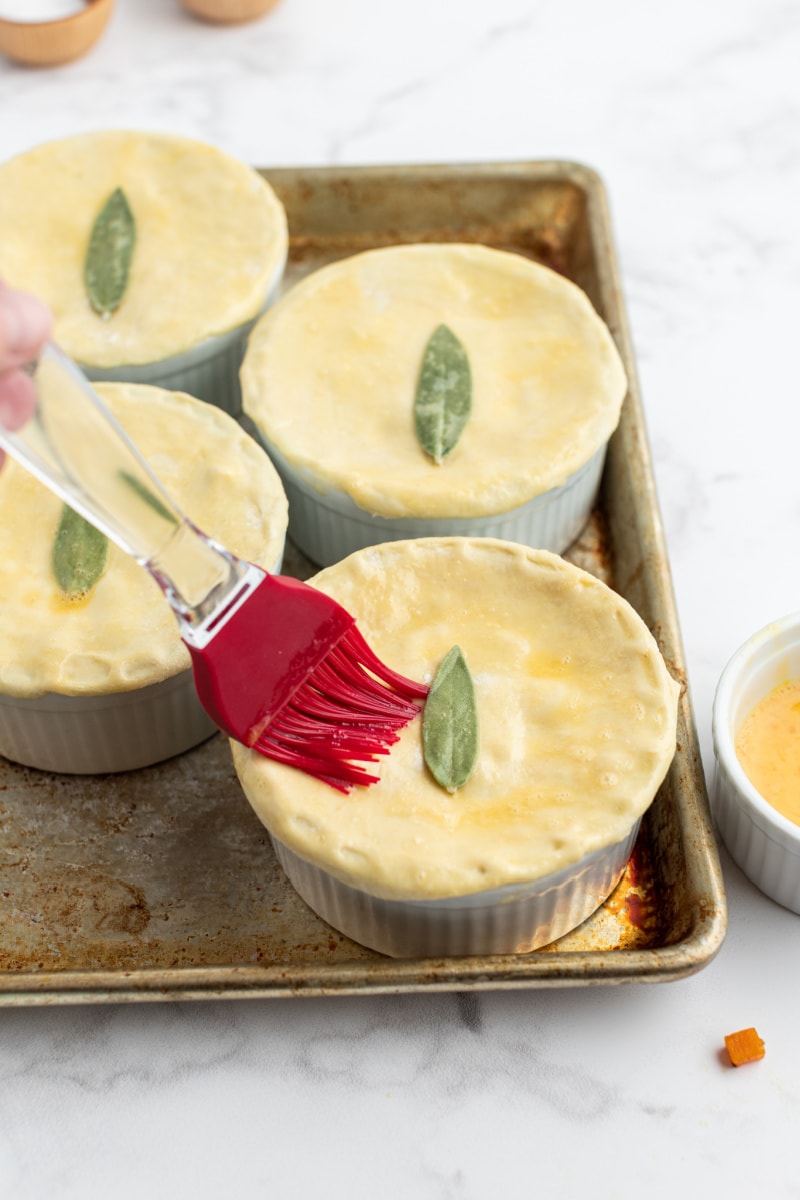 A fresh sage is placed on the dough, then an egg wash is brushed on top.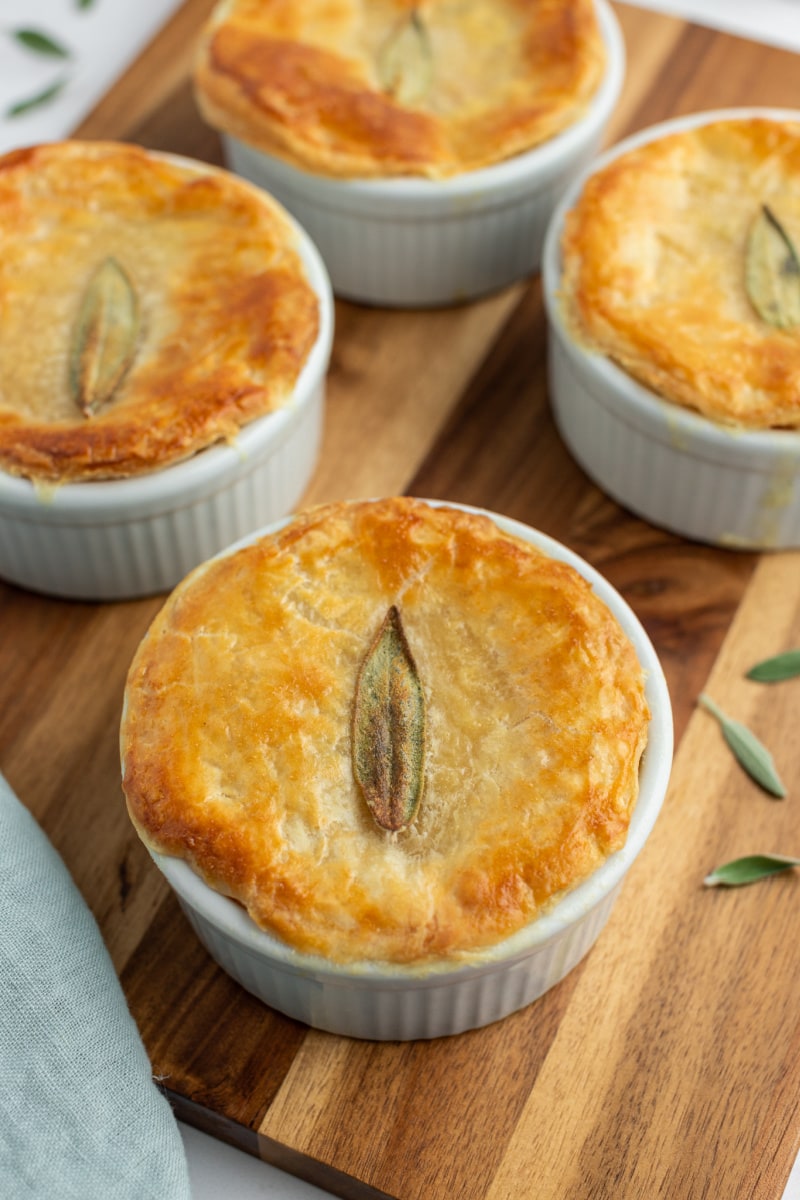 These little pies are baked until the puff pastry is golden brown and the filling is very hot.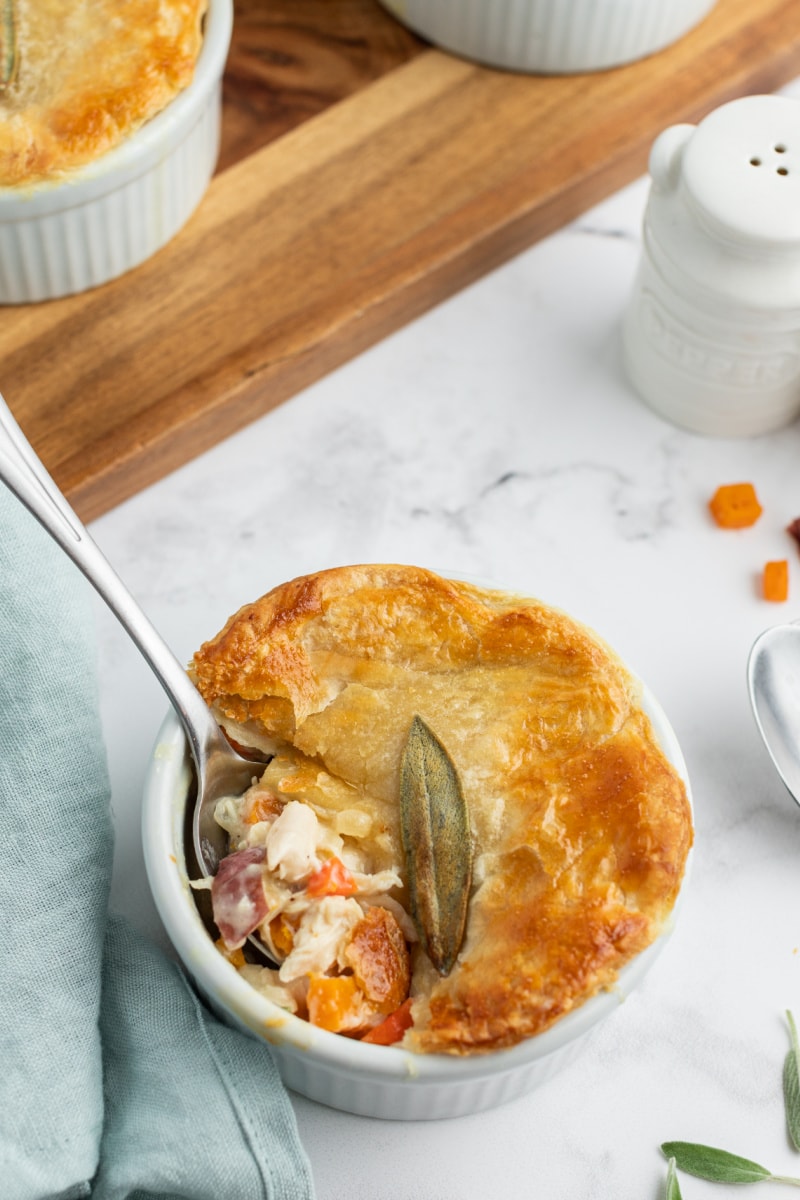 They are delicious and comforting dishes. The serving size means you won't overeat! Serve these pâtés in a jar with a nice green salad and chilled white wine. Enjoy!
Mini Chicken Pies
Personal portions of your own baked chicken pie!
Recipe details
Servings: 4 portions
Calories: 659kcal
Ingredients
ROASTED VEGETABLES:
1½

cups

finely chopped butternut squash

½

Cup

finely chopped onion

½

Cup

finely chopped carrot

1

Cup

finely chopped red potatoes

1

teaspoon

olive oil

salt and pepper
POTTED TARTS:
1

leaf

frozen puff pastry,

thawed

2

coffee spoons

Unsalted butter

2

coffee spoons

olive oil

3

soup spoons

all purpose flour

2

cups

2% milk

2

soup spoons

freshly squeezed lemon juice

2

cups

shredded chicken

roasted vegetables (above)

¼

Cup

chopped fresh basil

½

teaspoon

salt

¼

teaspoon

freshly ground black pepper

4

together

fresh sage leaves

1

big

egg white,

beaten
Instructions
MAKE THE ROASTED VEGETABLES:
In a medium bowl, toss the squash, onion, carrot and potatoes with the olive oil and a generous pinch of salt and pepper. Spread out on the baking sheet and roast, 20 to 30 minutes, until tender. Take out of the oven and let cool down. Increase the oven temperature to 425 degrees F.
ASSEMBLE THE POT PIES:
On a work surface, roll out the puff pastry ¼ inch thick and cut into 4 rounds or squares (6 inches), depending on the shape of your 1-cup baking dishes. Use the dish to turn the dough over and cut the circles a little larger than the dish. Keep dough covered and refrigerated until ready to use.

In a medium saucepan, melt butter and oil over medium heat; add the flour and cook for 1 minute, whisking constantly. Add milk slowly, whisking constantly; bring the mixture to a boil. Simmer for about 5 minutes or until thickened. Stir in the lemon juice, chicken, roasted vegetables, basil, salt and pepper. Pour the mixture into small ovenproof dishes. Line the bowls with the dough, pressing against the outer edges of the dishes to seal them. Place a sage leaf on each pastry and brush with egg white.

Bake the pies on a baking sheet on the middle oven rack for 15 to 17 minutes, or until the pastry is golden brown. Serve hot.
Remarks
* Change the roasted vegetables as you like, trying things that suit your taste.

* Substitute turkey for the chicken if desired.
Nutrition
Portion: 1pie, Calories: 659kcal, Carbohydrates: 51g, Protein: 29g, Large: 38g, Saturated fat: 11g, Trans fat: 1g, Cholesterol: 67mg, Sodium: 583mg, Potassium: 749mg, Fiber: 3g, Sugar: teng, Vitamin A: 8548UI, Vitamin C: 18mg, Calcium: 202mg, The iron: 3mg