These Pineapple muffins are one of my favorite muffin recipes. Spotting pineapple in a muffin isn't super ordinary, and that's what I love about them. They are perfectly sweet and tropical!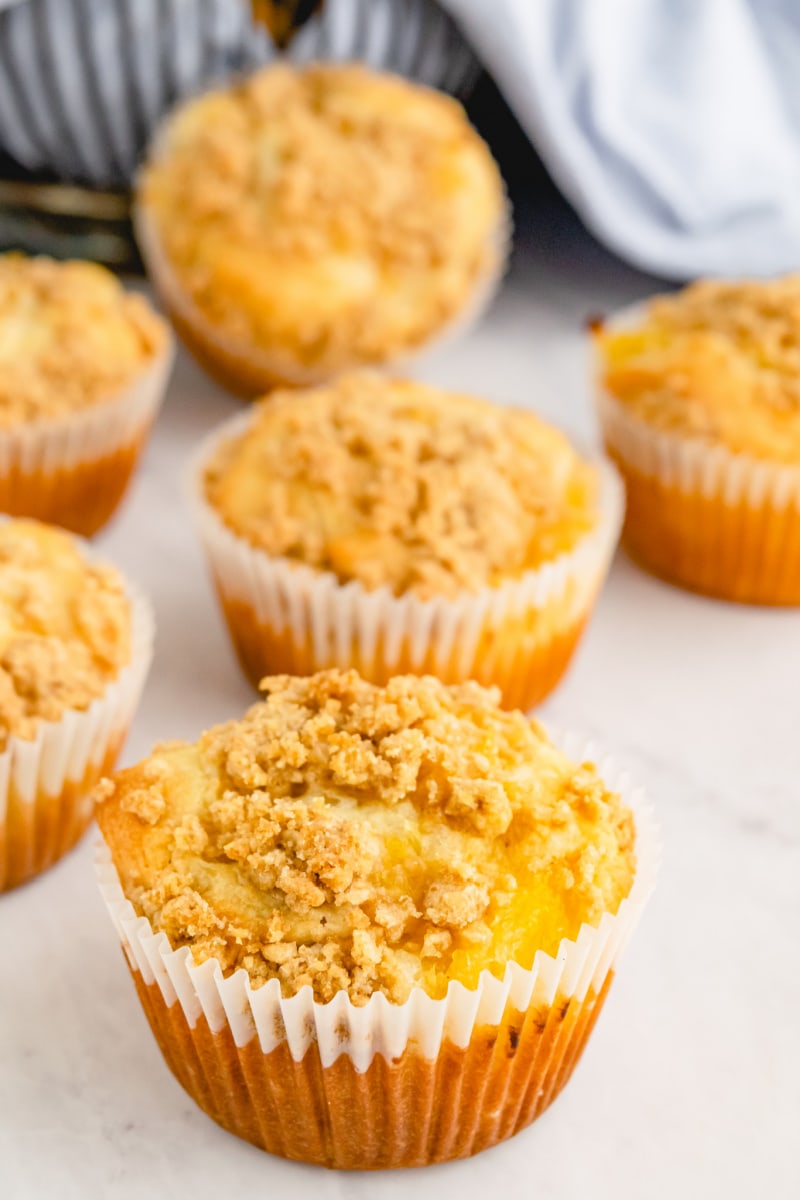 Muffins are the best type of breakfast on the go. And it's nice that they're individually proportioned so you get a treat, but you don't overdo it. You don't often see pineapple muffins for sale unless you're in a tropical location. If you love pineapple, you'll probably like to have a little pineapple in this sweet muffin recipe.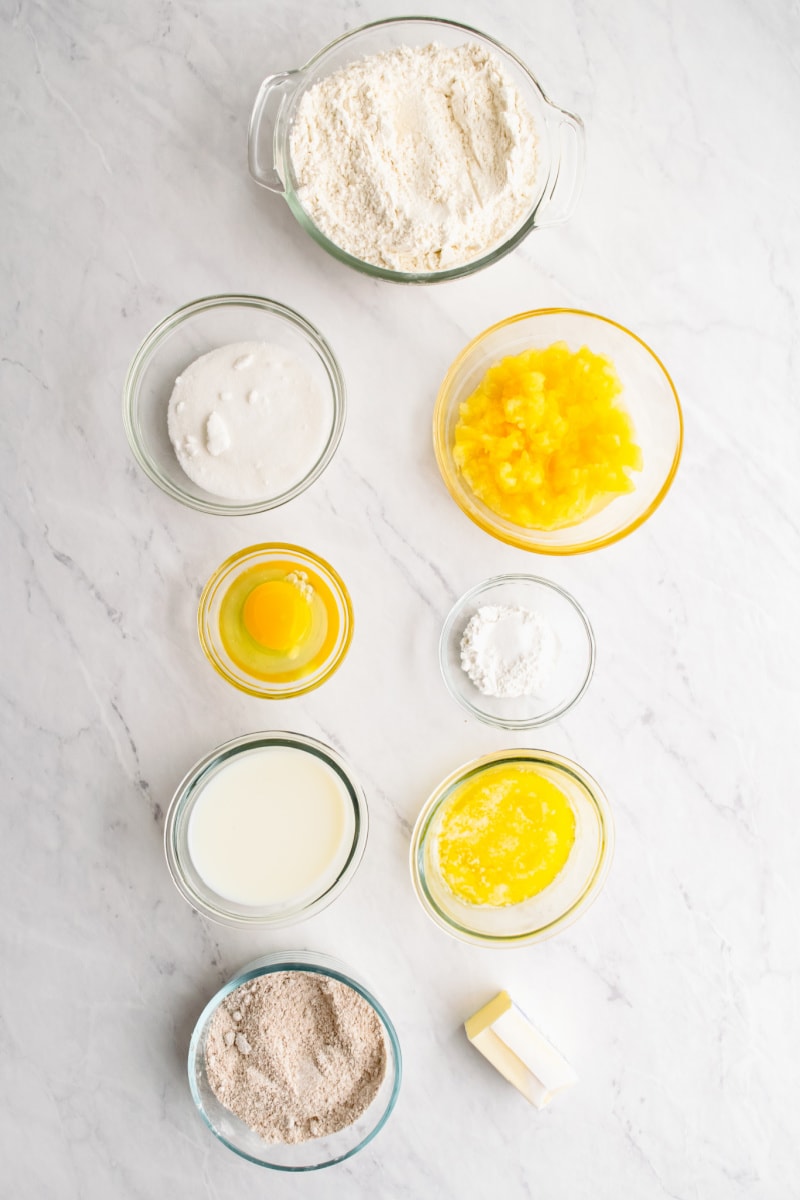 Ingredients needed:
all purpose flour
granulated white sugar
brown sugar
baking powder
Cinnamon
canned crushed pineapple
Egg
Milk
butter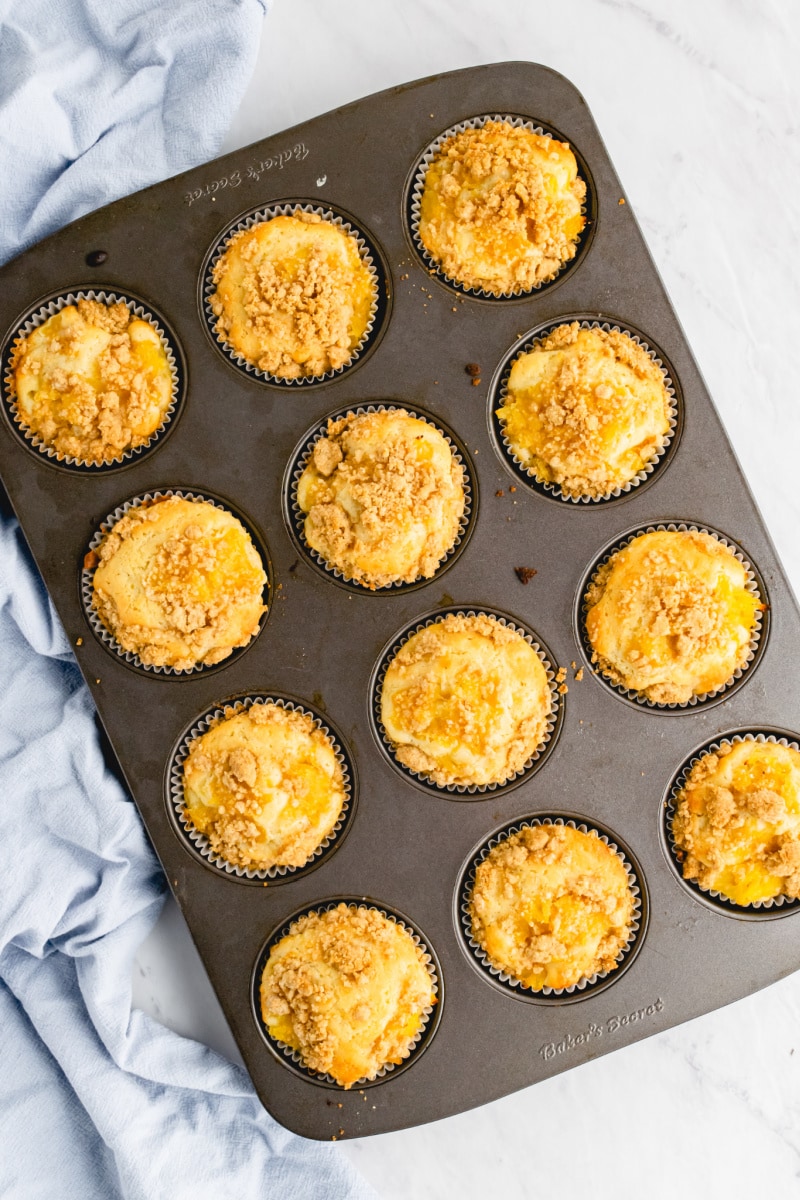 How to make pineapple muffins:
Drain an 8 ounce can of crushed pineapple, save 1/4 cup of juice and reserve 2 tablespoons of pineapple.
Whisk together the dry ingredients (flour, sugar, baking powder and salt) in a bowl. In another bowl, combine most of the pineapple, pineapple juice, milk, egg and melted butter. Stir the wet ingredients into the dry ingredients.
Scoop or spoon the batter into the muffin pan. Divide the batter evenly among 12 muffin cups. Place some of the reserved pineapple on each cup of muffin batter.
Combine the filling ingredients and cut the butter to create a crumbly mixture. Pour the filling over each muffin pan. Bake 25 to 30 minutes until cooked through.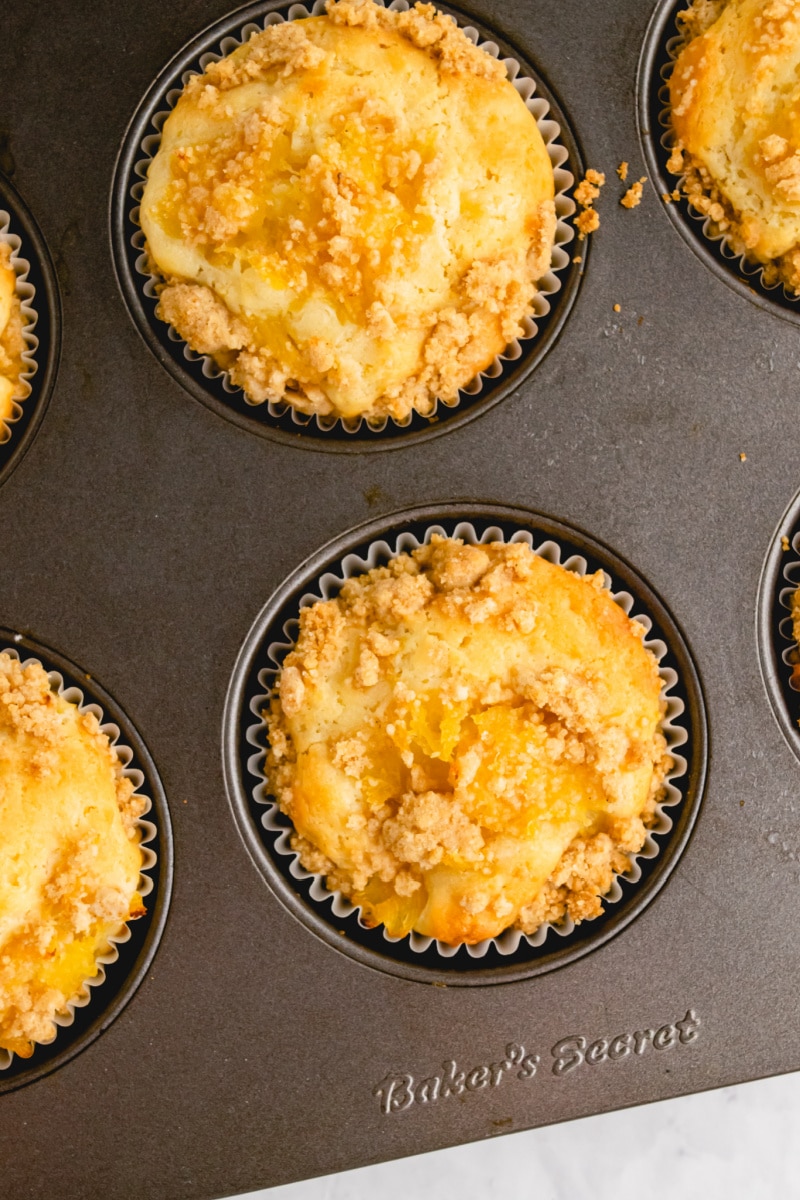 The best muffin tins:
The Wilton Perfect Results Muffin Tins are my favorites. The muffins come out of the molds without sticking. I have two, which can make 24 muffins or cupcakes. Whether or not you want to use paper liners is up to you.
NOTE: I am using a spring shovel to distribute pineapple muffin batter evenly among muffin cups. It's so easy to recover and release. There is less mess and it's easier to pick up the dough evenly so that all the muffins are the same size.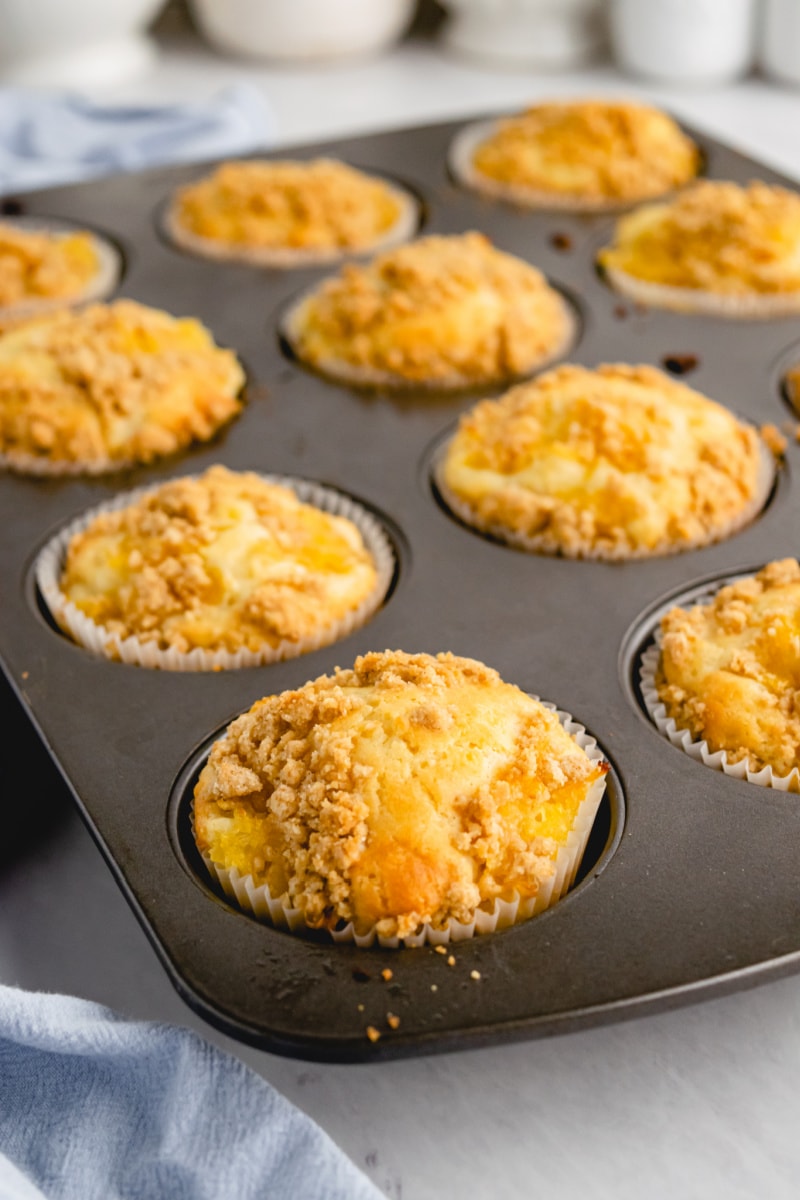 What's the best way to store muffins?
Cool your pineapple muffins completely before storing them. Store muffins in a single layer in a sealed container or large zipped bag. Line the container or bag with a paper towel before adding the muffins, then place another paper towel over the muffins. Breads and muffins tend to release moisture as they age, so paper napkins help absorb that excess moisture. You definitely don't want soggy muffins!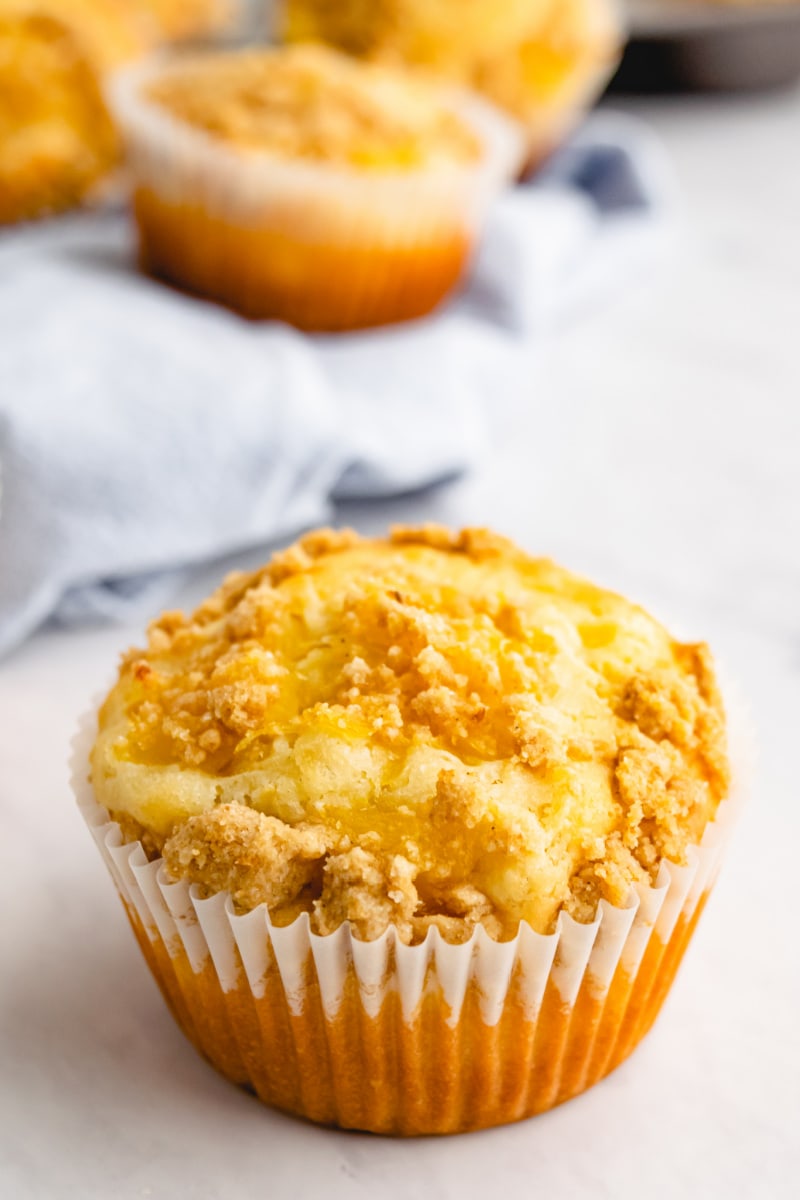 These pineapple muffins are delicious and tender muffins. Pineapple is such a delicious and different flavor for a muffin. They have a tropical vibe. You might also like to try my mini orange muffins or my lemon pound muffins. Enjoy!
Pineapple muffins
They are fresh and wonderful breakfast muffins. Pineapple is not overwhelming. It adds a wonderful, sweet flavor with a delicious crumbly topping.
Recipe details
Servings: 12 muffins
Calories: 245kcal
Ingredients
MUFFINS:
2

cups

all purpose flour

½

Cup

granulated white sugar

1

teaspoon

baking powder

½

teaspoon

salt

A

8 oz box

crushed pineapple

(keep the juice)

¾

Cup

Milk

1

big

Egg

¼

cup (½ stick)

butter,

molten
GARNISH:
½

Cup

all purpose flour

⅓

Cup

packed brown sugar

¼

cup (½ stick)

cold butter

¼

teaspoon

ground cinnamon
Instructions
PREPARE THE MUFFINS:
In a large bowl, whisk together the flour, sugar, baking powder and salt. Drain the pineapple (reserving ¼ cup of the juice – also reserve about 2 tablespoons of the pineapple to add on top of the muffins). Add the bulk of the pineapple, ¼ cup of the reserved juice, milk, egg and butter to the dry ingredients; stir just enough to combine. Use an ice cream scoop to distribute the batter among the 12 muffin cups (this is the easiest way to do it … or just with a spoon). Sprinkle some reserved, crushed pineapple on top of each.
PREPARE THE TRIM:
In a small bowl, combine the filling ingredients, cutting the butter into dry ingredients to create a crumbly mixture. Sprinkle crumbled topping over each muffin.

Bake for 25 to 30 minutes or until a toothpick inserted in the center of a muffin comes out clean.
Nutrition
Portion: 1muffin, Calories: 245kcal, Carbohydrates: 38g, Protein: 4g, Large: 9g, Saturated fat: 5g, Trans fat: 1g, Cholesterol: 37mg, Sodium: 183mg, Potassium: 193mg, Fiber: 1g, Sugar: 18g, Vitamin A: 310UI, Vitamin C: 2mg, Calcium: 79mg, The iron: 1mg