This is an old recipe from Well Appetite for Cock at Zin. You are probably more familiar with Cock at Wine. Cock is French for " chicken " and Vin is French for " wine "". In this recipe, the wine used is a red zinfandel, so the game on the name.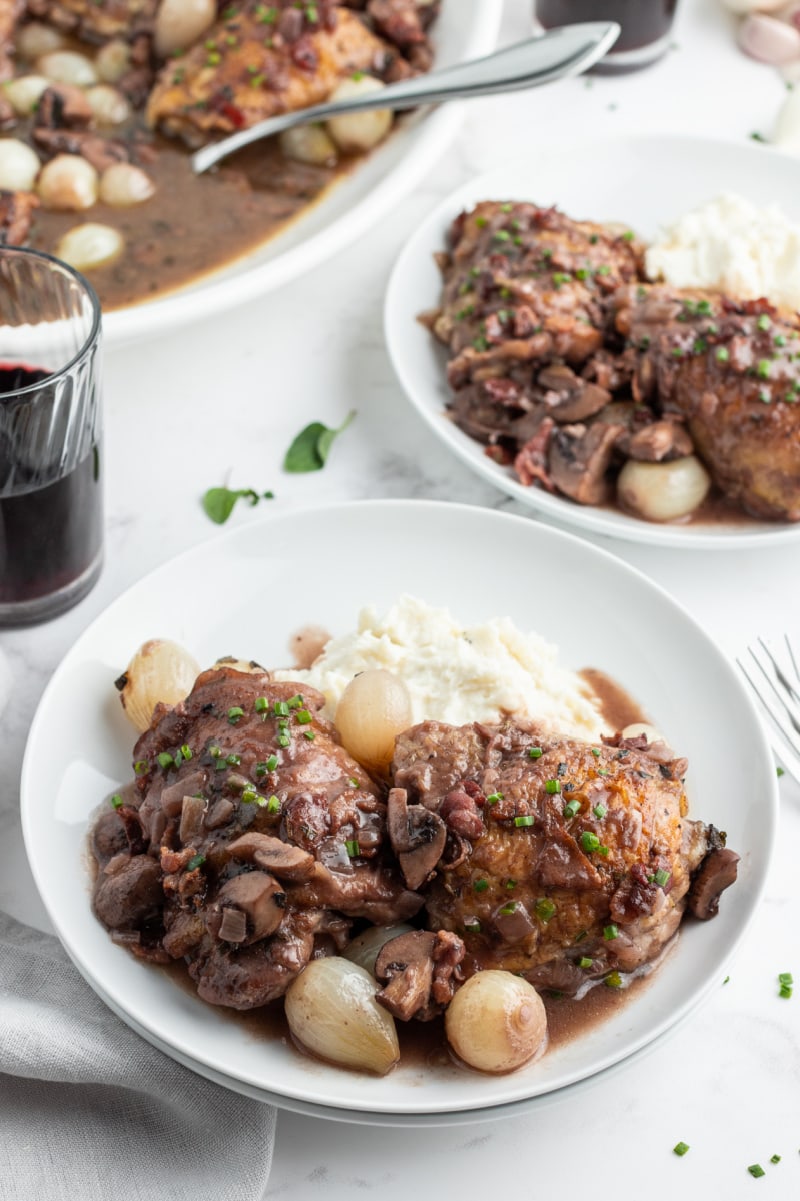 The best chicken recipe:
Let me start this post by saying that this recipe is a definitive keeper! I first made this recipe many years ago for a family Christmas dinner. The chicken cooked in lots of wine sounded great to all of us, and we were extremely happy with how it turned out. I have made this Coq au Zin recipe many times since. This is the kind of recipe that is perfect for a special occasion or when you just fancy a delicious chicken dinner.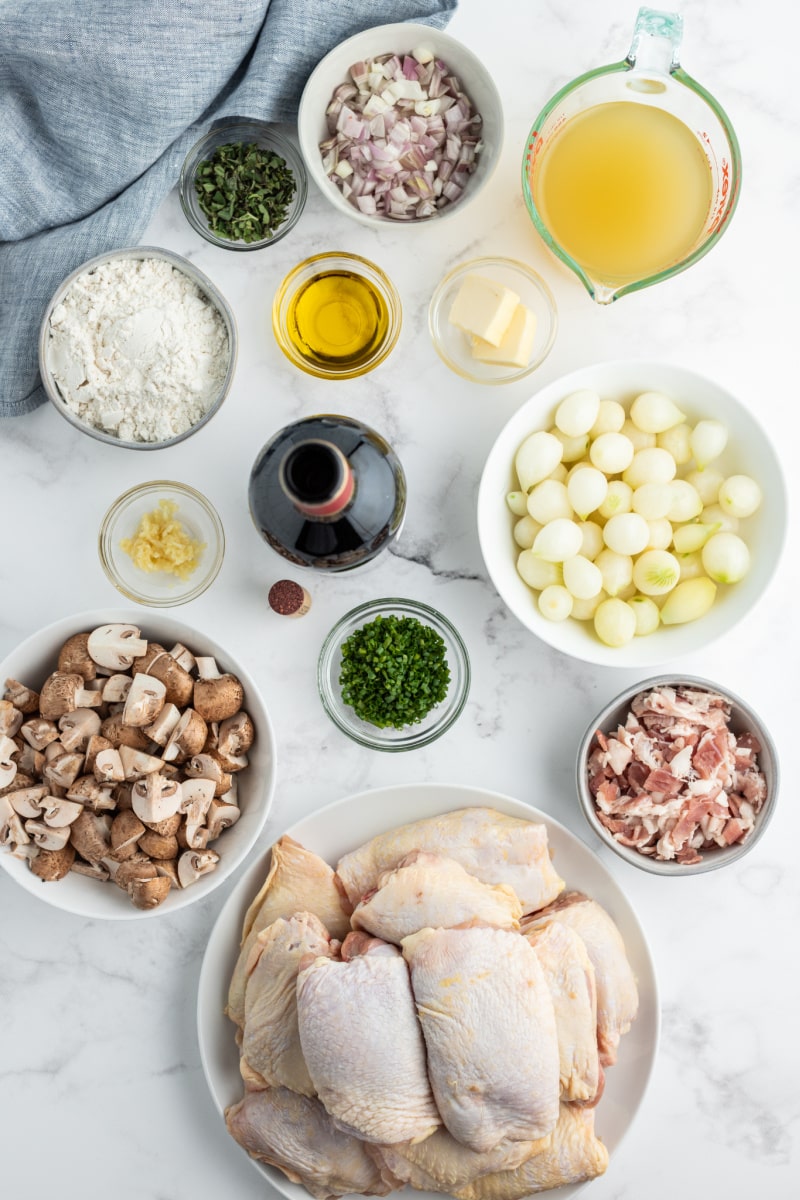 Ingredients needed:
all purpose flour
Bacon
olive oil
bone-in chicken thighs
shallots
Garlic
pearl onions
crimini mushrooms
fresh marjoram
red Zinfandel bottle
chicken broth
Butter
fresh chives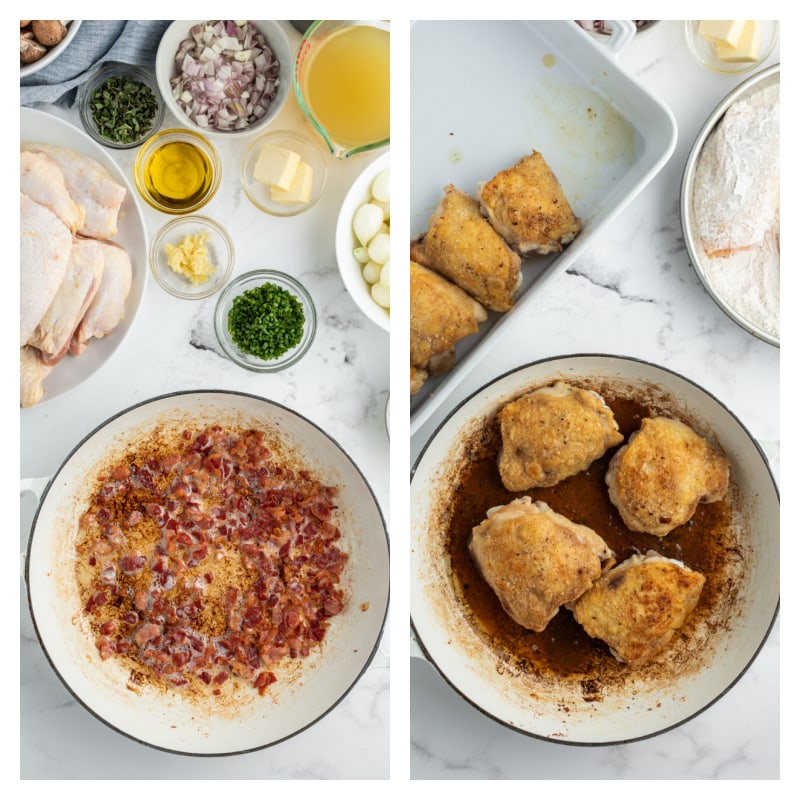 How to make Coq au Zin:
The chopped bacon is sautéed until crisp. I use bacon cut in the center (more meat, less fat). The bacon is placed on a napkin-lined plate. The fat is left in the pan. The flour dusted chicken is browned in the bacon fat on both sides, then transferred to a saucepan while awaiting additions.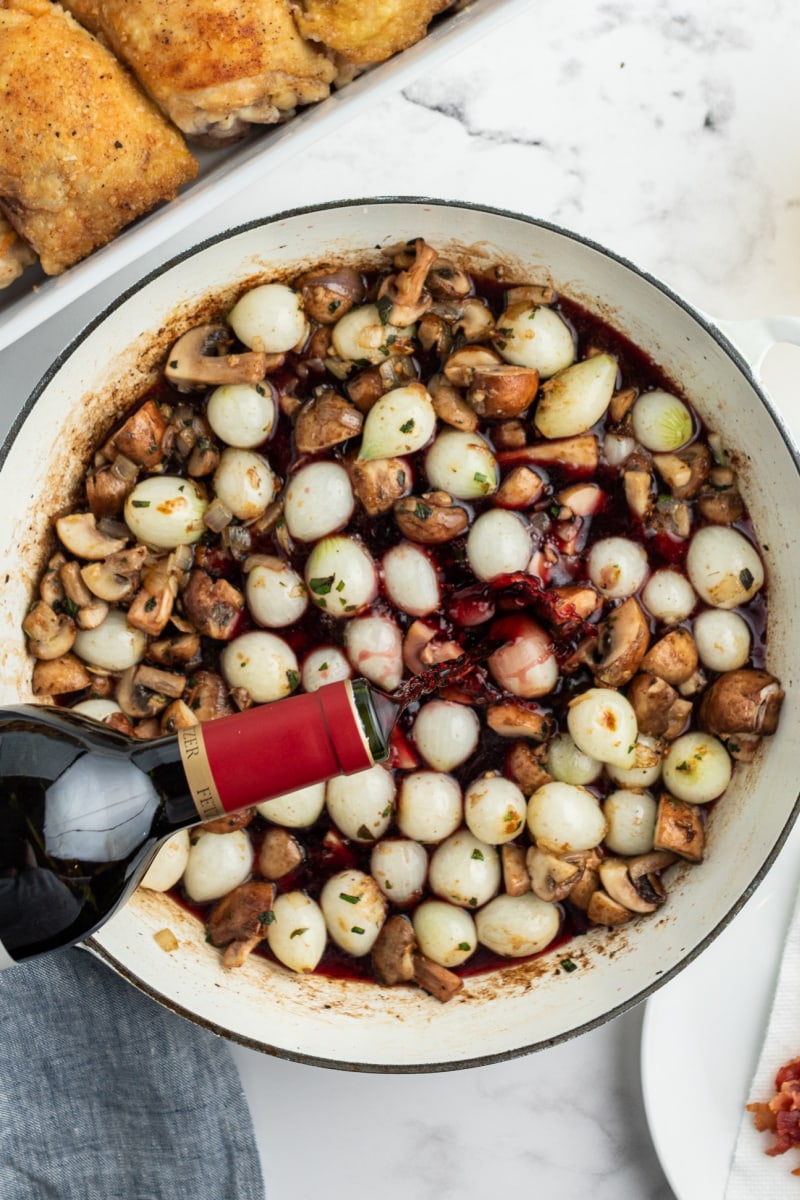 The shallots are sautéed with garlic, crimini mushrooms, pearl onions and fresh marjoram. A bottle of red zinfandel is added to the mushroom mixture, along with the reserved chicken broth and bacon.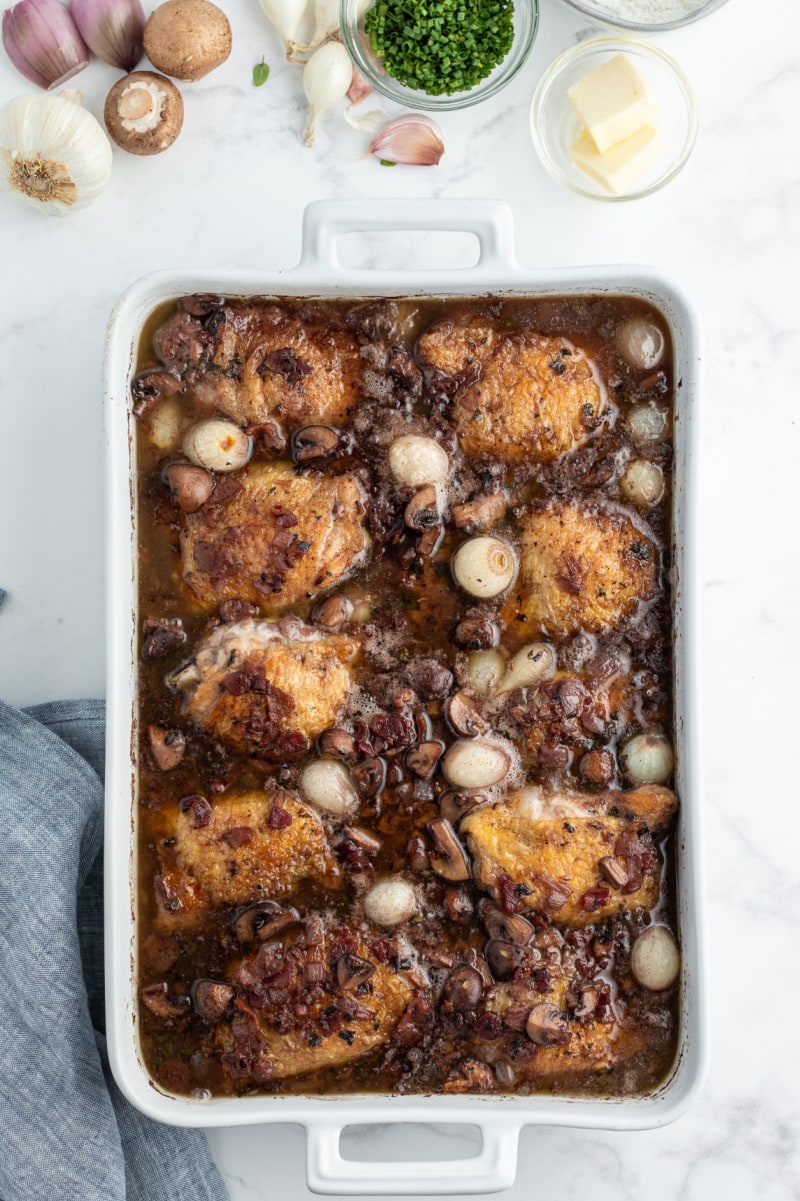 This mixture is then poured over the chicken in the glass baking dishes. The casseroles are well covered with foil and then placed in the oven where the Coq au Zin has a chance to simmer in this wonderful liquid for an hour.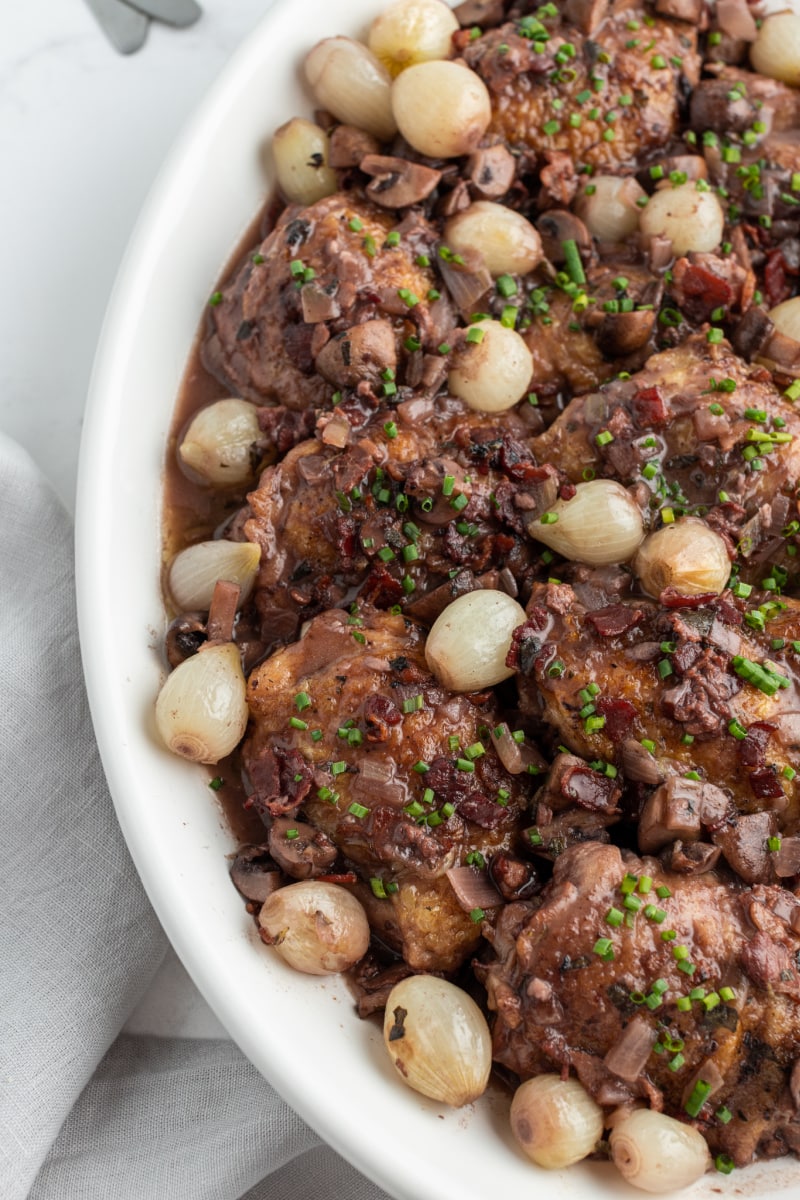 The chicken is then removed from the pan to a plate, along with the drained vegetables. The remaining liquid is left to simmer for a short time and is thickened with a butter / flour mixture.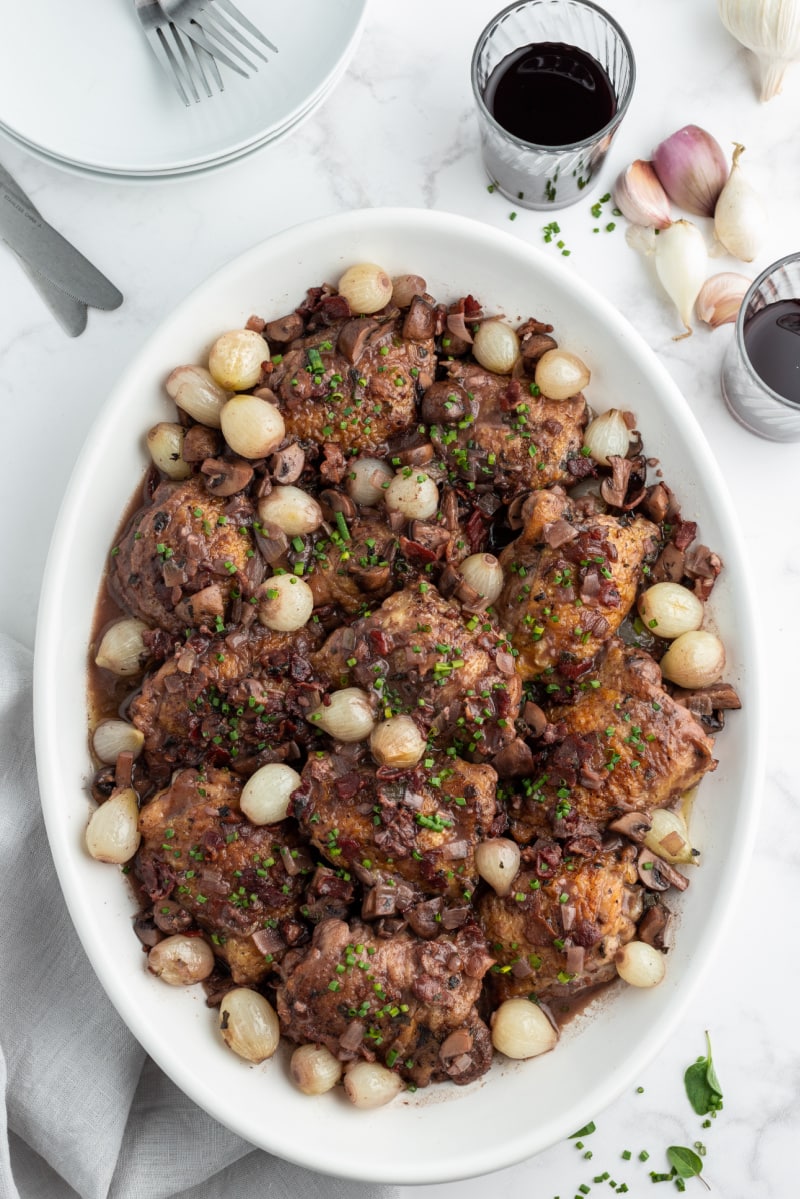 You'll probably have a fair amount of sauce, so place the chicken and vegetables in a large serving bowl or deep dish and pour the sauce on top. Then sprinkle with fresh chives. The liquid helps the Coq au Zin stay warm on the table and it keeps it moist and tender.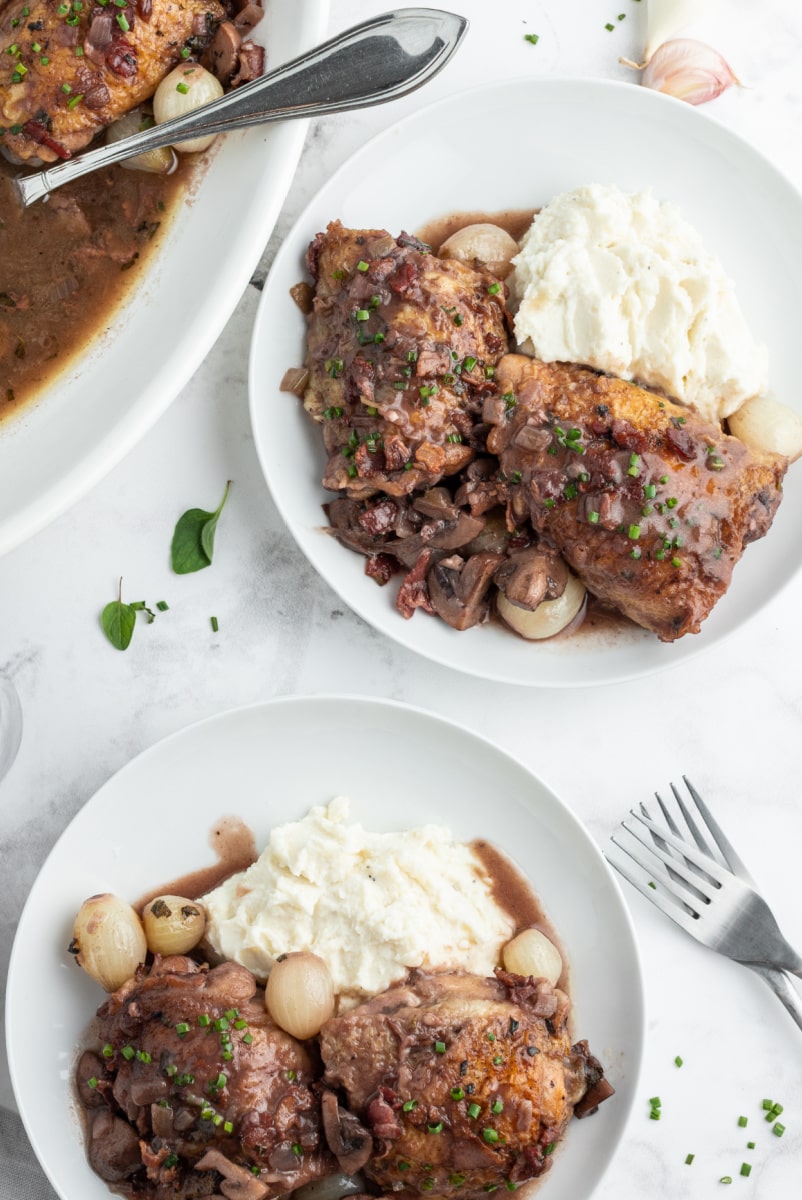 Everyone I cook this chicken for wants seconds (and leftovers are great too!) It's not often that you can really feast on a chicken recipe, but this one is utterly delicious. It would also be a great recipe for a gourmet club dinner. Serve with roasted garlic mashed potatoes and oven-roasted green beans. My friend Chef Dennis has a great recipe for Coq au Vin for two, if there are only two of you. Enjoy!
Rooster with Zin
A fantastic recipe for chicken cooked in red wine from Zinfandel with onions and mushrooms.
Recipe details
Servings: 6 portions
Calories: 839kcal
Ingredients
1

cup + 2 tablespoons

all purpose flour,

Split

6

slices

Bacon,

chopped

1

teaspoon

olive oil

12

with bone

skinned chicken thighs

(cut excess fat)

¾

Chopped off

chopped shallots

(about 4 shallots)

3

way

cloves of garlic

chopped

16

ounces

pearl onions,

peeled

12

ounces

crimini mushrooms,

quartered (about 5 cups)

2

soup spoons

chopped fresh marjoram

A

750 ml.

Zinfandel red wine bottle

2

cups

low sodium chicken broth

2

soup spoons

salted butter,

at room temperature

¼

Chopped off

chopped fresh chives
Instructions
Preheat the oven to 350 ° F.

In a large, heavy saucepan or Dutch oven, cook the chopped bacon over medium-high heat until crisp, about 4 minutes. Using a slotted spoon, transfer the bacon to a paper towel-lined plate to drain.

Place 1 cup of the flour in a shallow dish; put aside. Add 1 tablespoon of olive oil to the bacon juice in the pot. Sprinkle the chicken thighs with salt and pepper. Working in batches, coat the chicken thighs in flour and add them to the pan; sear until golden, about 4 minutes per side. Arrange the chicken thighs in a 15 x 10 x 2 inch glass baking dish (or any combination of glass dishes that will work with the chicken).

Pour all but 3 tablespoons of the fat from the pan. Add the shallots and garlic to the pot and sauté for 1 minute. Add onions, crimini mushrooms and marjoram and sauté until onions begin to brown, about 10 minutes. Add the red Zinfandel and bring to a boil, scraping up the golden pieces. Add chicken broth and bacon; boil for 5 minutes.

Pour the wine mixture over the chicken in the baking dish. Cover tightly with foil; bake until chicken is cooked through, about 1 hour.

Using tongs, transfer the chicken thighs to the plate or to a large, deep bowl. Strain the wine mixture from the baking dish into a medium heavy saucepan. Transfer the onion and mushroom mixture to the plate with the chicken; tent with foil to keep warm. Combine the remaining 2 tablespoons of flour and butter in a small bowl to mix. Bring the wine mixture to a boil. Stir in flour mixture and boil until sauce thickens and is reduced to 2¾ cups, about 8 minutes. Season the sauce to taste with salt and pepper.

Pour the sauce over the chicken and vegetables; sprinkle with chives.
Nutrition
Portion: 1portion, Calories: 839kcal, Carbohydrates: 38g, Protein: 41g, Large: 48g, Saturated fat: 15g, Trans fat: 1g, Cholesterol: 213mg, Sodium: 362mg, Potassium: 1009mg, Fiber: 3g, Sugar: 7g, Vitamin A: 407UI, Vitamin C: tenmg, Calcium: 68mg, The iron: 3mg