This green salad recipe is simple, but it's packed with delicious textures and flavors. It's a perfect side dish – you can serve it with almost anything!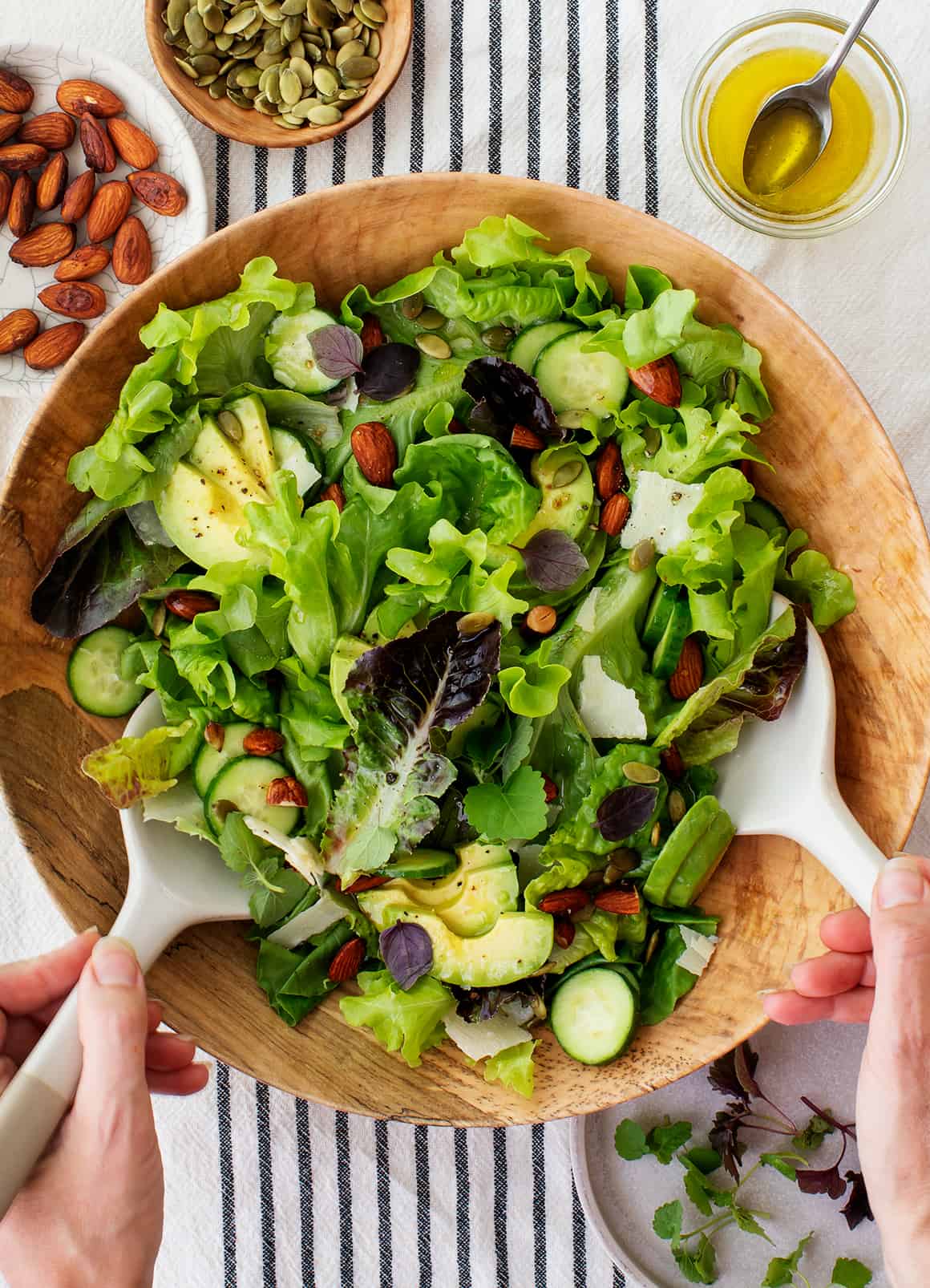 We all need a great green salad recipe in our back pocket… that's why I can't believe that in almost 10 (!) Years of blogging, I haven't shared a simple green salad until. until today. That's not to say there's a dearth of salad recipes on the site (broccoli salad, pasta salad, or avocado salad, anyone?). But it lacks a quick and refreshing salad that you can toss around at the last minute and serve with almost anything.
Well let me introduce you to my favorite green salad recipe. It's simple, but it doesn't skimp on texture or flavor at all. I add avocado for a creamy richness, Parmesan for a nutty and salty flavor and tamari roasted almonds for the crunch. To bring it all together, I drizzle with my lemon vinaigrette. This makes this salad tangy, shiny, and so versatile. It goes just as well with pasta as it does with a veggie burger, and it also tastes great with classic brunch dishes. If you need a last minute side dish to complete your Easter menu this weekend, this green salad would be perfect.
How to prepare a simple green salad
Great green salad recipes start with great green vegetables. While I love a good kale salad or a green leafy salad as much as the next person does, when I make a simple and refreshing side salad, I like to use lettuce as the base.
Look for lettuces that have soft leaves and crunchy stems without discoloration. I especially like the flavor and texture of butter lettuce like Boston and Bibb, but tender leaves or romaine lettuce would work well here as well. Use whatever works best for you. The more varieties, the more the merrier!
When you are ready to make the salad, separate the lettuce leaves, wash them and dry them well. To avoid bruising or tearing the leaves, I recommend using a salad spinner for this step (I have this one). With it, you will be able to get the leaves almost perfectly dry in no time!
If you don't have a salad spinner, spread the washed lettuce on a kitchen towel to dry while you prepare the other salad components.
Toppings and variations
After preparing my greens, I finish this recipe with thinly sliced ​​cucumbers, avocado, shaved Parmesan, and tasty toasted walnuts. My basic lemon dressing ties it all together.
It's a fantastic combination – the cucumbers are crunchy and refreshing, the avocado is rich and creamy, the Parmesan is salty, and the toasted almonds and pumpkin seeds add a delicious crunch. That being said, this recipe is flexible. Feel free to try different toppings or a different dressing. Here are a few ways I like to change it:
Change the cheese. Substitute salted feta or goat cheese for the Parmesan. Or skip the cheese to make this recipe vegan.
Add something sweet. A pinch of dried cranberries or cherries would be nice here.
Or even more crispy. Add homemade croutons or crispy roasted chickpeas.
Go nut-free. Substitute more pepitas for the almonds or use a mixture of pepitas and sunflower seeds.
Try another bandage. Sky is the limit! Drizzle with Green Goddess, Tahini Dressing, Honey Mustard Dressing, Homemade Italian Dressing, Vegan Ranch Dressing, Greek Dressing, and more.
Stack on additional vegetables, such as crispy radishes, juicy cherry tomatoes or julienned carrots. In the spring, blanched asparagus would also be a great choice.
Let me know which variations you try!
Green salad serving suggestions
Because you're working with tender lettuce and avocado, which tends to brown, this salad is best if you put it together right before eating. If you want to go ahead, you can wash and dry the lettuce a day in advance and store it tightly wrapped in the refrigerator. You can also toast the nuts in advance and store them, lightly covered, at room temperature. The dressing is also adapted in advance! Store it in an airtight container in the refrigerator for up to 3 days.
Serve this green salad as a side dish with almost any meal – a weekday dinner, a special occasion dinner, a festive brunch, or a summer meal. It goes well with just about anything. I love making it for dinner when serving pasta, pizza, or ready-made meals like veggie burgers, black beans, or jackfruit sandwiches.
If you're serving it for brunch, try pairing it with one of these tasty recipes:
Top off the meal with something sweet, like chocolate chip muffins, blueberry scones, cinnamon buns, or a stack of pancakes or French toast. For more brunch recipes, check out this article! (Oh, and don't forget the mimosas to drink…)
More green salad recipes
If you like this simple green salad, then try one of these green salad recipes:
For even more salad recipes, check out this article!
Simple green salad
Preparation time: 15 minutes
Cooking time: 14 minutes
Serves 4
This simple green salad is light, refreshing and delicious! It's a perfect side salad because it pairs well with almost anything.
2

small heads of soft lettuce

,

butter lettuce or similar

Lemon dressing

,

half recipe

1

Persian cucumber

,

minced

¼

Chopped off

sliced ​​parmesan cheese

2

soup spoons

sunflower seeds

1

Lawyer

,

minced

¼

Chopped off

microgreens

Flaky sea salt

,

optional
Roasted tamari almonds
½

Chopped off

raw almonds

½

teaspoon

Tamari
Roast the almonds: Preheat the oven to 350 ° F and line a baking sheet with parchment paper. Place the almonds on the baking sheet and mix with the tamari. Bake for 10 to 14 minutes or until golden brown. Remove from the oven and let cool for 5 minutes.

Assemble the salad. In a large bowl, toss the lettuce with a few spoonfuls of the dressing. Add the cucumber, parmesan, pepitas, avocado and tamari almonds. Drizzle with more dressing and garnish with microgreens. Season to taste with flaky sea salt, if desired.