Fettuccine Alfredo is a classic Italian pasta dish using long and medium noodles coated in a rich and creamy cheese sauce.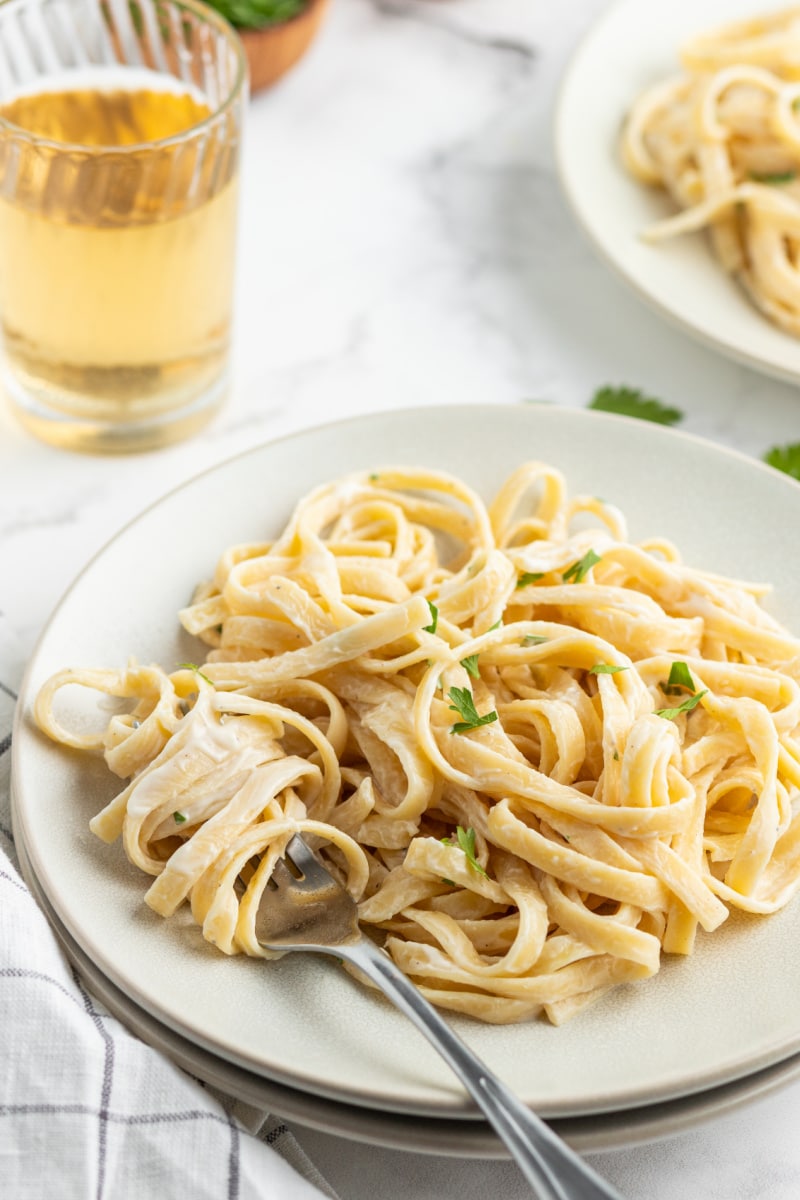 You've had it and loved it many times, I'm sure. Fettuccine Alfredo is one of those comfort foods (like carbonara or lasagna) that is always observed on a restaurant menu. It is not always chosen because it is a bit of a decadent madness. But it's definitely a favorite, and it's super easy to make at home with a short list of ingredients.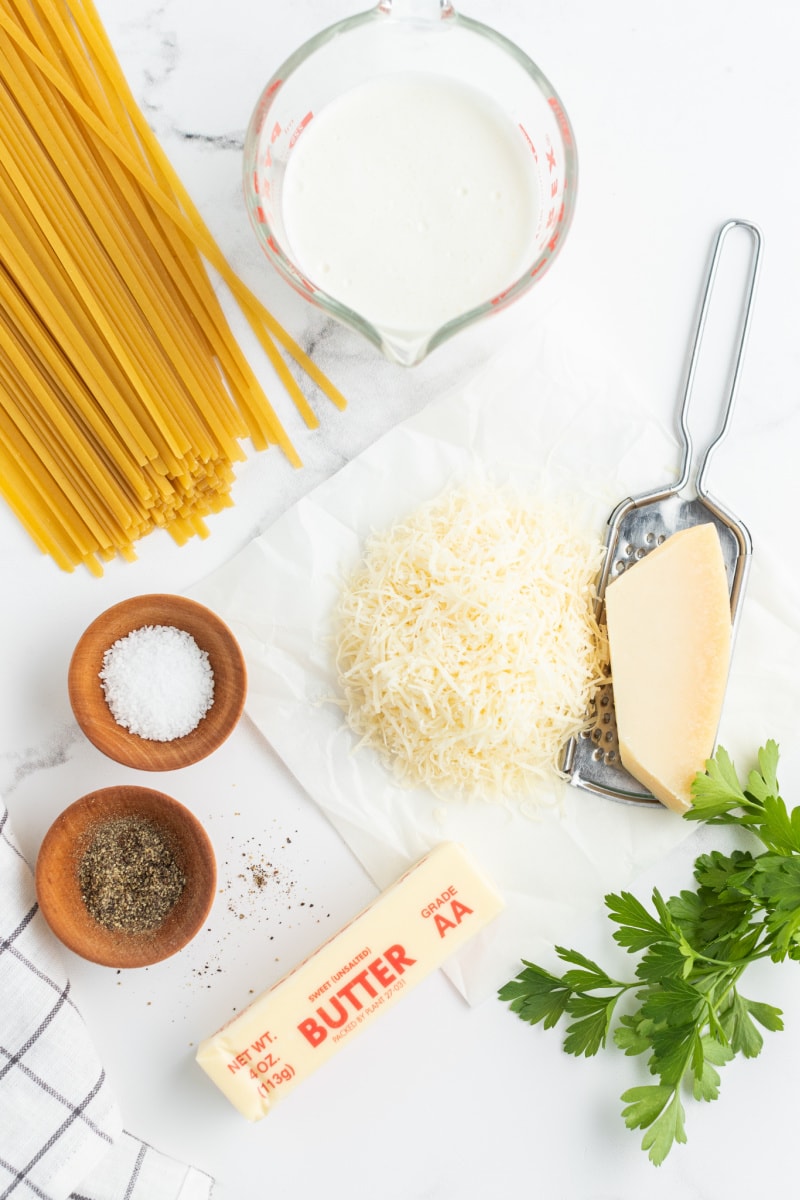 Ingredients needed:
dry fettuccine noodles
Butter
heavy whipped cream
Parmesan cheese
salt and freshly ground black pepper
chopped fresh parsley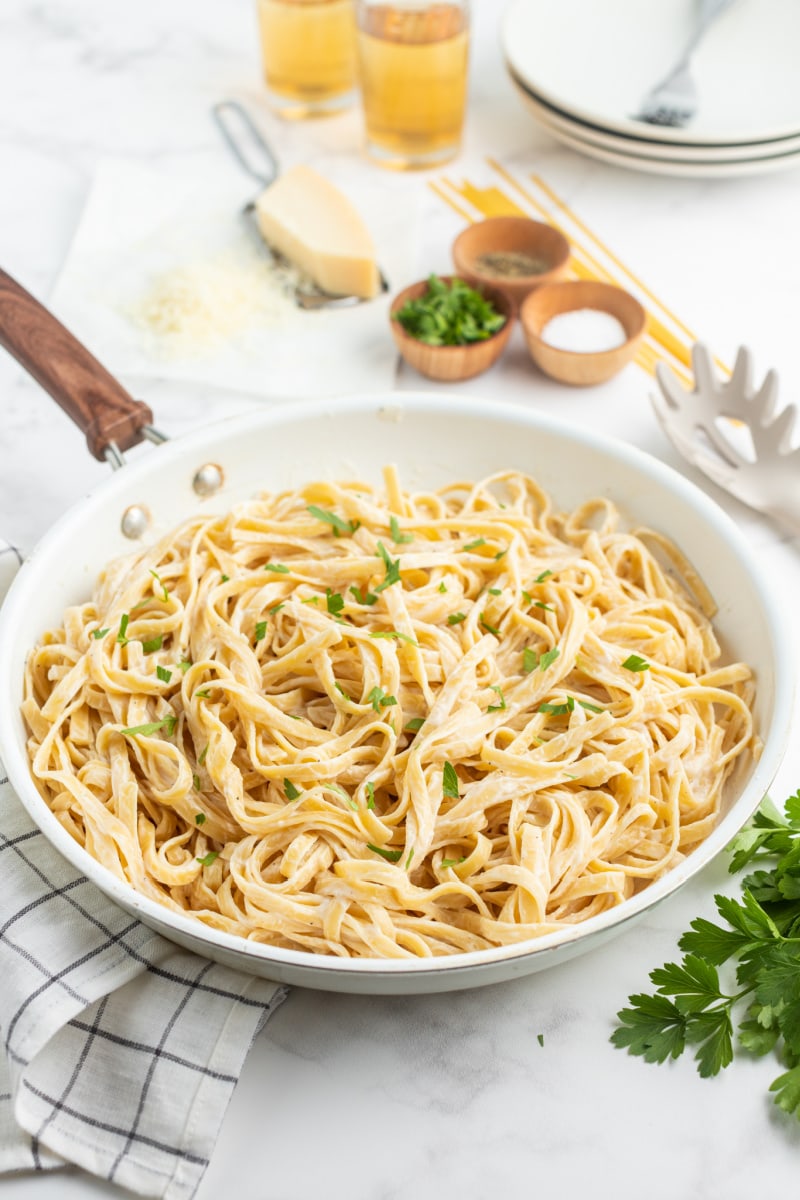 How to make Fettuccine Alfredo:
First cook the pasta. You can use any brand of fettuccine noodles. If you like fresh, use fresh. A box of noodles will do just fine though.
Melt a stick of butter in a frying pan. Add the freshly cooked and drained pasta. Mix it with the butter and add a cup of heavy whipping cream and a cup of grated Parmesan. Mix everything to coat the pasta.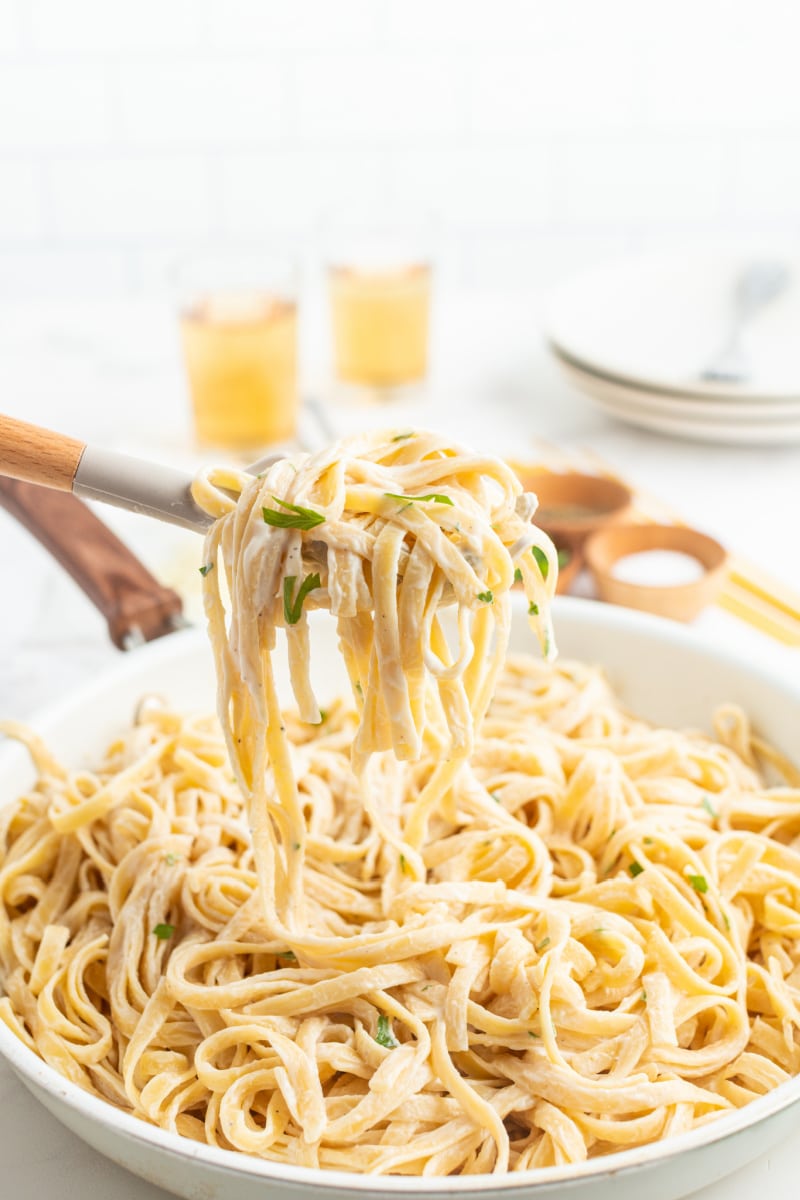 Note that it is important to use finely grated (ungrated) Parmesan. You want the cheese to really cover the noodles and not just an accent. Take a piece of Parmesan and grate it yourself to get the best flavor. Season your Fettuccine Alfredo with salt and pepper, to taste. Add fresh parsley, if desired. And it's always nice to serve it with a little extra grated Parmesan cheese for the house cheese lovers.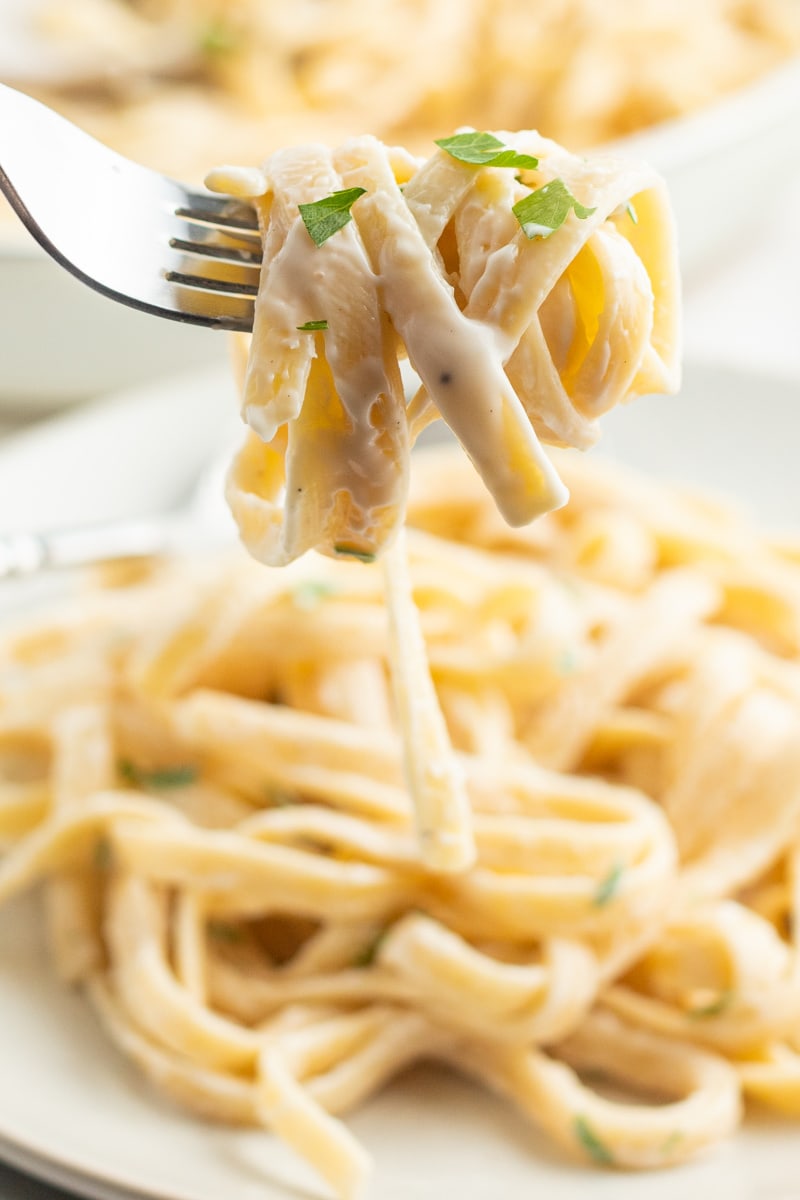 Sometimes when you order this dish at a restaurant, the noodles are completely swimming in the Alfredo sauce. It's overkill and way too high in calories. Fettuccine noodles lightly coated in Alfredo sauce are a much better way to go. This is what we have here.
Can you use Alfredo sauce for other noodles?
Yes! If you like rotini or penne or whatever, you can make them and mix them with the Alfredo sauce. As a general rule, large pastas like fettuccine or pappardelle are best for absorbing creamy sauces.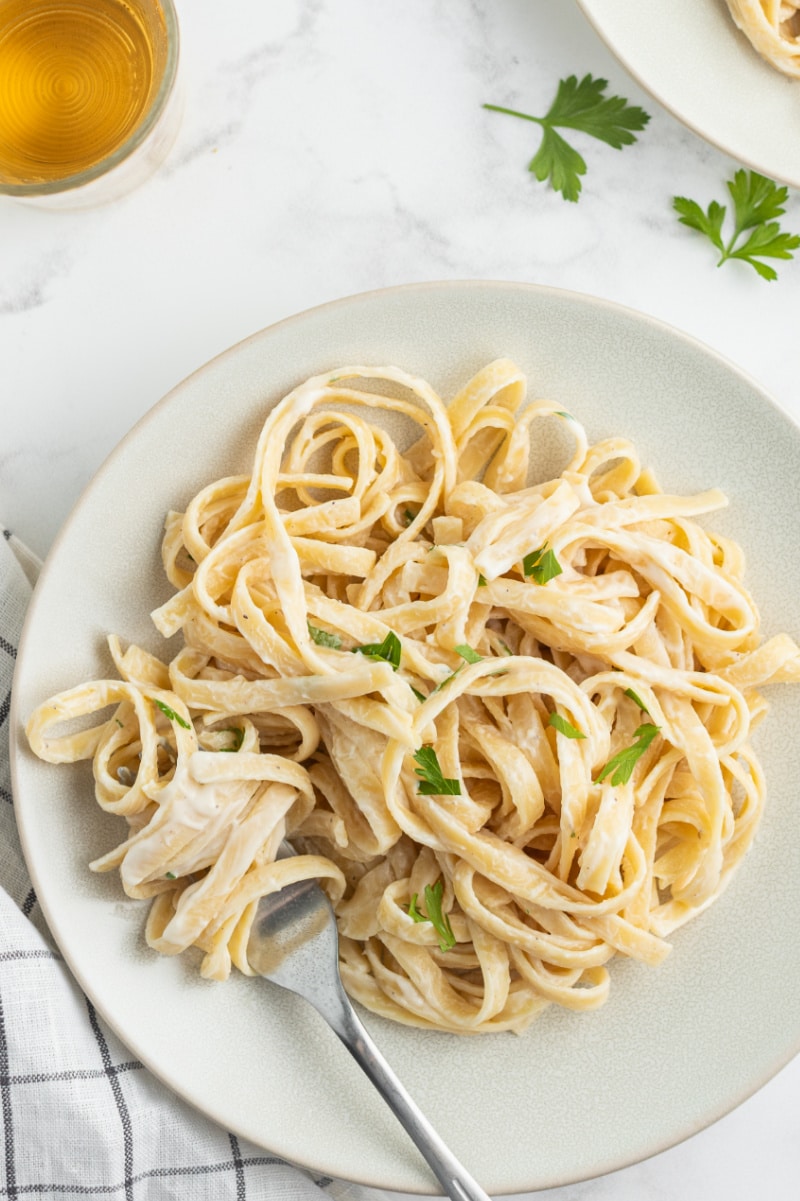 Serve Fettuccine Alfredo with your favorite salad, good garlic bread and your favorite white wine. Enjoy!
Fettuccine Alfredo
A delicious pasta recipe with a classic creamy sauce!
Recipe details
Servings: 4 portions
Calories: 852kcal
Ingredients
12

ounces

dried fettuccine noodles

½

cup (1 stick)

Butter

1

Chopped off

heavy whipped cream

1

Chopped off

grated parmesan cheese

salt and black pepper,

to taste

chopped fresh Italian parsley,

For garnish
Instructions
In a large pot of salted water, cook pasta according to package directions.

In a large skillet, melt the butter. Drain the pasta and add it to the pan along with the cream, cheese and salt / pepper to taste. Stir over low heat until the pasta is well coated.

Plate of individual servings and garnish with a little fresh parsley. Serve additional grated Parmesan on the side, to serve.
Nutrition
Portion: 1portion, Calories: 852kcal, Carbohydrates: 63g, Protein: 23g, Large: 57g, Saturated fat: 34g, Trans fat: 1g, Cholesterol: 239mg, Sodium: 634mg, Potassium: 290mg, Fiber: 3g, Sugar: 2g, Vitamin A: 1883UI, Vitamin C: 1mg, Calcium: 353mg, The iron: 2mg