Carmelitas are dessert bars that are layered with all kinds of delicious treats like chocolate, caramel and oatmeal cookies.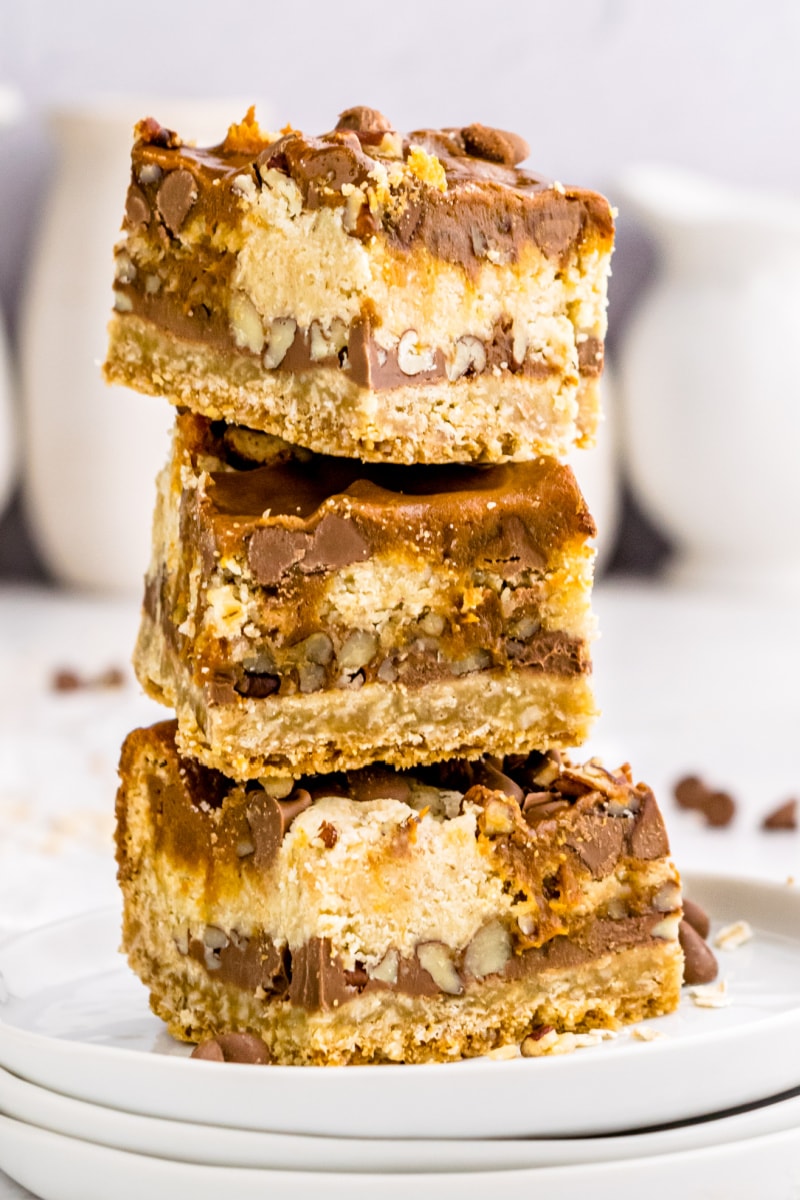 I first made these Carmelitas about 13 years ago, and I continue to be obsessed with them to this day. These are bars that have everything going on in them! I think it was the swirls of dulce de leche that appealed to me. Every time I do these and share them with others, I get the same reaction… "wow!"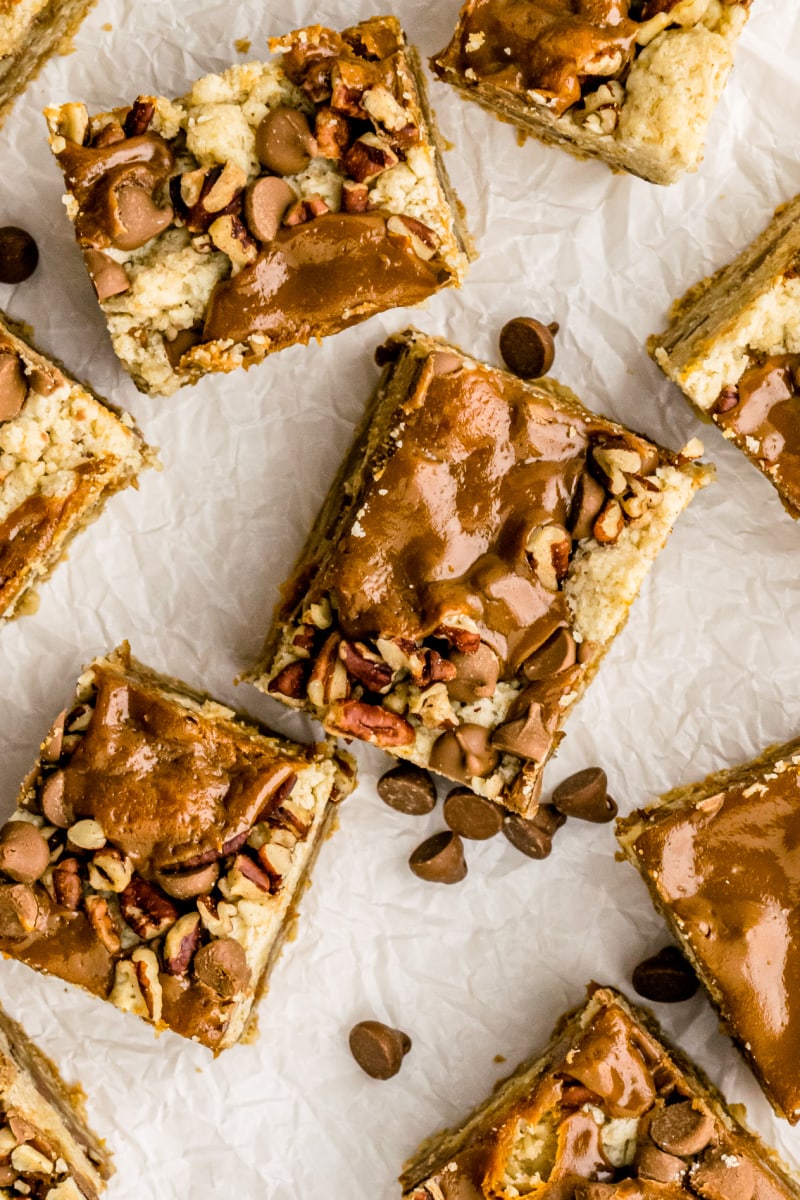 How to make Carmelitas:
A layer of oatmeal cookies is the first in these bars. The oatmeal cookie dough is pressed into the bottom of a 9 × 13-inch pan and baked for 15 minutes.
Then the layer of baked cookies is covered with chocolate chips, pecans and spoonfuls of dulce de leche. More oatmeal cookie dough is crumbled on top. And finally, more chocolate chips, pecans and dulce de leche.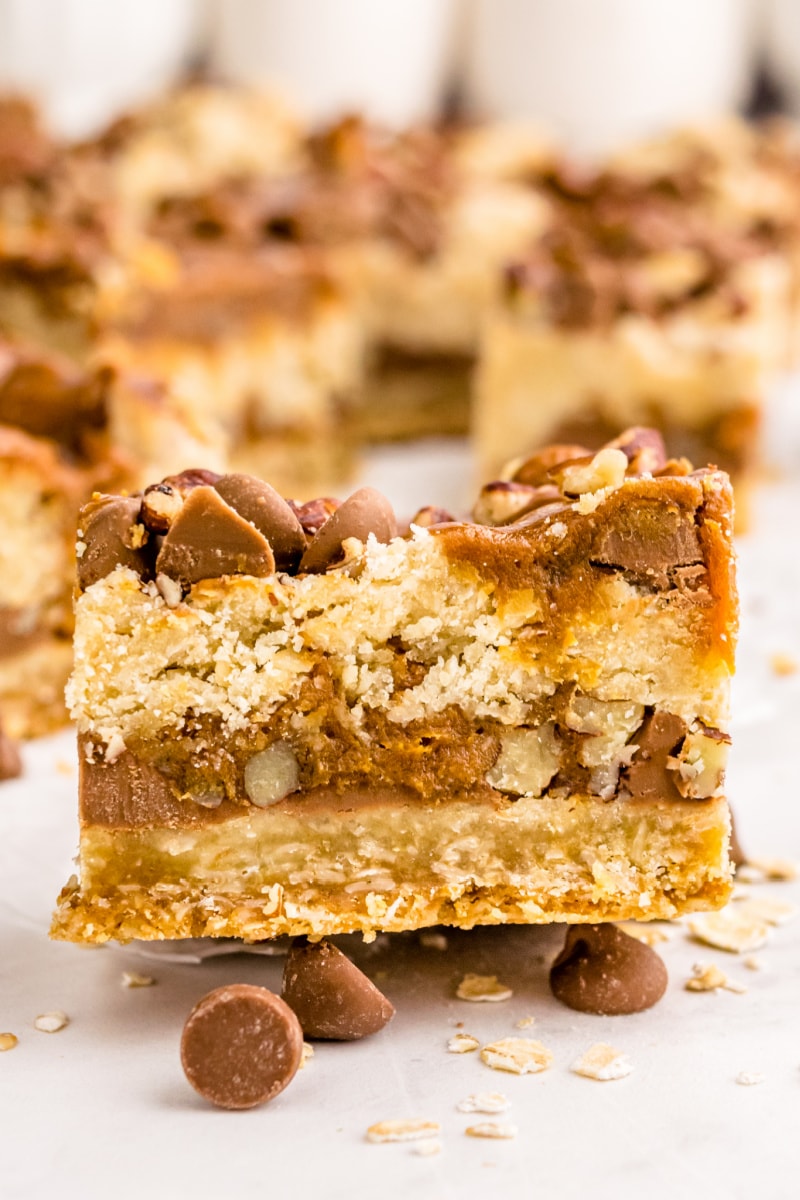 See all those fabulous layers of delight? All of these layers bake together to create these amazing bars. It is not diet food. It's a "treat", a decadent dessert that you will love.
Ingredient Notes / Substitutions:
Dulce de leche can be found in a box in your market's cooking aisle (or in the Latin produce aisle). Or you can make your own homemade dulce de leche.
If you're not a nut family (or are allergic), leave out pecans. Or replace the coconut with pecans!
The recipe calls for using semi-sweet chocolate chips, but use milk chocolate, dark chocolate, or whatever you like.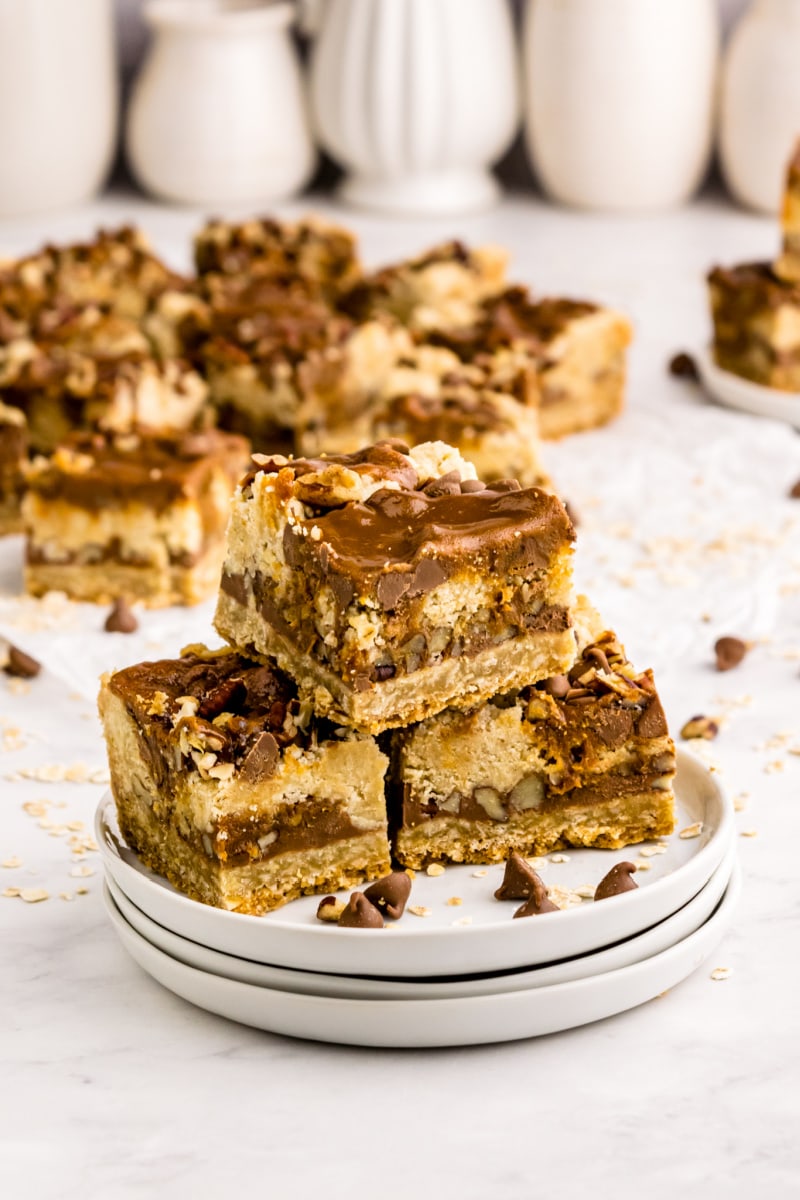 How to store Carmelitas:
Store the carmelitas in a covered container for up to 4 days. If you put this container in the freezer, it will keep for up to three months. Let thaw at room temperature to serve. Or eat them frozen – they are amazing!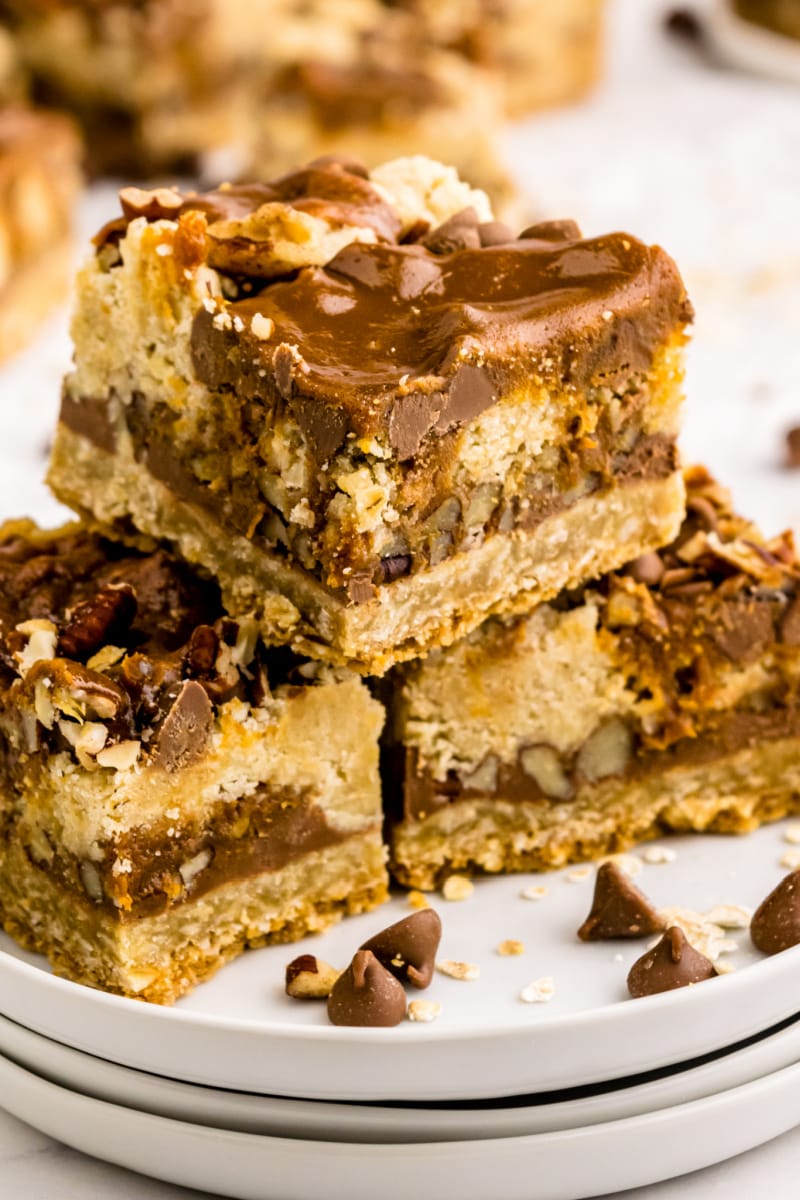 This recipe makes 24 large bars. Enjoy! If you like this recipe you may want to try my Fudge Nut Layered Bars Recipe or these Pecan Bites.
Chocolate Oatmeal Carmelitas
Layers of oatmeal, chocolate, caramel and pecan crust!
Recipe details
Servings: 24 the bars
Calories: 406kcal
Ingredients
3

cups

all purpose flour

1½

coffee spoons

baking soda

½

teaspoon

salt

2

cups (4 sticks)

Unsalted butter,

at room temperature

3

cups

quick cooking oatmeal

2¼

cups

packed light brown sugar

1½

cups (16 ounces)

dulce de leche

(canned is good)

3

soup spoons

all purpose flour

1½

cups

semi-sweet chocolate chips

¾

Chopped off

chopped pecans
Instructions
Preheat the oven to 350 ° F. Butter a 9 x 13 inch pan.

In a large bowl, whisk the 3 cups of the flour with the baking soda and salt. Add the butter, oats and brown sugar and mix with an electric mixer. In a small bowl, combine the dulce de leche with 3 more tablespoons of the flour.

Pat half of the oat mixture into the baking dish. Bake for 15 minutes. Spread half of the chocolate chips and pecans over the crust. Add half of the dulce de leche mixture on top. Crumble the rest of the oat mixture evenly in the pan. Top with remaining chocolate chips, pecans and spoonfuls of dulce de leche.

Bake for about 35 minutes or until edges are set. Let stand uncovered at room temperature overnight. Cut the carmelitas into bars and serve.
Remarks
Buy pre-made dulce de leche in a can or bottle. Nestlé makes it (among other manufacturers.) We find ours in the Latin section of our market.
Once cooled, carmelitas can be stored in an airtight container at room temperature for up to 3 days or frozen for up to 1 month.
Nutrition
Portion: 1bar, Calories: 406kcal, Carbohydrates: 46g, Protein: 4g, Large: 24g, Saturated fat: 13g, Trans fat: 1g, Cholesterol: 43mg, Sodium: 127mg, Potassium: 163mg, Fiber: 3g, Sugar: 24g, Vitamin A: 500UI, Vitamin C: 1mg, Calcium: 38mg, The iron: 2mg