This oven-roasted asparagus recipe is such an easy and delicious springtime side dish. Vibrant, crispy and tender spears cook in less than 15 minutes!
Have you ever made grilled asparagus this spring? I've made it left and right lately, serving it as a side dish several times a week. After a winter filled with root vegetables and sweet potatoes, I can't get enough of the juicy and tender, slightly crispy and golden brown spears from the oven.
One of the best things about this grilled asparagus recipe, and one of the reasons I make it so often, is that it so simple. Asparagus is easy to prepare and cooks in under 15 minutes. If you want to keep it really simple, season it with lemon juice and call it a day. But if you fancy something more chic, you can dress it up more with some punchy sauce or some savory toppings. You can find some of my favorite grilled asparagus serving suggestions in the article below.
Ingredients for the roasted asparagus recipe
You only need 5 ingredients to make the perfect roasted asparagus:
Asparagus, of course! I like to roast medium to thick spears. Because they are not too thin, they do not become brittle during cooking.
Extra virgin olive oil, sea salt and fresh black pepper -Roasting essentials! They make asparagus tasty and satisfying.
Fresh lemon juice – I press it over the roasted asparagus right after it comes out of the oven, giving the veggies a delicious glossy finish.
That's it! Other fixings, like the fresh herbs and the dill sauce you see in the photo, are optional. It's a quick way to turn roasted asparagus into a mixed side dish, but if you're pressed for time or in the mood for something simple, feel free to skip it. Roasted asparagus is very tasty on its own!
Find the full recipe with the measurements below.
How to grill asparagus
My method for roasting asparagus is super easy! Here is how it goes:
First, cut the asparagus. Have you ever eaten a piece of asparagus and found yourself chewing… and chewing… and chewing? Chances are, you get a bite from the hard, woody end of a spear. These thick ends are too fibrous to eat, so you should always cut them off before cooking. Cut them with a knife or break them with your hands. To do this, hold a spear by its thick end and gently bend it until it breaks. Repeat with the remaining spears and you'll be ready to cook!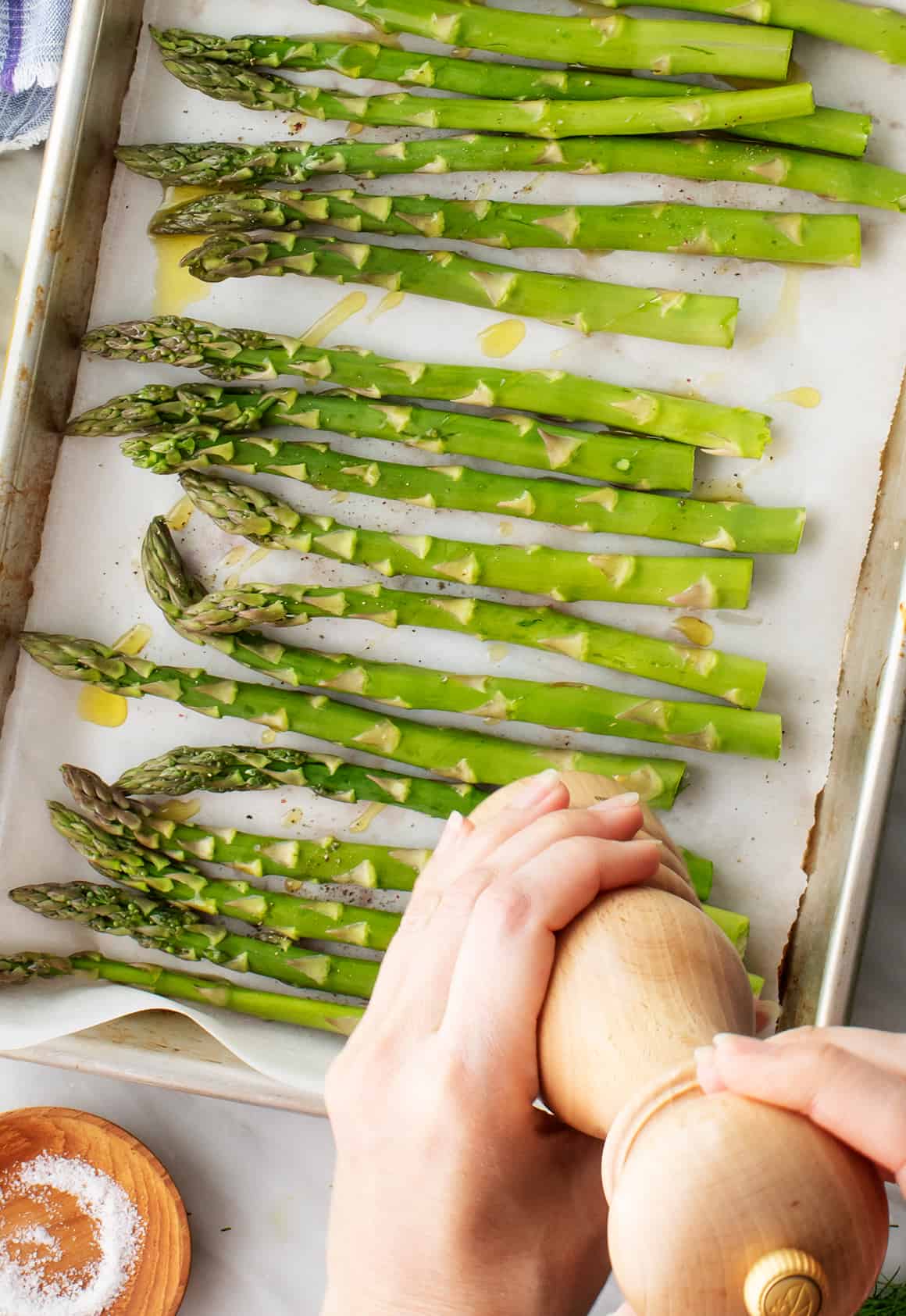 Then season it. Transfer the asparagus to a baking sheet lined with parchment paper. Drizzle with olive oil and sprinkle generously with salt and pepper. Stir to coat and arrange the asparagus in a single layer.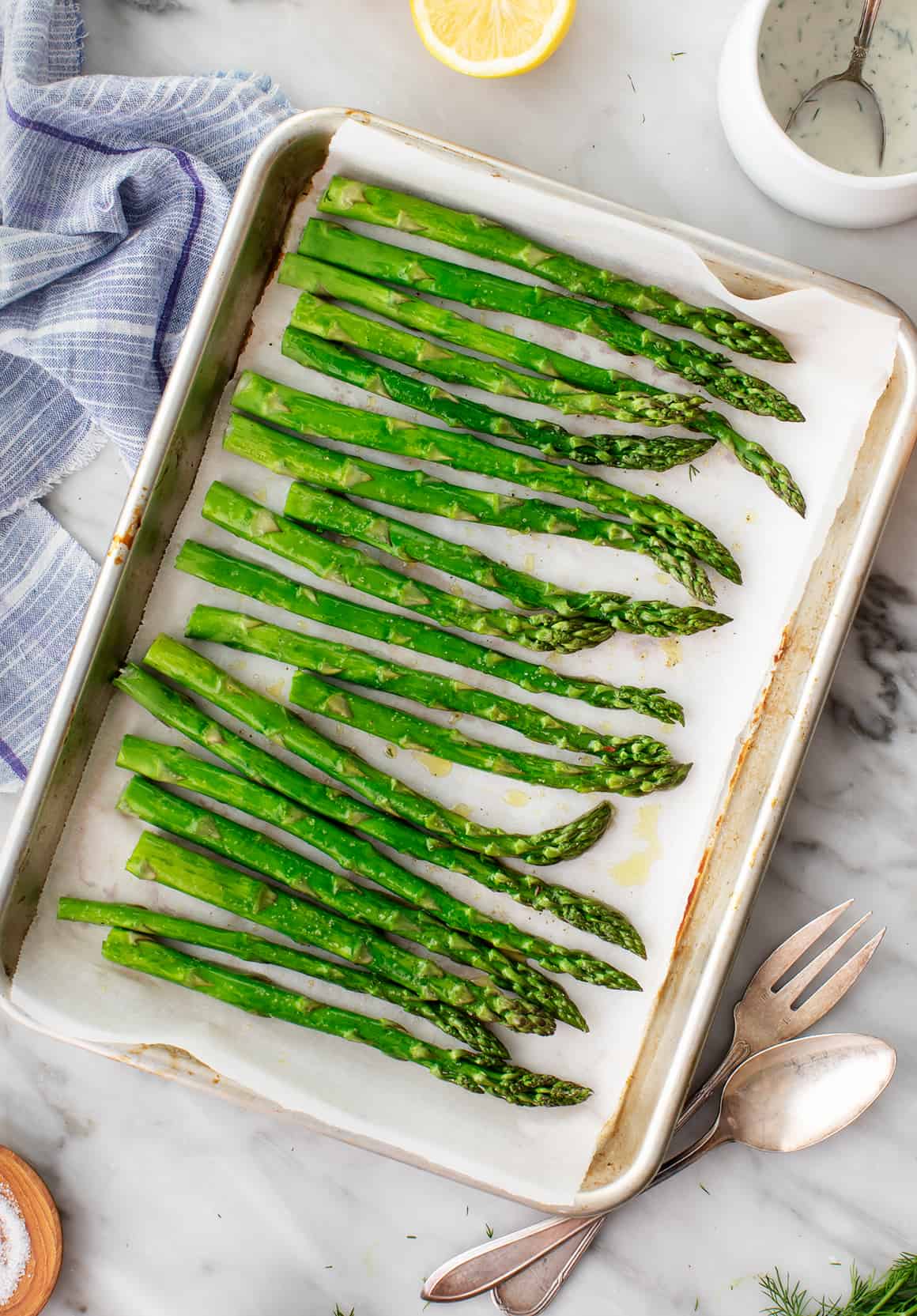 Finally, cook! Sauté the baking sheet in an oven preheated to 425 ° and bake for 12 minutes, or until the spears are slightly crisp and tender. Squeeze the roasted asparagus with fresh lemon juice and serve.
Suggested portions of roasted asparagus
Seasoned with salt, pepper and fresh lemon juice, roasted asparagus is delicious on its own (I always eat a spear or two right away!). But if you want, you can spice it up further with fresh toppings, cheese or a savory sauce. Here are some of my favorite topping combinations:
All spring (photo above). Drizzle the baked asparagus with the dill sauce and garnish with the sliced ​​radishes and fresh mint.
Cheese, please! Drizzle the vegetables with freshly grated Parmesan cheese as soon as they come out of the oven and garnish with pine nuts.
Super sesame. Strain the lemon juice and drizzle the cooked asparagus with my sesame and ginger vinaigrette. Sprinkle it with toasted sesame seeds before eating.
Serve the oven-roasted asparagus with any protein of your choice, or pair it with a spring dish like my pesto pasta, creamy mushroom polenta, or a veggie frittata.
If you have baked asparagus, throw it in my healthy breakfast casserole the next morning, or add it to these sesame soba noodles for lunch the next day.
Easier Asparagus Recipes
If you love these oven-roasted asparagus, then try one of these easy asparagus recipes: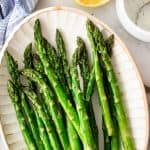 Roasted asparagus
Serves 2 to 4
This grilled asparagus recipe is easy and delicious! Ready in just 15 minutes, it's a perfect springtime side dish.
1

bunch of asparagus

,

trimmed woody ends

extra virgin olive oil

,

to water

Sea salt and freshly ground black pepper

lemon wedges

,

to squeeze
Preheat the oven to 425 ° F and line a baking sheet with parchment paper. Mix the spears with olive oil, season with salt and pepper and lay them out on the baking sheet. Bake for 12 minutes or until the spears are slightly crisp and tender. Squeeze with lemon and serve.

If desired, garnish with a drizzle of dill sauce, minced radish and mint leaves.