This Classic banana bread The recipe has excellent texture and flavor, and is lower in fat than most banana bread recipes.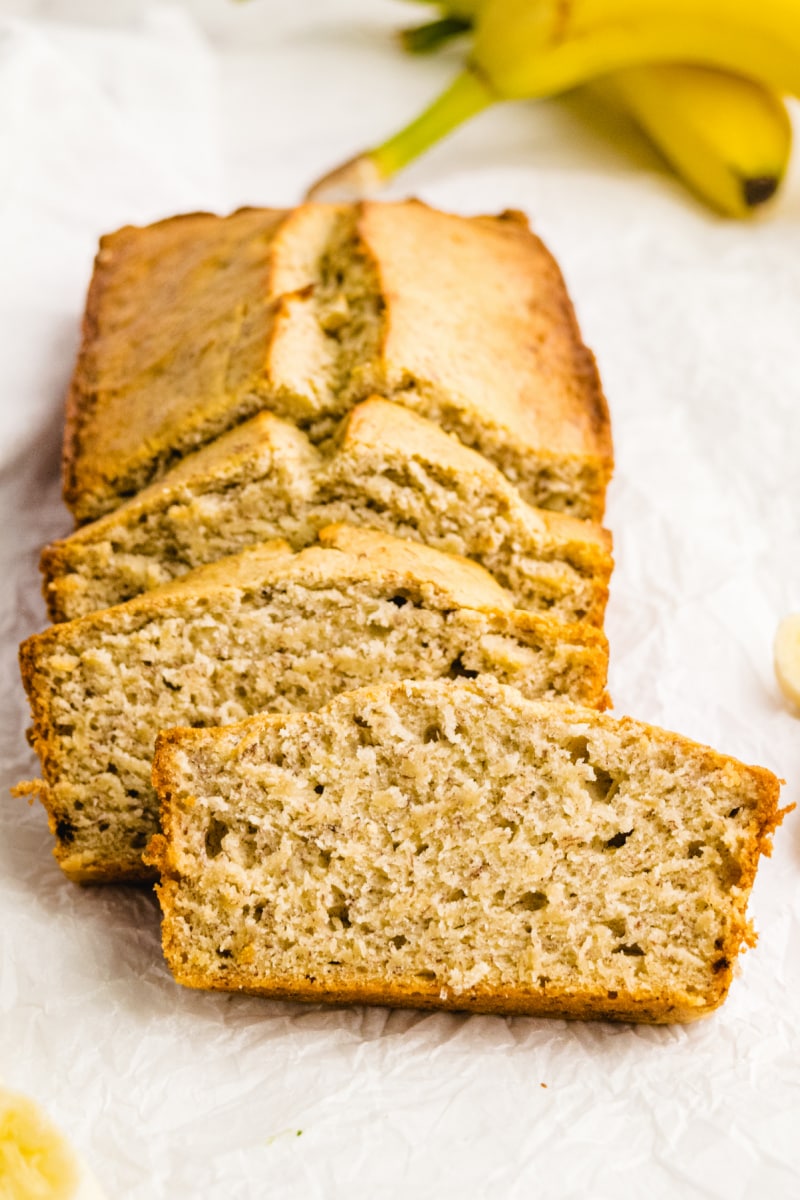 Some of my friends called it the best banana bread they've ever tasted. Others told me it was the only banana bread recipe they would ever make. I guess it's so good! We enjoy a lot of banana bread recipes (the Kona Inn Banana Bread is my all-time favorite), but this one is definitely a good choice for making a low-fat, low-calorie version.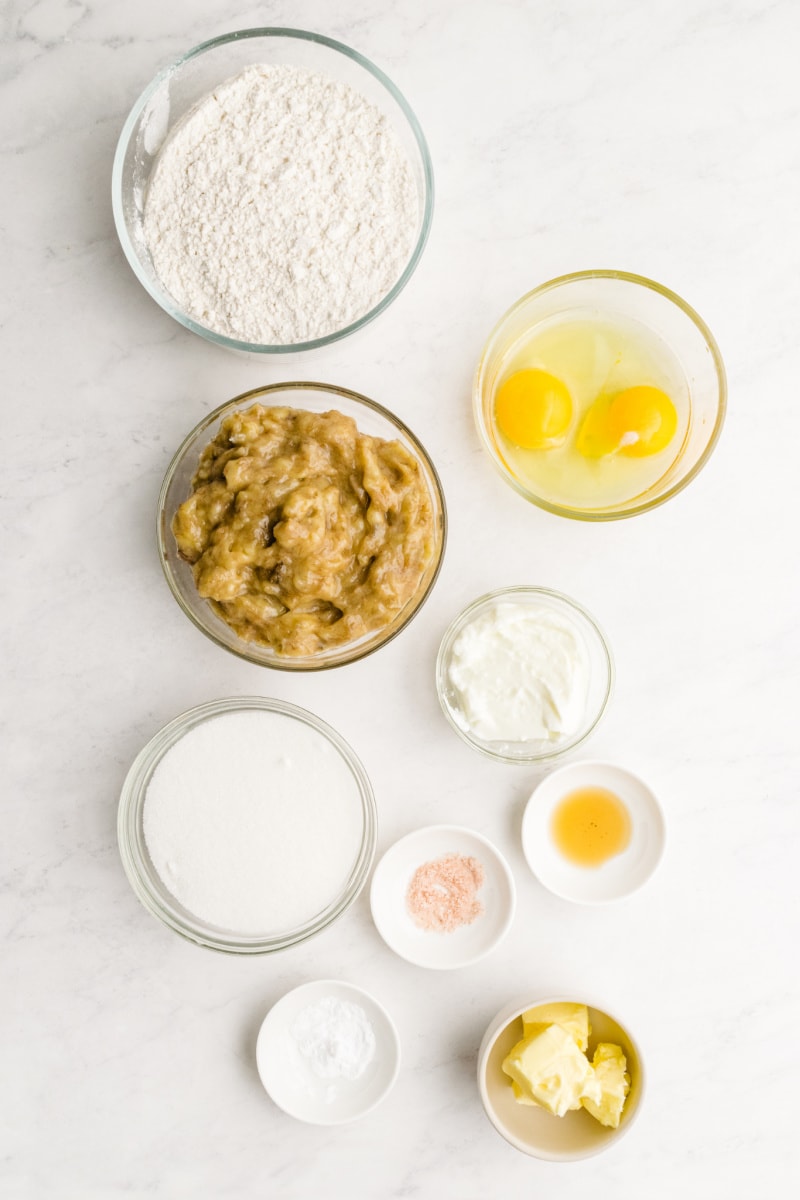 Ingredients needed:
all purpose flour
baking soda
salt
sugar
Butter
eggs
3 ripe bananas
plain low fat yogurt
vanilla extract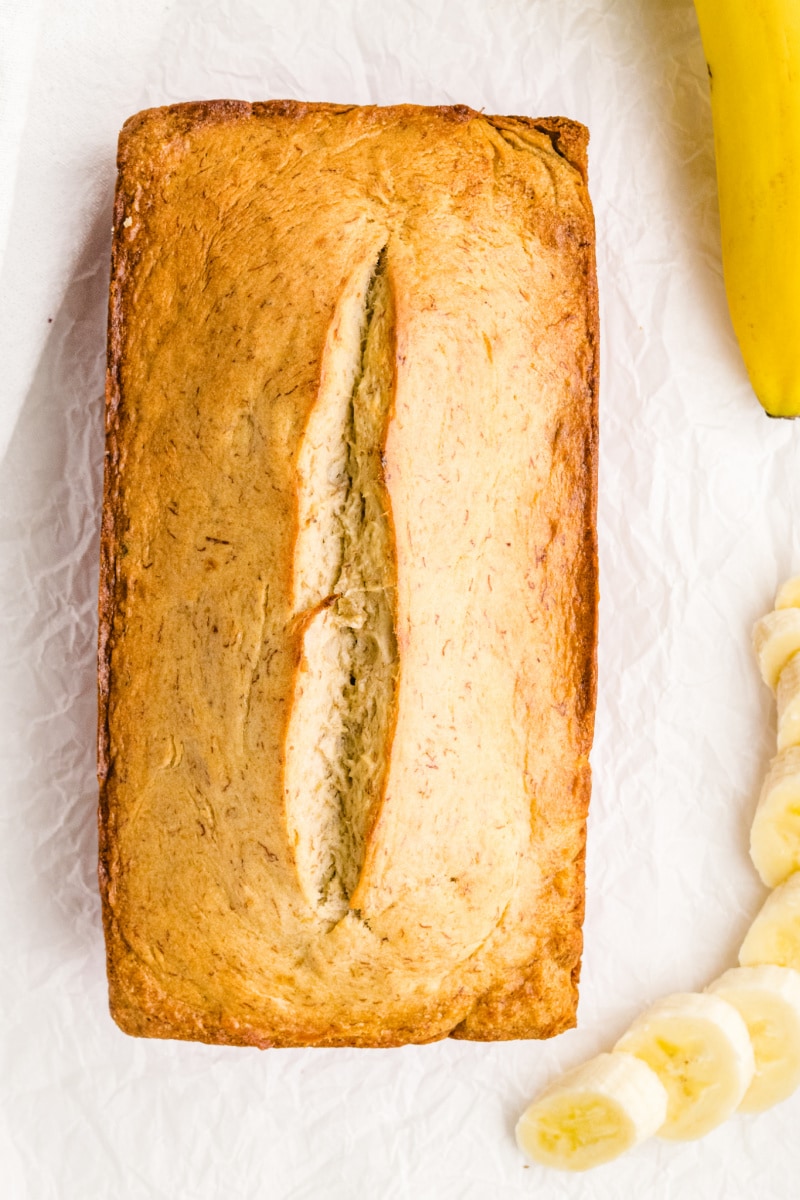 How to make classic banana bread:
You will need a 8 × 5 inch loaf pan. I like to have a couple on hand all the time in case I want to double the recipe when making banana bread. You'll still want two loaves of this bread, so plan ahead!
This is a typical quick bread recipe where you combine the dry ingredients in one bowl and the wet ingredients in another. The best way to combine them is to mix the dry ingredients in the wet one and stir only until they are combined. Don't stir too much as this can result in a harder texture which is not as good.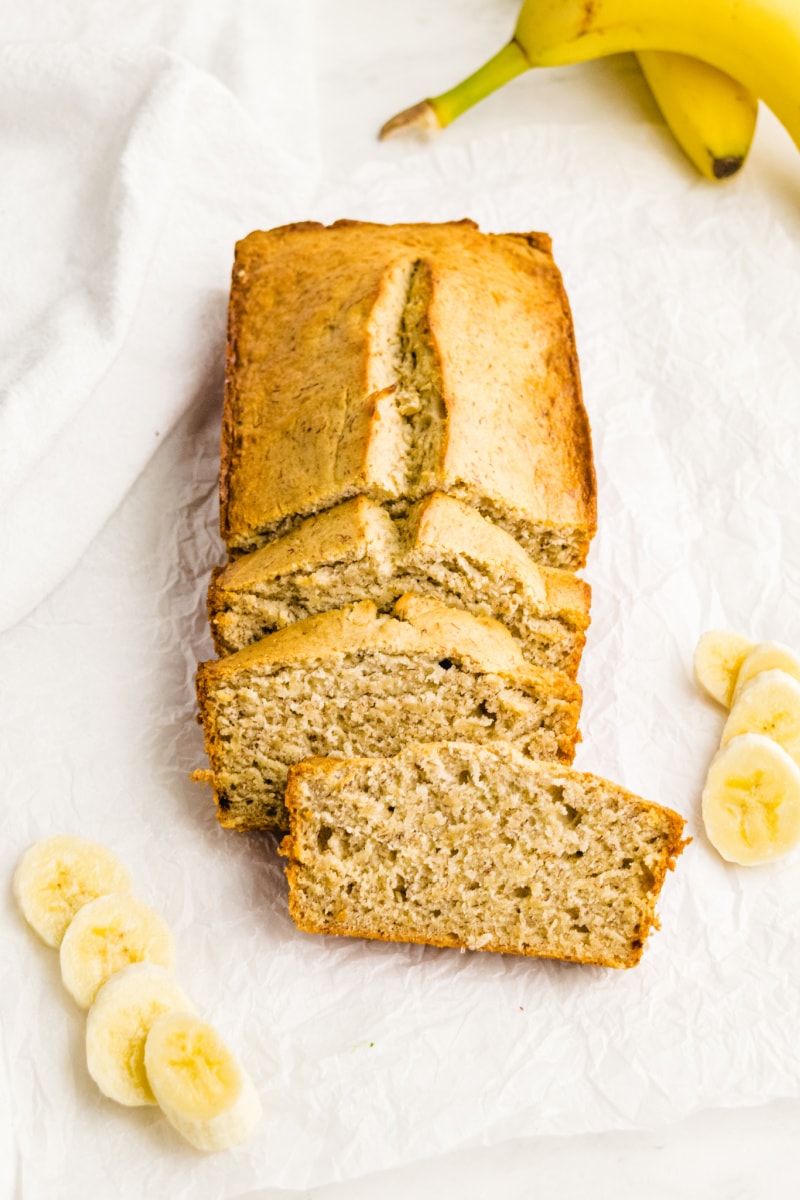 See that crack in the middle? It's normal. Cracking is what happens when the top of the banana bread has finished baking, but the bread underneath still has some baking and rising to do. This results in a crack on the top!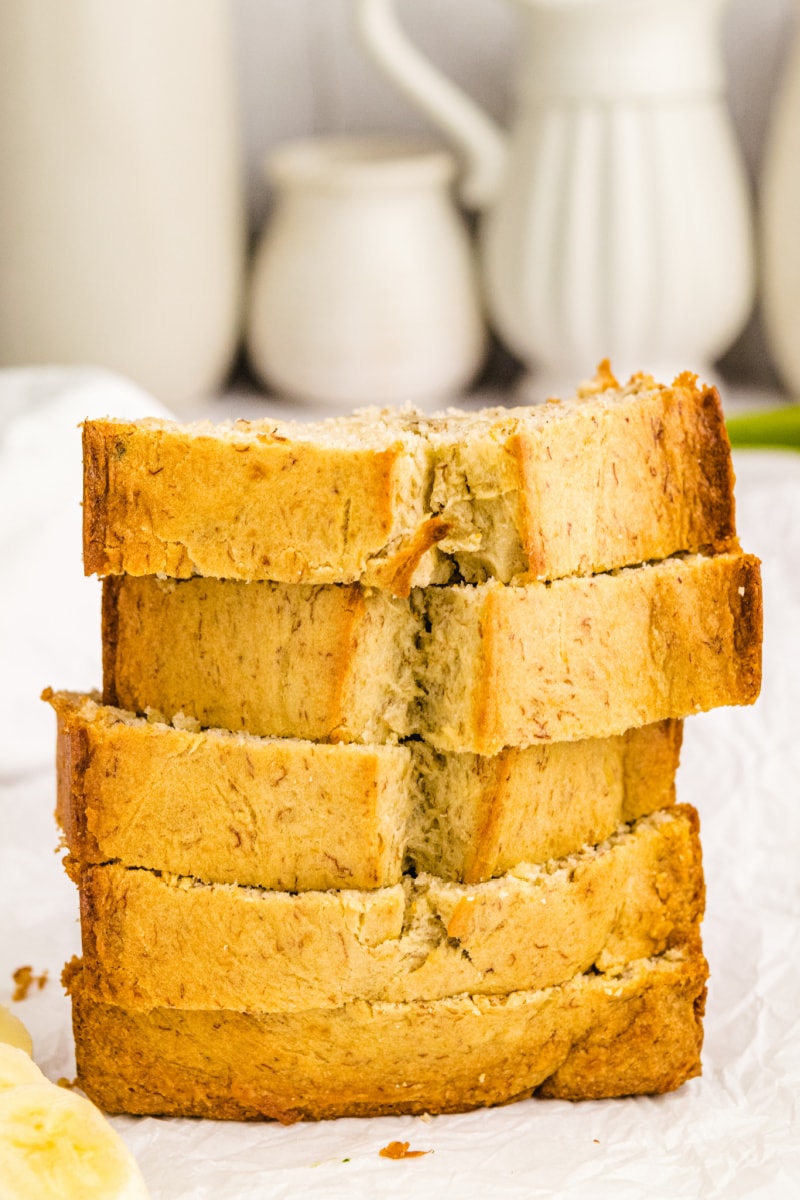 This classic banana bread slices so well. If you don't want to eat it all in one day, put those slices in zipped bags and put them in the freezer. It's a fabulous way to enjoy your banana bread later, and you won't be tempted to eat too much of it on your counter.
Does banana bread freeze well?
Yes! I suggest baking more than one loaf as everyone swallows that loaf. Just double the recipe. Cool the extra bread completely. Wrap it in foil, then place the foil-wrapped bread in a large zippered freezer bag and store in the freezer for up to 3 months. Thaw to enjoy later!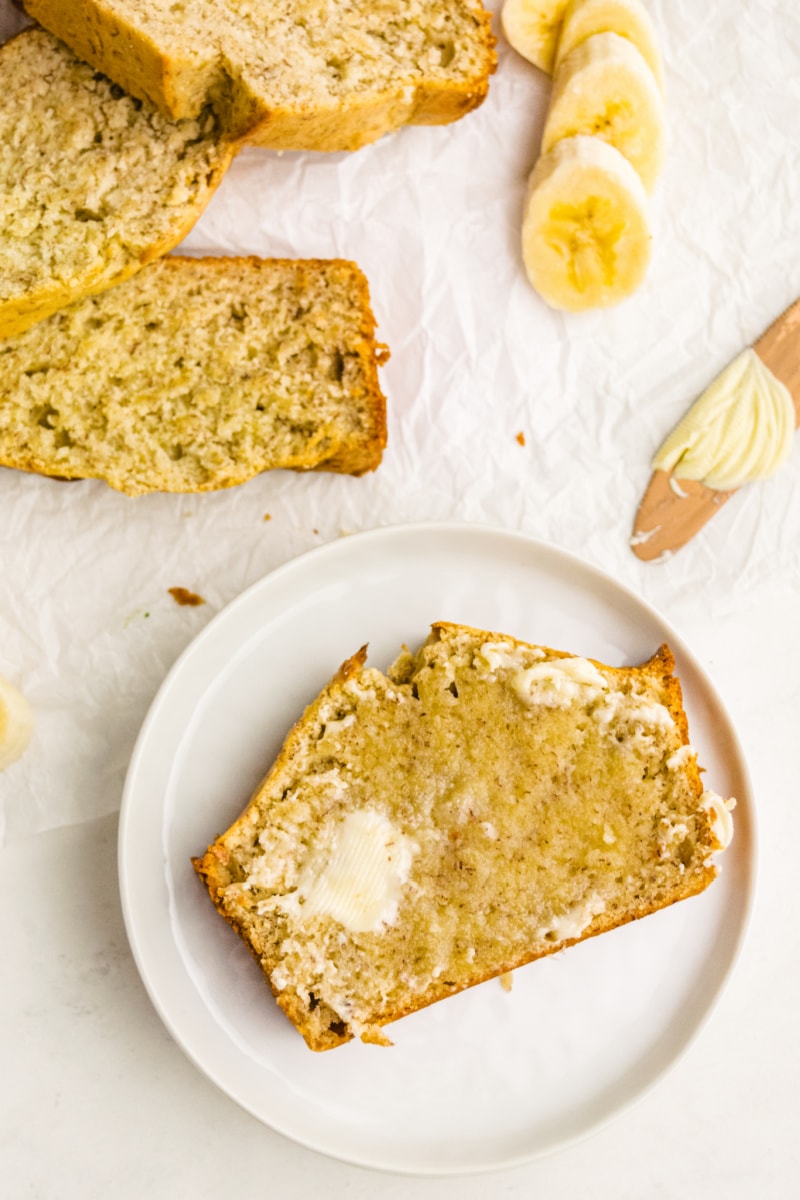 Banana bread is pretty awesome when served a little hot with butter spread on top. Try to make it honey butter too much. Enjoy!
Classic banana bread
This banana bread recipe is a family favorite. It's very chewy and flavorful, and it turns out perfect every time.
8
8
8
Recipe details
Servings: 12 portions
Calories: 210kcal
Ingredients
2

cups

all purpose flour

¾

teaspoon

baking soda

½

teaspoon

salt

1

Chopped off

granulated white sugar

¼

cup (½ stick)

Butter,

at room temperature

2

big

eggs

1½

cups

ripe banana puree

(about 3 bananas)

⅓

Chopped off

plain low fat yogurt

1

teaspoon

vanilla extract
Instructions
Preheat the oven to 350 ° F. Spray an 8 x 5-inch loaf pan with nonstick spray.

In a medium bowl, whisk together flour, baking soda and salt.

In a separate large bowl, use an electric mixer to combine the sugar and butter on medium speed until well combined (about 1 minute). Add eggs one at a time, beating well after each addition. Add banana, yogurt and vanilla; beat until blended. Stir in flour mixture until incorporated (do not over mix).

Pour the dough into the prepared pan. Bake for 50 to 60 minutes or until a toothpick inserted in center comes out clean. Let cool for 15 minutes in the pan on a wire rack. Remove from the pan and let cool completely on a wire rack.
Remarks
* If you run out of mashed bananas, add unsweetened applesauce to make up the difference. This will make your bread nice and chewy and will not add apple flavor to the bread.
Nutrition
Portion: 1slice, Calories: 210kcal, Carbohydrates: 37g, Protein: 4g, Large: 5g, Saturated fat: 3g, Trans fat: 1g, Cholesterol: 42mg, Sodium: 218mg, Potassium: 119mg, Fiber: 1g, Sugar: 20g, Vitamin A: 184UI, Vitamin C: 2mg, Calcium: 23mg, The iron: 1mg, Blue WW smart points: 8, Green WW Smart Points: 8, Purple WW Smart Dots: 8