Change up your salsa game with this Sweet and Spicy Mango Salsa Recipe! Scoop it up with tortilla chips or top it with tacos, burritos and more.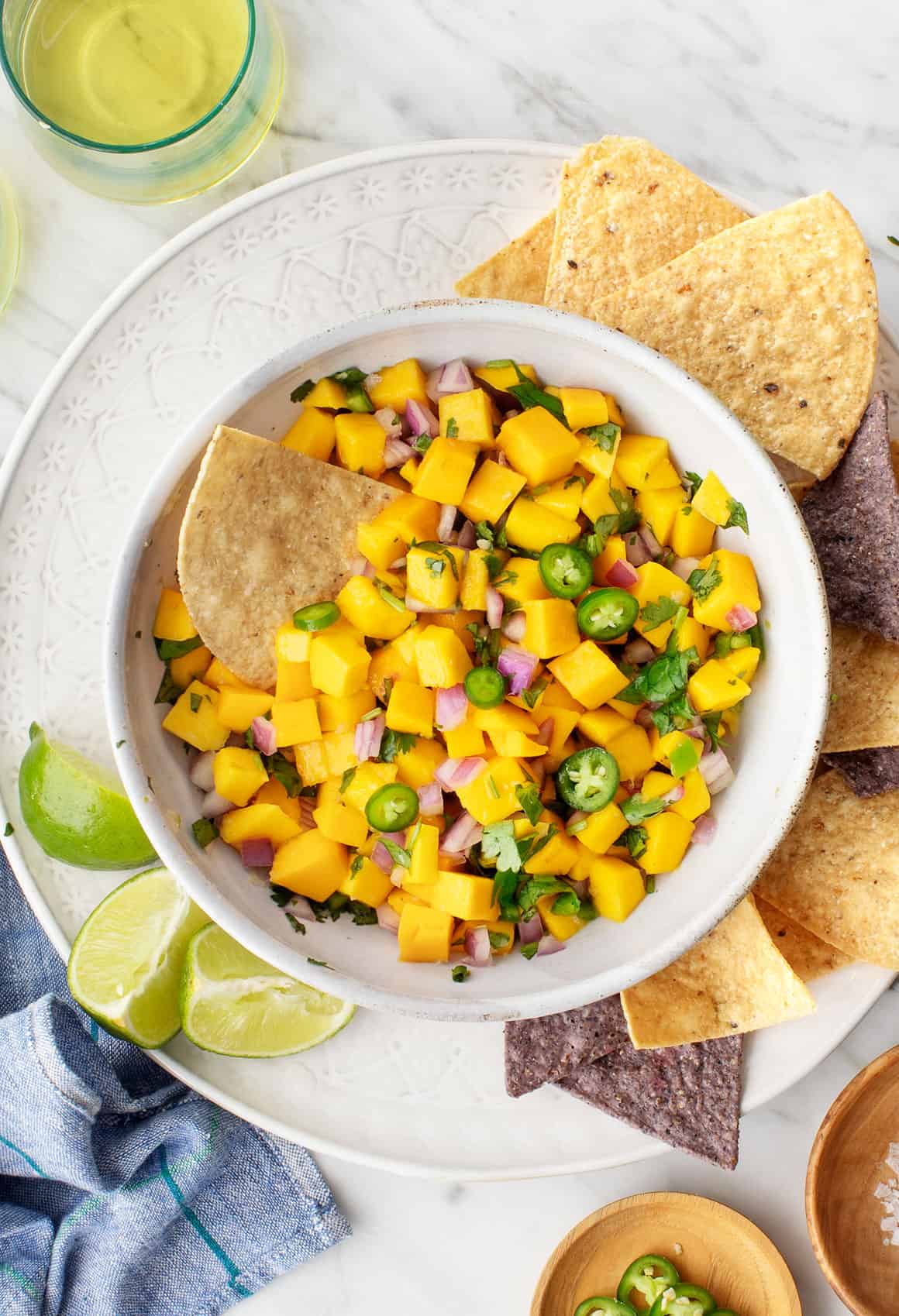 With Cinco de Mayo coming tomorrow, I thought I would drop by to share this mango salsa. This is one of my favorite recipes to make throughout spring and summer because it's refreshing, fun, and so easy. Follow the recipe once or twice and you can leave the measuring cups in the drawer and observe the ingredients. After that, you can modify it in all kinds of ways. Stir in the avocado or add black beans. You can even add pickled jalapeños! Because it's such a simple and flexible recipe, it lends itself well to variation and never disappoints. Prepare your margarita (or mango margarita) – let's make a mango salsa!
Mango Salsa Recipe Ingredients
This sweet and spicy salsa only requires 7 ingredients:
Mangoes – Any ripe mango will work here, but Ataulfo ​​or Champagne mangoes (pictured above) are my top choice for this recipe. They usually appear in grocery stores in the spring. I prefer them to red mangoes because they have a smoother, juicier texture and a sweeter flavor.
Red onion – For color, crunch and lively, savory flavor.
Coriander – It stains the salsa with green and adds a fresh flavor.
Lime juice – This makes the salsa lively and tangy.
Garlic – For an intense flavor.
Jalapeno – For the warmth.
And sea ​​salt – To bring out all the flavors!
Find the full recipe with the measurements below.
Mango Salsa Recipe Variations
This mango salsa recipe is super flexible! Feel free to modify it to your liking or use what you have on hand. Here are some of my favorite variations:
Add avocado. Avocado makes everything better, right? Stir in 1 / 2-1 diced avocado for a richer, creamier salsa.
Pickle something. For an extra crisp, tangy salsa, swap raw jalapeños for pickled jalapeños. Pickled red onions would also be great here!
Bundle it up. Turn this mango salsa into a more hearty dip by adding 1/2 cup cooked black beans and finely diced red peppers.
Let me know which variations you try!
Suggested servings of mango salsa
This mango salsa recipe is a perfect appetizer. I like it on its own with tortilla chips, and it's also a great way to spice up guacamole. Put some on your next bowl of guac for a dressy party dip!
But your options for serving it don't end there. Here are a few more of my favorite ways to use it:
How do you like serving mango salsa? Let me know in the comments!
More homemade salsas and dips
If you like this fresh mango salsa recipe, then try one of these homemade salsas or dips:
For more tasty appetizer ideas, check out this article!
Mango sauce
Serves 3 to 4
This sweet and spicy mango salsa recipe will be a hit at your next party!
2

medium ripe mangoes

¼

Chopped off

diced red onion

¼

Chopped off

finely chopped cilantro

Juice and zest of a lime

1

small clove of garlic

,

grated

½

jalapeño

,

chopped

¼

teaspoon

sea ​​salt

,

more to taste
Peel and dice the mangoes using this method.

In a medium bowl, combine the mango, onion, cilantro, lime juice, garlic, jalapeño pepper and salt. Refrigerate until ready to use.