Baked ziti with burrata is a baked pasta dish with sautéed vegetables, marinara sauce and lots of cheese, including burrata baked on top.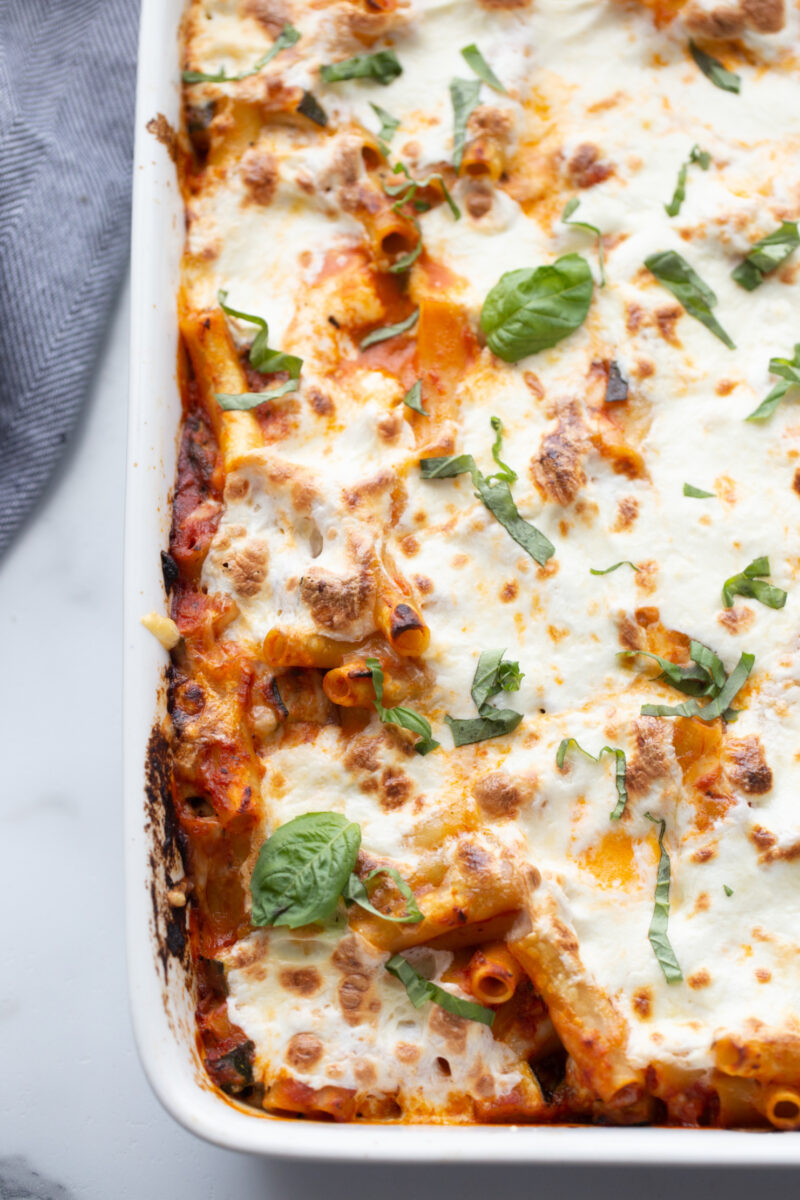 I must say this recipe caught my eye because of this lovely burrata. Do you know the burrata? I introduced it to you when I shared my Caprese salad with Burrata several years ago. It's a bright, creamy cheese that's pretty much the most delicious thing you've ever eaten. You can find it in the specialty cheese section of your market near the fresh mozzarella. In a pinch, you can add mozzarella to this recipe, but the point is to locate the burrata here. This burrata baked ziti is a dinner staple!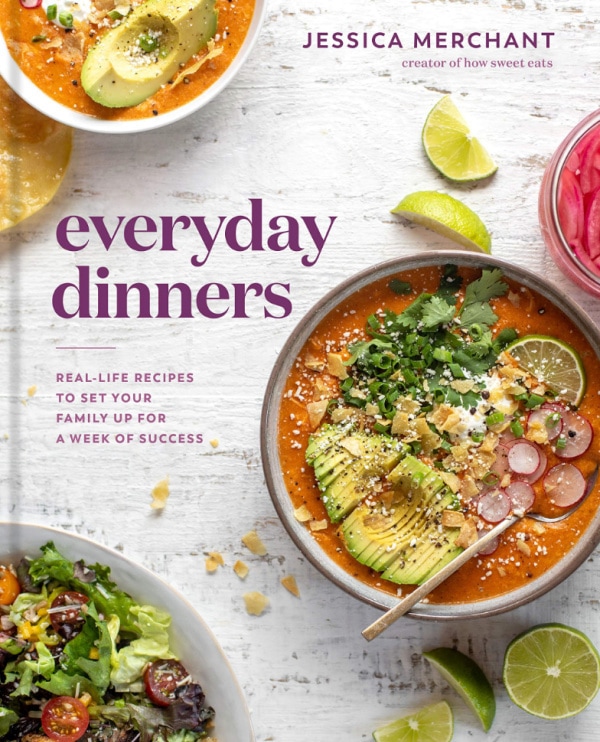 Everyday Dinners by Jessica Merchant
This recipe is taken from Jessica Merchant's latest cookbook: Everyday Dinners – Real Life Recipes to Prepare Your Family for a Successful Week. I have been friends with Jessica and have been a fan of her recipes on HowSweetEats.com for about 10 years now, and this girl knows her food! She's beyond creativity with ideas for new ways to prepare meals (not boring!), And she writes affordable and delicious recipes. If you're buying cookbooks this year, you definitely need this one. Large, beautiful photos are included with every recipe. The chapters include sauces / dressings, meatless meals, poultry, pork, beef, seafood and sides.
There are so many recipes I want to make from this book, but here are the ones I have "double-starred"!
apple cider caramelized onions
Caesar yogurt dressing
Harvesting Honey Chip Salad
baked sweet potato soup
Spaghetti squash cacio e pepe
summer watermelon chicken salad
lemon butter chicken
chickpea cob salad with honey and mustard
BBQ pork chops with grilled peaches
flank steak with lime chimichurri
Dijon Honey Pretzel Crusted Salmon
roasted cauliflower with curry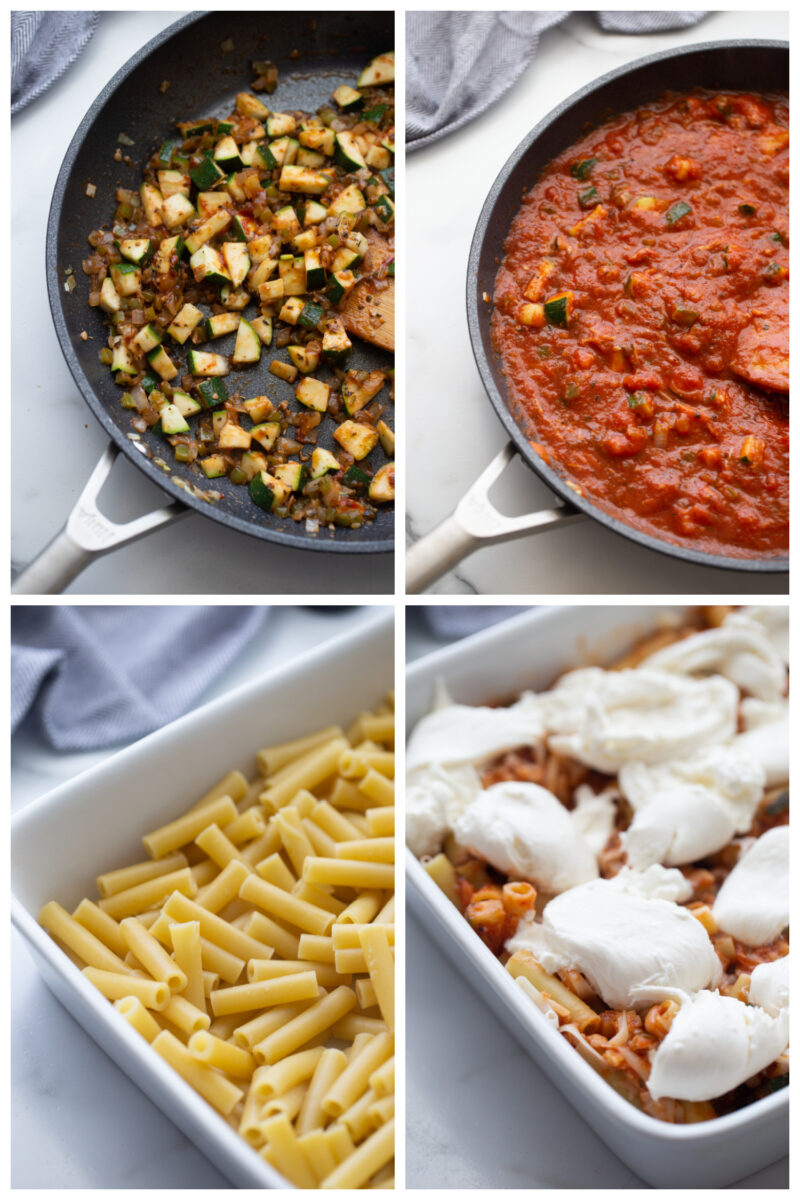 How to make Burrata Baked Ziti:
Scroll to the bottom of this article to print the full Baked Burrata Recipe!
Cook the pasta until it is "al dente". If you don't have a ziti, you can sub-rotini, penne or something similar.
Then prepare the sauce. Heat olive oil in a pan and sauté onion, garlic and bell pepper until softened. Then add the basil, oregano and red pepper flakes. Add the zucchini and cook for a few minutes. Stir in the tomato paste and red wine. Add the marinara sauce (your favorite brand) and the Parmesan.
Drain the pasta and place it in a 9 × 13 inch casserole dish. Pour the sauce over the pasta. Sprinkle mozzarella cheese on top and stir it a bit into the pasta. Separate the burrata and place it on top.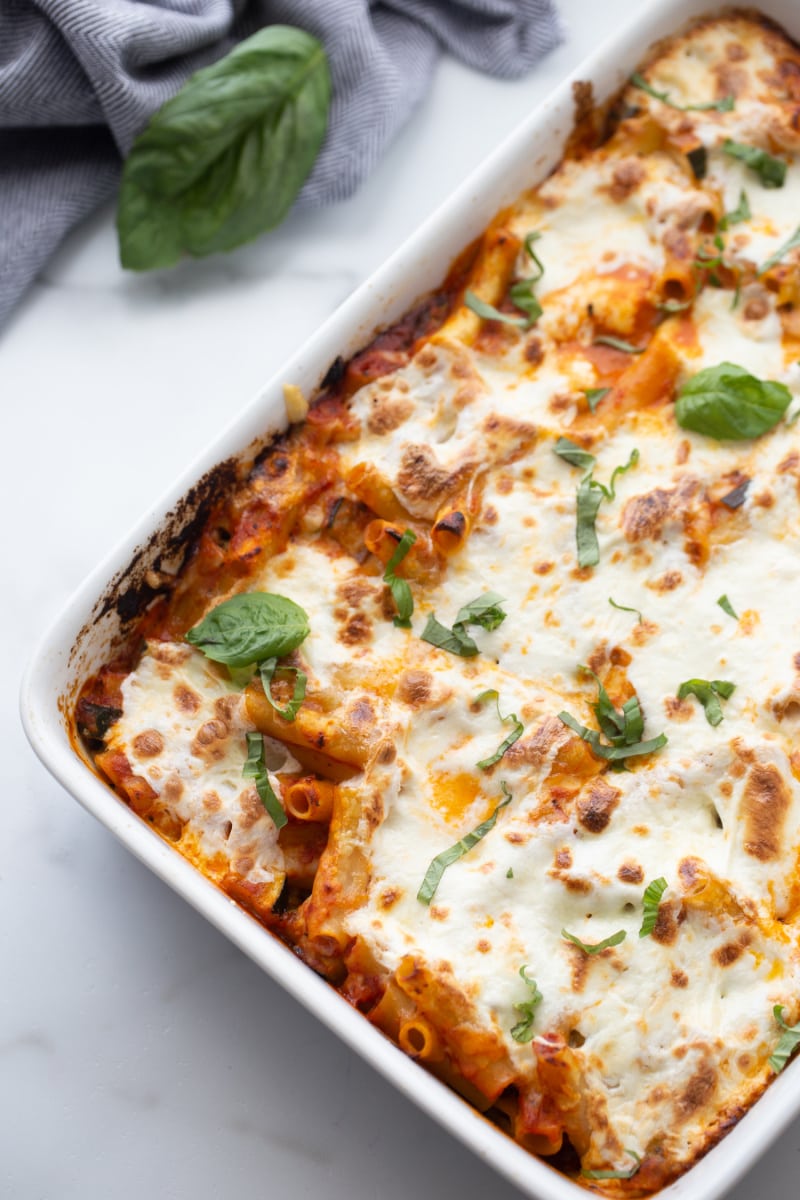 Bake for about 20 minutes, until the burrata is melted and everything is hot and bubbling.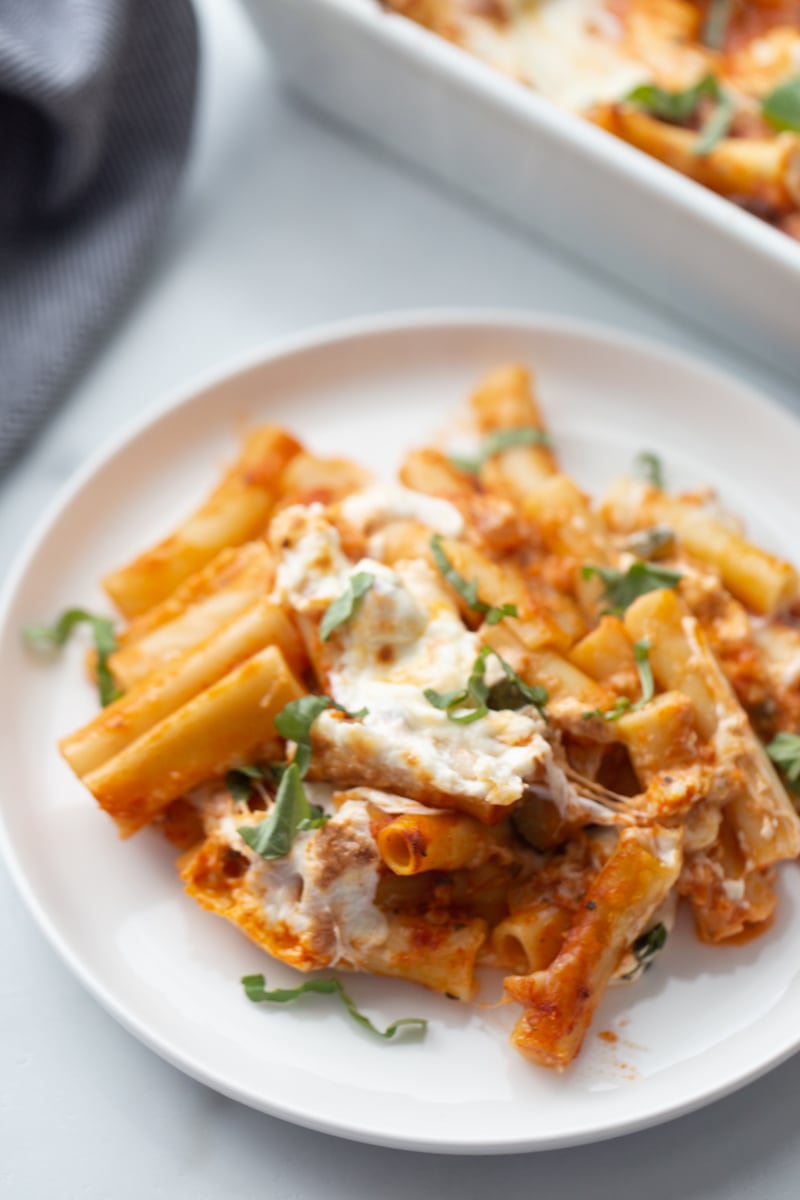 Pour individual servings onto plates and call everyone for dinner. This burrata baked ziti recipe is one that everyone will love. Enjoy!
And if you fall in love with the burrata and want to make another recipe … try this Heirloom Burrata Salad with Nectarines (it's also a good summer recipe!)
Baked ziti with burrata
This cheesy baked pasta recipe is stuffed with vegetables!
Recipe details
Servings: 6 portions
Calories: 696kcal
Ingredients
kosher salt

16

ounces

ziti pasta

1

teaspoon

extra virgin olive oil

1

way

Sweet onion,

diced

3

way

cloves of garlic,

chopped

1

way

green pepper,

diced

freshly ground black pepper

½

teaspoon

dried basil

½

teaspoon

dried oregano

¼

teaspoon

crushed red pepper flakes

1

way

courgette,

diced

1

teaspoon

tomato paste

3

soup spoons

dry red wine

A

32 oz jar

marinara sauce

¼

Chopped off

finely grated parmesan cheese

8

ounces

grated mozzarella cheese

Of them

8 oz balls

burrata cheese

chopped fresh basil or parsley,

For garnish
Instructions
Preheat the oven to 400 degrees F. Bring a large pot of salted water to a boil and cook the ziti until al dente, according to package directions.

While the pasta cooks, heat a large pan over medium-low heat and add olive oil. Add the onion, garlic and bell pepper with a big pinch of salt and pepper. Stir in the basil, oregano and red pepper flakes. Cook, 5 minutes, until the vegetables are slightly softened. Stir in the zucchini and cook for another 3 minutes. Stir in the tomato paste and red wine.

Pour the marinara sauce into the pan. Add the Parmesan and mix everything. Now the pasta should be done cooking. Drain the pasta and transfer it to a 9 x 13-inch baking dish. Pour the marinara sauce mixture on top. Sprinkle with mozzarella cheese and toss once or twice to incorporate it into the pasta.

Separate the burrata balls and place the pieces on the pasta. Bake for 20 minutes or until the pasta is golden and bubbly.
Nutrition
Portion: 1portion, Calories: 696kcal, Carbohydrates: 73g, Protein: 36g, Large: 33g, Saturated fat: 17g, Cholesterol: 87mg, Sodium: 1128mg, Potassium: 928mg, Fiber: 6g, Sugar: 13g, Vitamin A: 1684UI, Vitamin C: 36mg, Calcium: 700mg, The iron: 3mg