This potato salad recipe is perfect for picnics and barbecues! A creamy and tangy vinaigrette covers tender potatoes, fresh herbs and crunchy vegetables.
If you grew up in the Midwest, there's a good chance that homemade potato salad is a staple at every gathering you've been to. At least it was for me. Pale yellow and ultra creamy, it had a permanent stain between the macaroni salad and the hamburger buns. No barbecue, picnic, cooking or potluck was complete without it.
This potato salad recipe is a fresh riff on this classic. Over the past few summers, it has become a new favorite on our picnic table. It's equally creamy, salty, and tangy, but has a lighter dressing, no hard-boiled eggs, and lots of mixed veg for the crunch. It couldn't be more perfect for picnics because it tastes better when you make it ahead of time. We're going to be doing this all summer, and I hope you will be too!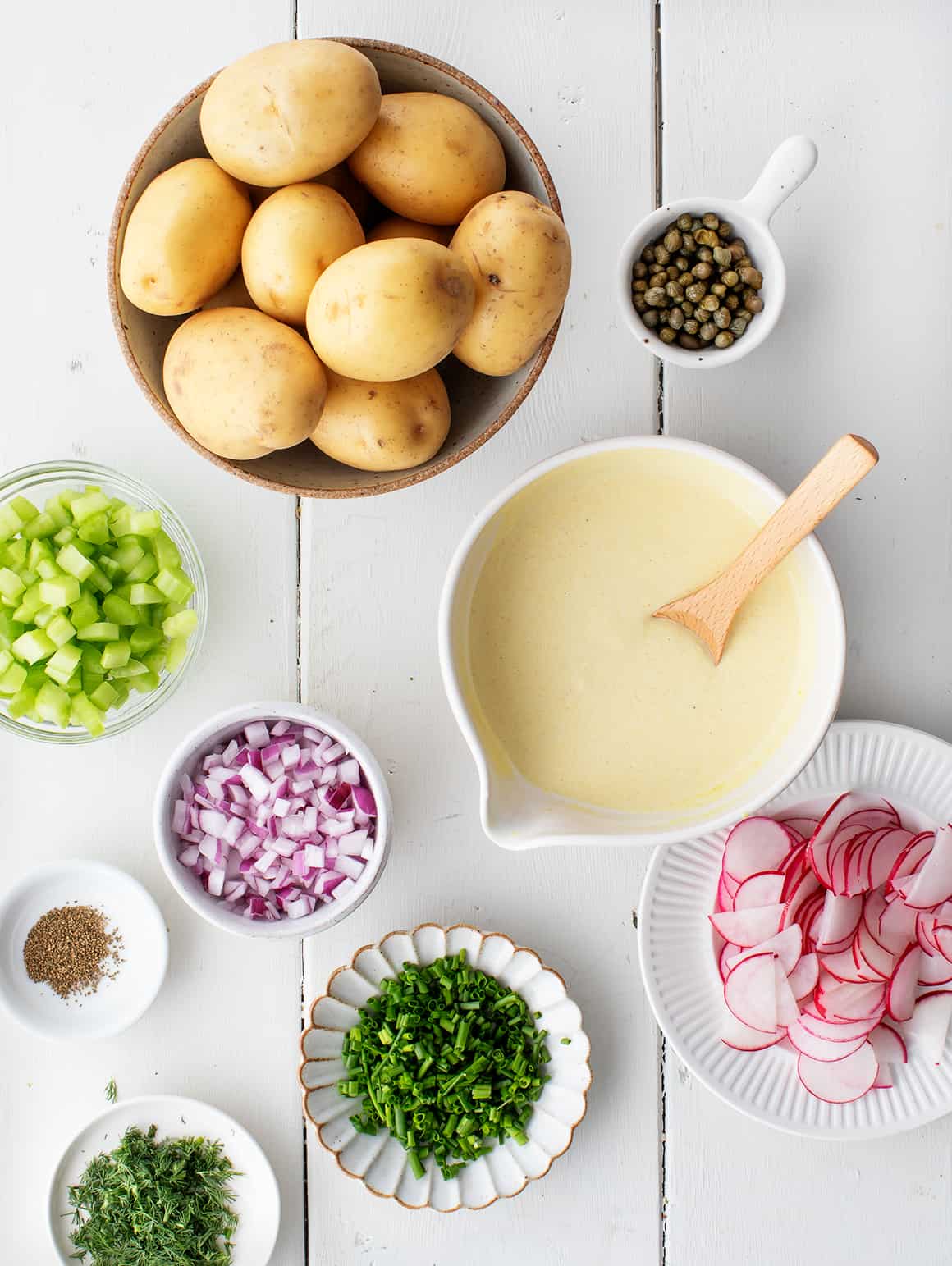 The best ingredients for the potato salad recipe
Here's what you'll need to make this potato salad recipe:
Potatoes, of course! Look for Yukon Gold or yellow potatoes. Their creamy texture makes them perfect for this potato salad recipe.
Celery – It offers a delicious crunchy contrast to the creamy dressing and potatoes, and it infuses the salad with a savory flavor.
Radish and red onion – For more color and crunch.
capers – Many classic potato salad recipes call for dill pickles or sweet pickles, but I like to use capers instead. They add a touch of brackish flavor to the salad.
Dill, chives and celery seeds – They deepen the salty flavor of the salad.
And the dressing – It's creamy, tangy and shiny, made with Greek yogurt, mayonnaise, lemon juice, Dijon mustard, olive oil, garlic, salt and pepper. You can also add turmeric for color, but it's completely optional. Salad still tastes great without it!
Find the full recipe with the measurements below.
How to make a potato salad
This potato salad recipe couldn't be easier to make! Here is how it goes:
First, chop the potatoes. Try cutting them to a similar size, into about 1/2 inch pieces, so they cook evenly.
Then cook them. Place the chopped potatoes in a large saucepan and cover them with an inch of cold water. Bring the water to a boil and simmer for about 10 minutes or until tender.
While the potatoes are cooling, whisk together the dressing. If you try it on its own, it will taste strong and salty. Do not worry! The flavor will balance out when poured over the starchy potatoes.





Finally, pour the vinaigrette over the potatoes and stir in the rest of the ingredients. Season as desired. That's it!
If you're serving the potato salad right away, top it with additional radish slices and fresh herbs. Otherwise, cover the salad and store it in the refrigerator for up to 3 days. It will taste even better on days 2 and 3!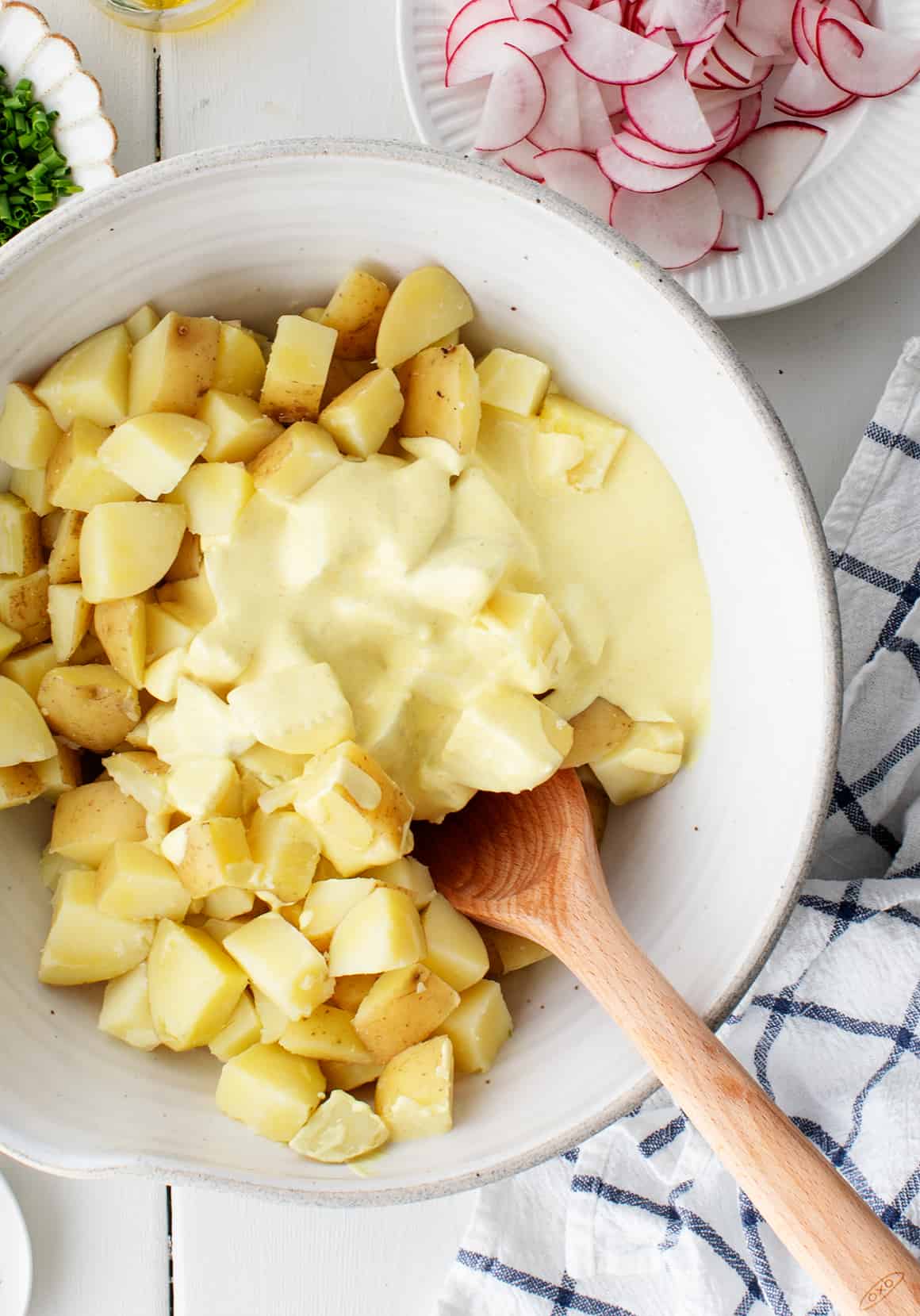 Suggested portions of homemade potato salad
This potato salad is a great addition to any summer spread. Pair it with one or two other sides, like grilled corn on the cob or grilled zucchini, and make one of these recipes to serve as a main course:
Complete the meal with my summer fruit salad and homemade brownies for dessert. Enjoy!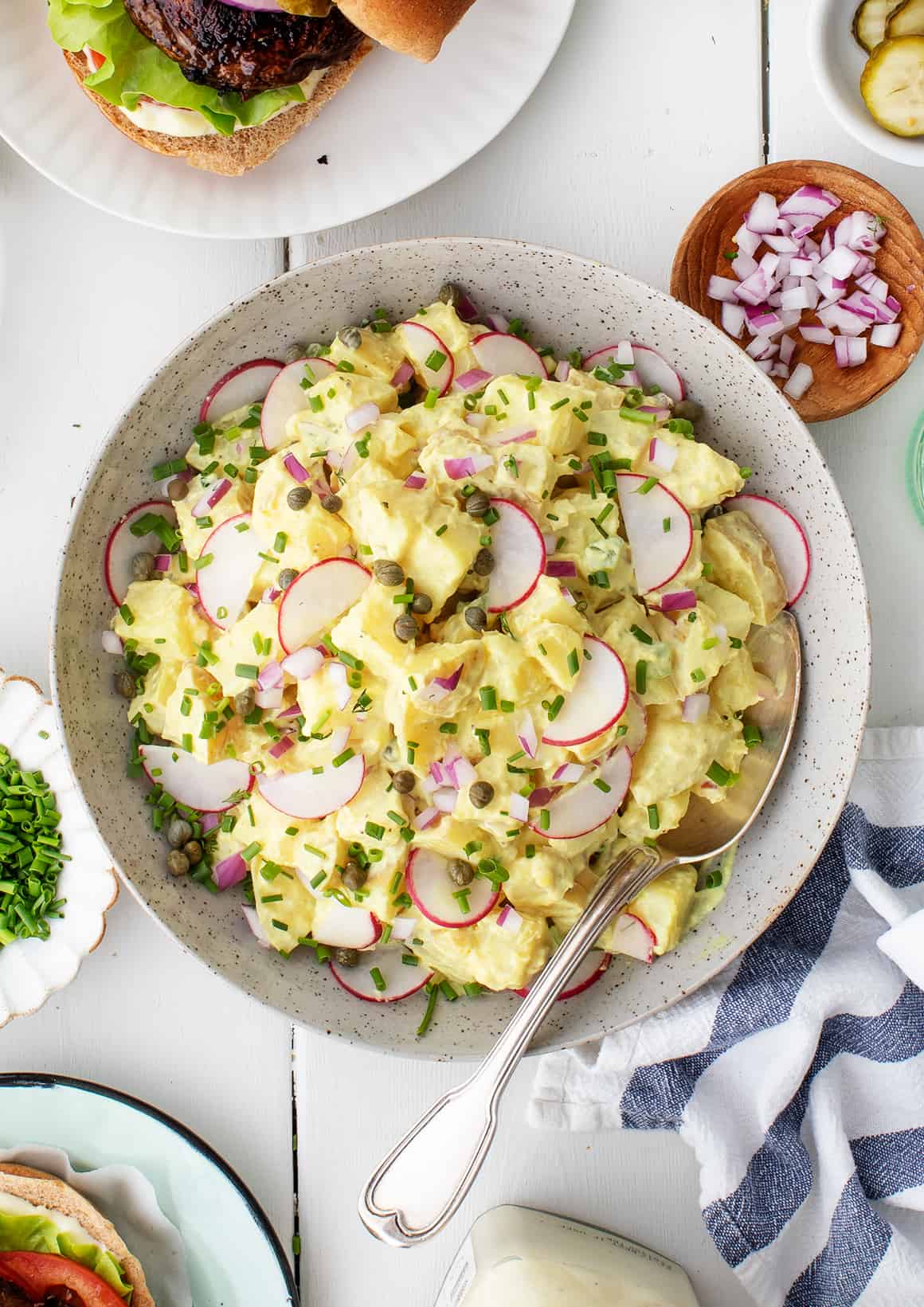 More Favorite Summer Salads
If you like this potato salad recipe, then try one of these delicious summer salads:
Best potato salad
Serves 4 to 6
The best potato salad recipe! A perfect summer side dish, this recipe can be made ahead and refrigerated for up to 3 days.
2

pound sterling

Yukon Gold Potatoes

,

cut into ½ inch pieces

2

celery stalks

,

diced

½

Chopped off

diced red onions

2

soup spoons

capers

4

red radishes

,

halved and thinly sliced, set aside for garnish

⅓

Chopped off

chopped chives

,

reserve some for garnish

2 to 4

soup spoons

fresh dill

,

optional

¼

teaspoon

celery seed

,

optional
Pad
¾

Chopped off

plain whole milk Greek yogurt

,

I love Stonyfield Grassfed

¼

Chopped off

Mayonnaise

,

I love Sir Kensignton

2

teaspoon

Dijon's mustard

2

soup spoons

lemon juice

1½

soup spoons

extra virgin olive oil

3

cloves of garlic

,

chopped

1

teaspoon

sea ​​salt

¼

teaspoon

Turmeric

,

optional, for color

Freshly ground black pepper
Place the potatoes in a large saucepan and cover about 1 inch with cold water. Bring to a boil, then reduce heat and simmer, uncovered, until tender with a fork, about 10 minutes. Drain the potatoes, let cool to room temperature, then transfer to a large bowl.

Prepare the dressing: In a medium bowl, whisk together the yogurt, mayonnaise, mustard, lemon juice, olive oil, garlic, salt, turmeric, if using, and several grains of pepper. Note: it will taste strong and salty at this stage; it will balance out when mixed with the potatoes.

Pour the dressing over the potatoes and toss to coat. Stir in celery, red onions, capers, radishes, chives and dill and celery seeds, if using. Season to taste and garnish with the reserved radishes and chives.