Lemon Cheesecake Bars are simple cheesecake bars flavored with fresh lemon and a crumb of graham cracker crumbs.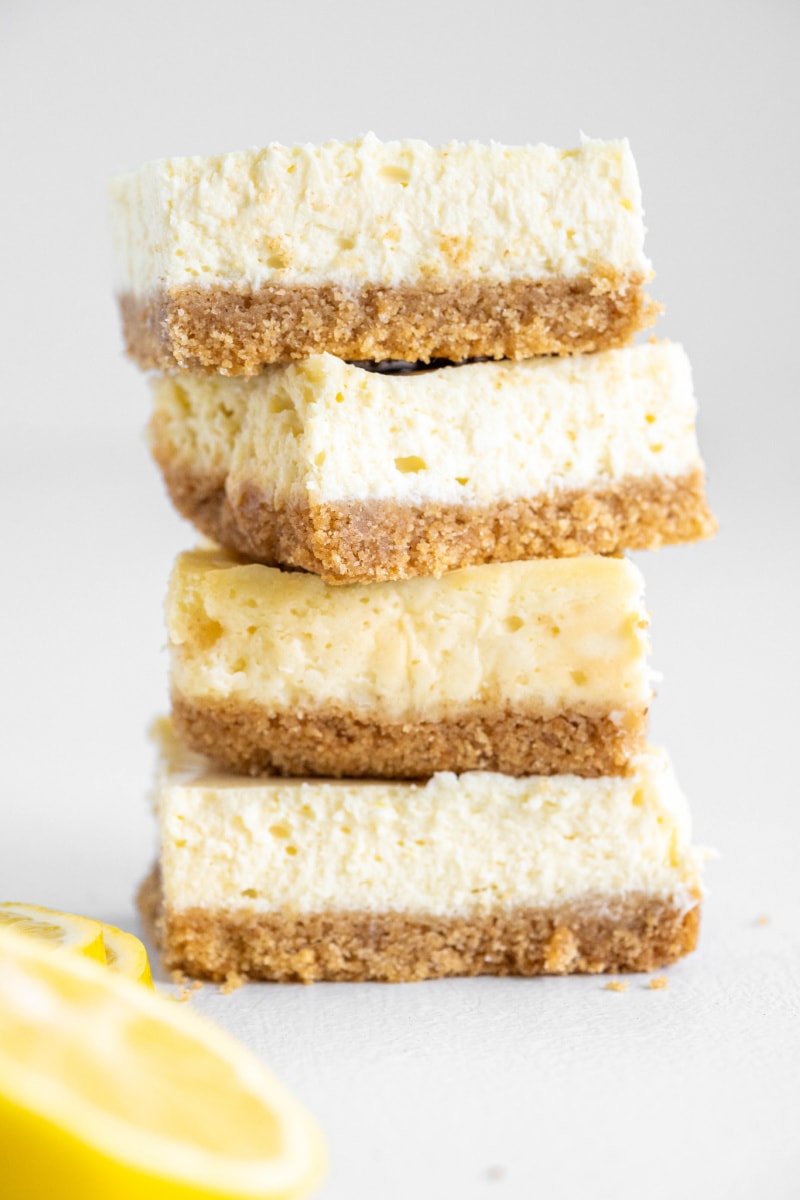 This recipe turns out to be the perfect cheesecake bars flavored with just the right amount of fresh lemon juice and zest. They're a summery sweet dessert to make for the holidays, and they're easily made in an 8×8-inch pan. The recipe makes 12 lemon cheesecake bars, which is manageable for a small gathering. You won't have a bunch left. Everyone loves a good cheesecake, so it's likely to be a big hit!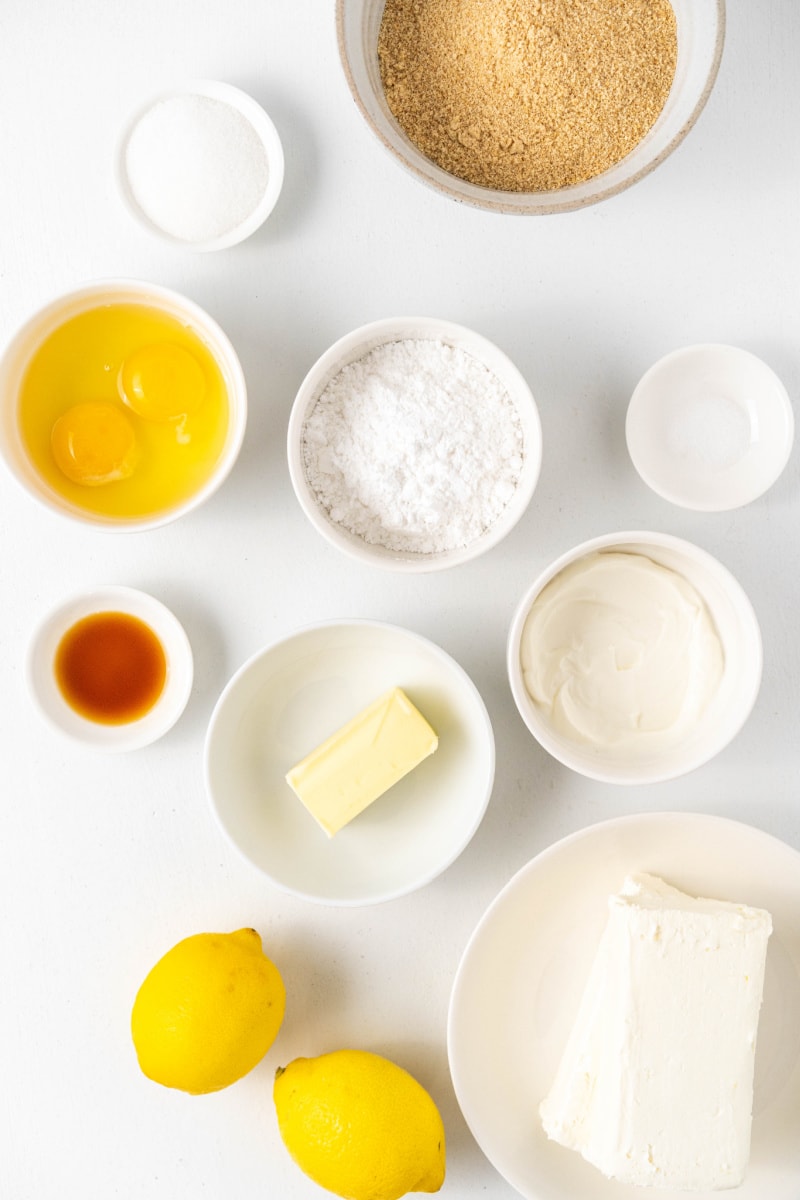 Ingredients needed:
CRUST: graham cracker crumbs, sugar, salt and butter
Cream cheese
Granulated sugar
sour cream
lemon juice
lemon zest
vanilla extract
eggs
Notes on ingredients:
It's easier to buy a box of pre-processed graham cracker crumbs. They should be on the shelf in your market's cooking aisle. Alternatively, you can use a food processor to grind the graham crackers into crumbs. It is best to use whole cream cheese and whole sour cream for these bars. They will taste much better and have a nicer texture than using the low fat version of cream cheese and light sour cream. That being said, you can definitely use lower fat versions if you need to, and the bars will still perform really well.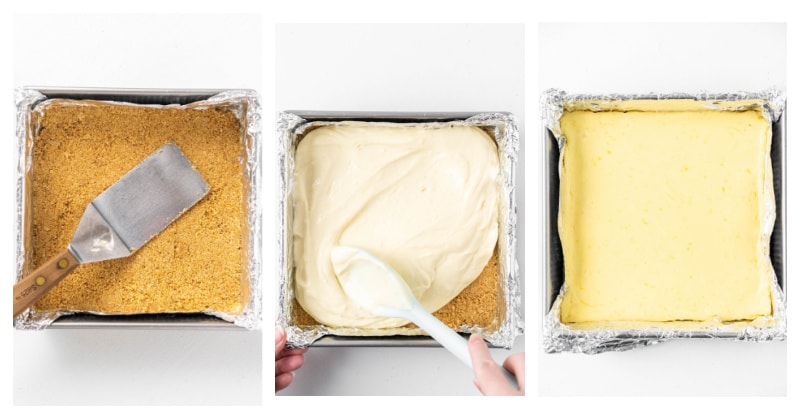 How to make lemon cheesecake bars:
Combine crust ingredients in a medium bowl and pat them into an 8 x 8-inch baking dish lined with foil. If you don't like baking with foil, you can bake these bars in an 8 x 8 inch pyrex pan instead. The rest of the ingredients are combined with an electric mixer to make the garnish. The filling is poured over the crust and spread to cover evenly. Then it goes in the oven for about 30 minutes.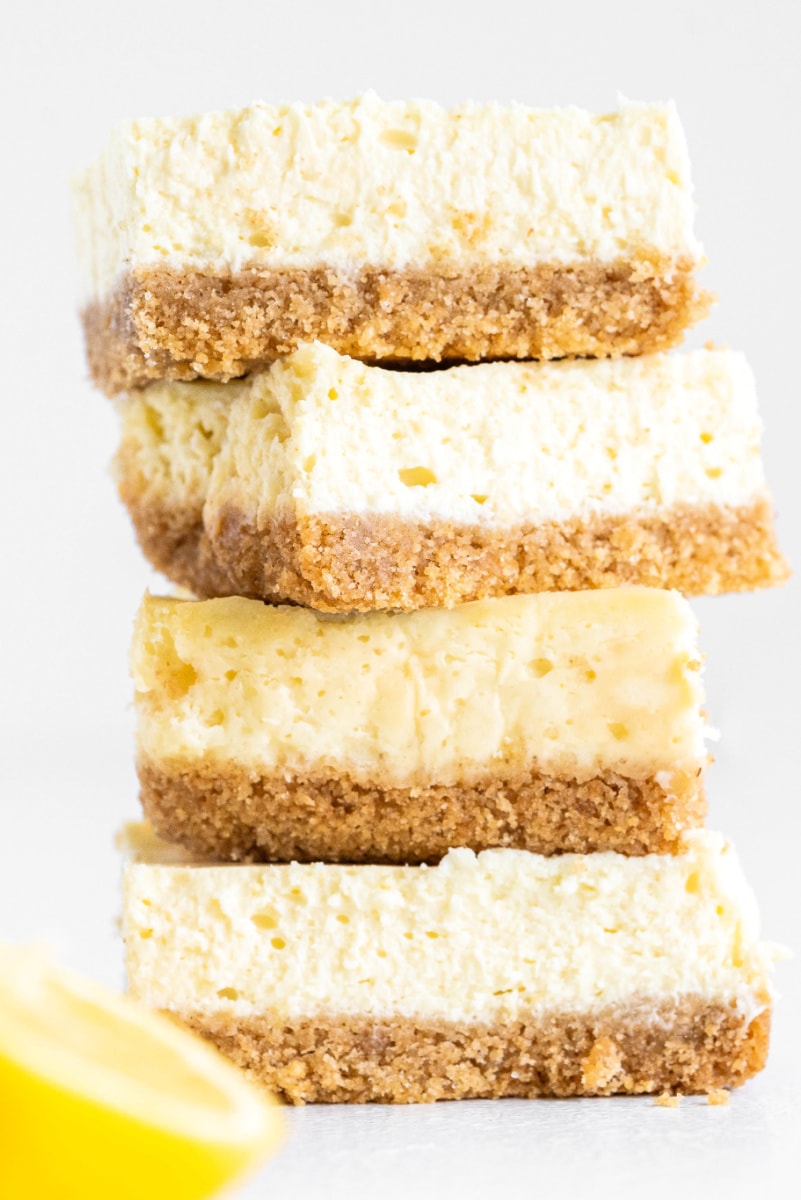 Once cooled, the casserole of lemon cheesecake bars is refrigerated for several hours until cool. The cooler they are, the easier it will be for you to get nice, clean cuts. Use a sharp knife to cut the lemon cheesecake mold into even-sized bars.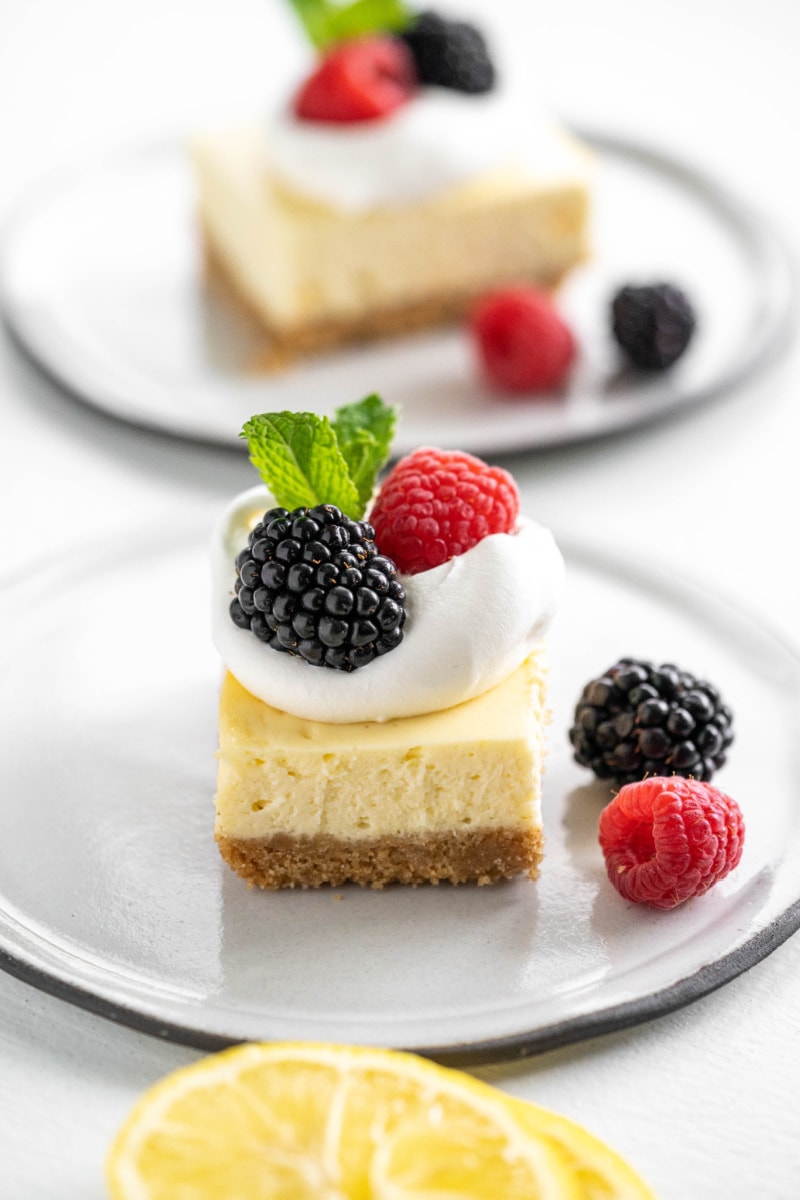 You can certainly leave the bars simple or add a nice garnish. We've added whipped cream, fresh berries, and fresh mint here. A spoonful of strawberry filling would be delicious too.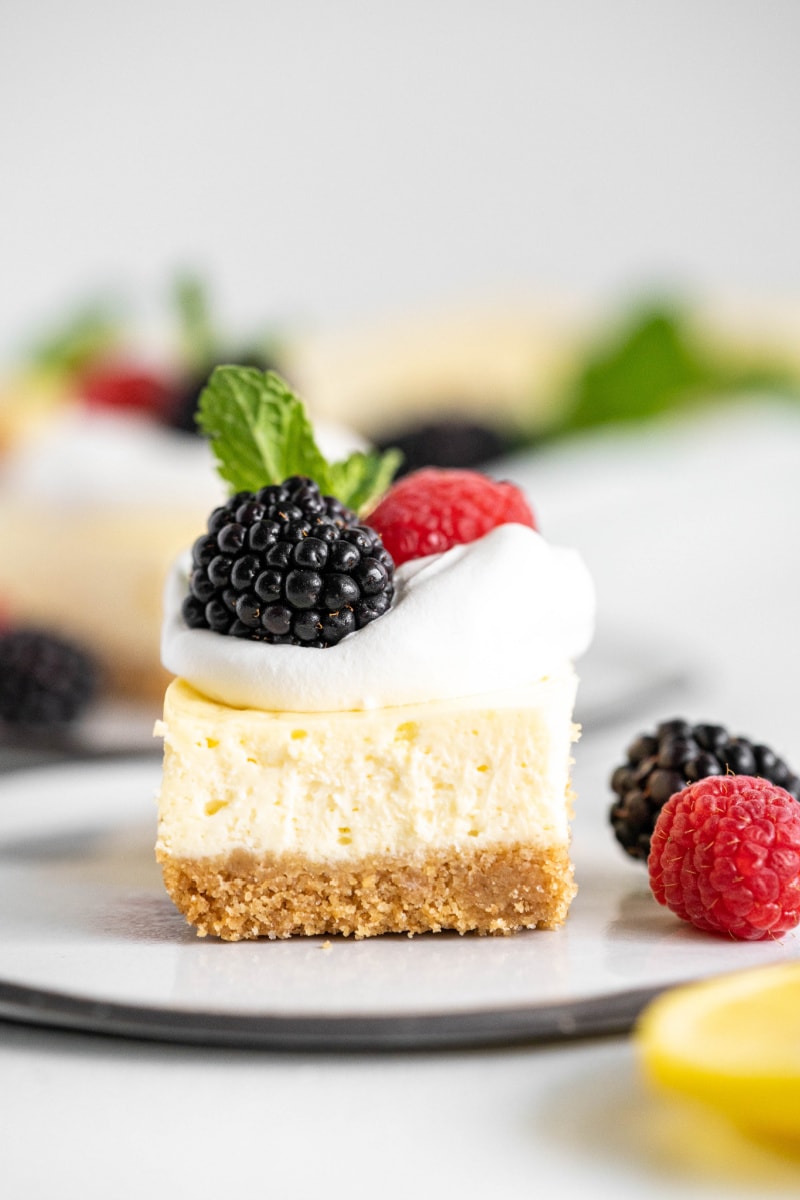 Store these bars in the refrigerator until ready to serve. Enjoy!
Lemon Cheesecake Bars
Totally delicious cheesecake bars with the flavor of fresh lemon!
Recipe details
Servings: 12 portions
Calories: 280kcal
Ingredients
CRUST:
1½

cups

graham cracker crumbs

2

soup spoons

granulated white sugar

⅛

teaspoon

salt

6

soup spoons

Unsalted butter,

molten
FILLING:
Of them

8 ounces

packets of cream cheese,

at room temperature

⅔

Chopped off

Granulated sugar

¼

Chopped off

sour cream

1

teaspoon

freshly squeezed lemon juice

2

coffee spoons

freshly grated lemon zest

1

teaspoon

vanilla extract

2

big

eggs,

at room temperature
OPTIONAL TRIMS:
whipped cream, berries, mint leaves
Instructions
MAKE THE CRUST:
In a large bowl, whisk together graham cracker crumbs, sugar and salt. Add the butter and stir to combine. Transfer the crumbs to the prepared baking dish and spread them evenly. Use a thin metal spatula to press them evenly into the bottom of the dish.
MAKE THE FILLING:
In a large bowl, add the cream cheese, powdered sugar, sour cream, lemon juice, lemon zest and vanilla. Use an electric mixer to beat until smooth. Add the eggs and beat again until incorporated. Pour cheesecake filling into prepared pan on top of crust, smoothing top so it is even.

Bake in the preheated oven until the cheesecake is set along the outside but still a little tossed in the center, 30 to 35 minutes. Let the cheesecake cool to room temperature. When completely cool to room temperature, place a piece of plastic wrap directly over cheesecake and refrigerate until completely chilled, 2 to 4 hours.

Slice the cheesecake into 12 bars. Top with any toppings you like. To serve.
Nutrition
Portion: 1bar, Calories: 280kcal, Carbohydrates: 19g, Protein: 4g, Large: 21g, Saturated fat: 12g, Trans fat: 1g, Cholesterol: 90mg, Sodium: 231mg, Potassium: 93mg, Fiber: 1g, Sugar: 12g, Vitamin A: 758UI, Vitamin C: 1mg, Calcium: 58mg, The iron: 1mg