This recipe for Weight Watchers Asian Chicken Orange is a super easy 6 ingredient dinner recipe that's lighter to enjoy.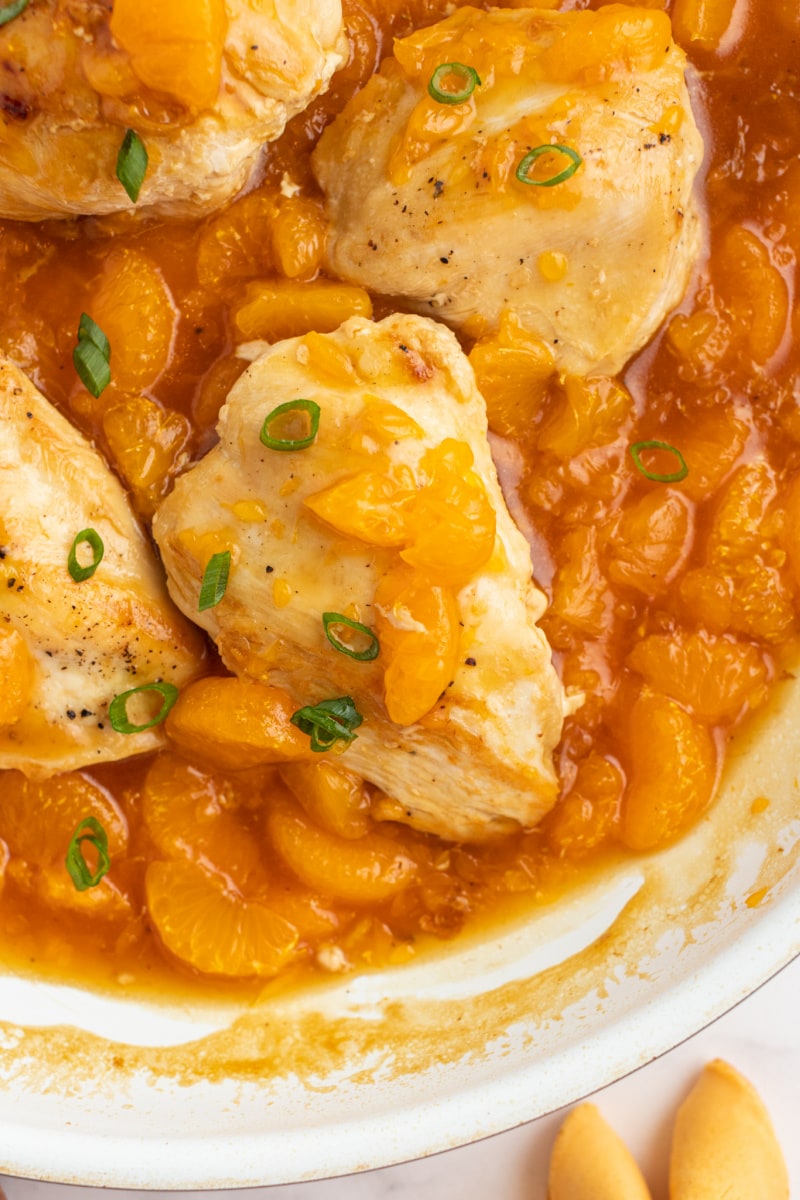 I first tried this recipe years ago when I was on Weight Watchers. This is probably one of those recipes I had at one of the meetings, and I saved it because it was good enough to try even if you don't follow the WW plan. Just like my Weight Watchers Pizza and Weight Watchers Spaghetti Bolognese recipes, this recipe can be eaten and enjoyed by anyone just looking for a lighter meal.
This is one of those super easy, single pan, and easy chicken dinner recipes where you don't have to make a big mess using multiple pans. You can serve it with or without rice, and maybe serve it vegetables next door too.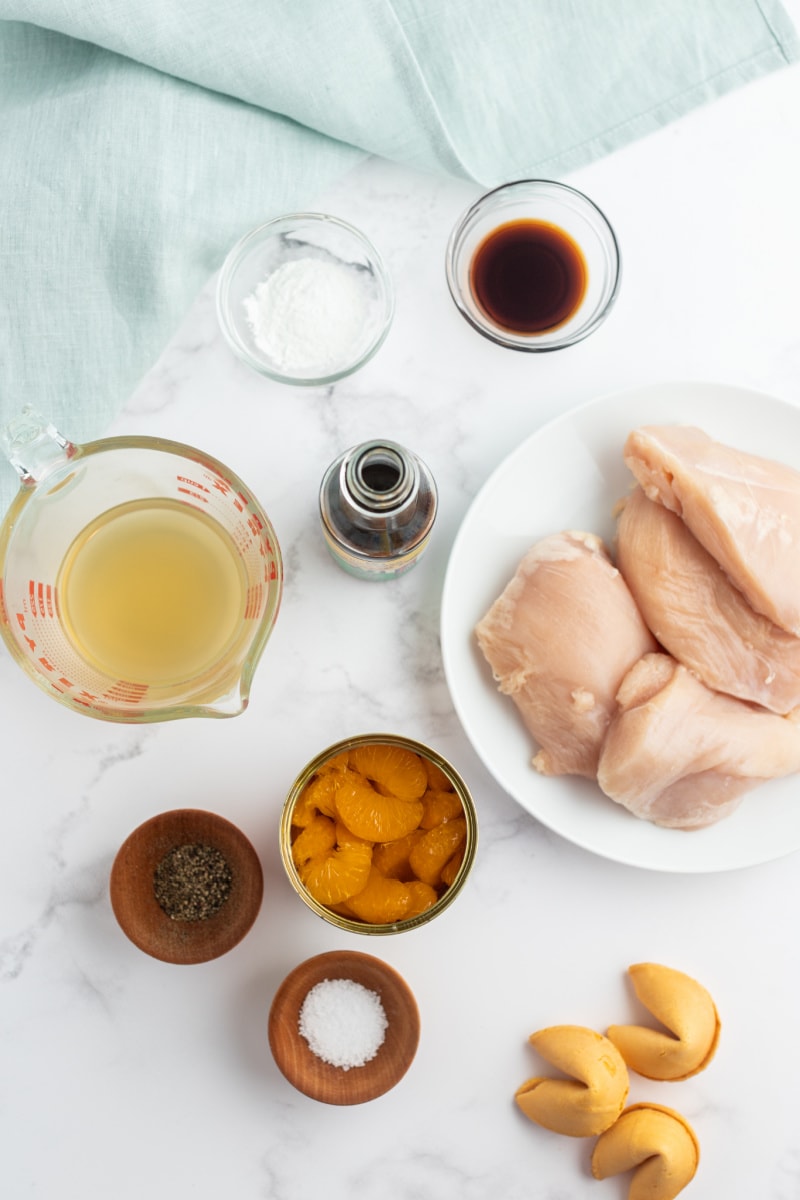 Ingredients needed:
Sesame oil
Chicken breast
canned mandarins
chicken broth
soya sauce
cornstarch
salt and pepper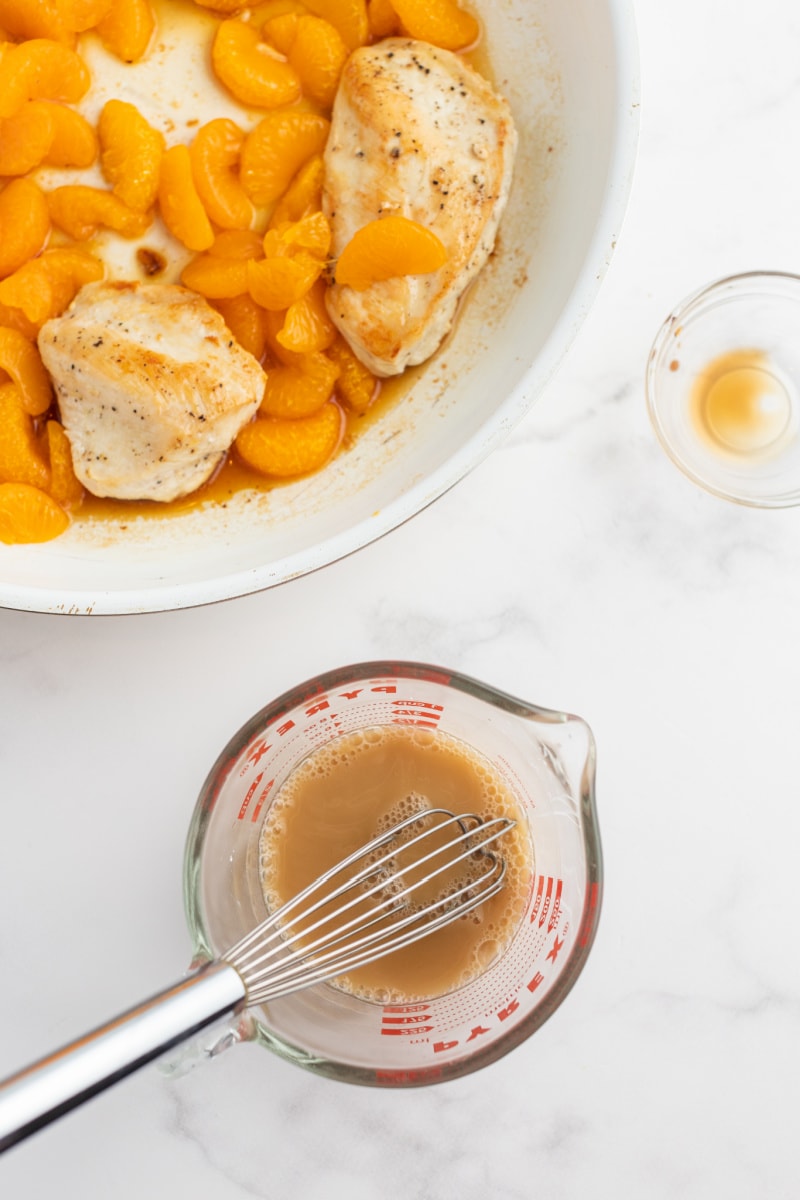 How to make Weight Watchers Asian Chicken with Orange:
Heat the sesame oil in a pan. Why sesame oil? It has a great Asian flavor. You can use canola or vegetable oil, but you'll miss out on that flavor we're looking for here.
Salt and pepper the chicken breasts and cook them in the hot pan until golden brown on both sides. I generally like to buy the thin-cut chicken for recipes like this. It cooks faster and evenly.
Add the canned mandarins to the pan, with ¼ cup of the liquid from the can; simmer.
Mix the chicken broth with the soy sauce and cornstarch.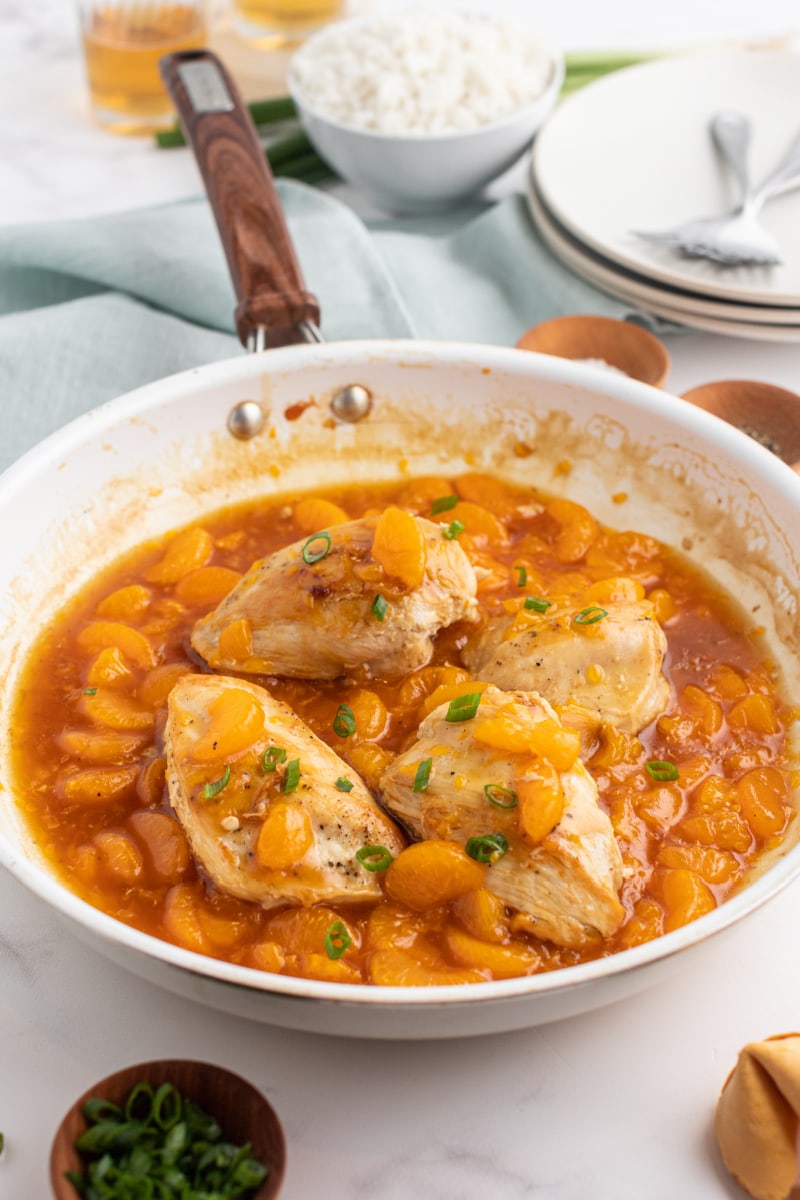 Add the sauce to the pan and simmer until the chicken is cooked through. Sprinkle chopped green onion on top, for garnish, if desired.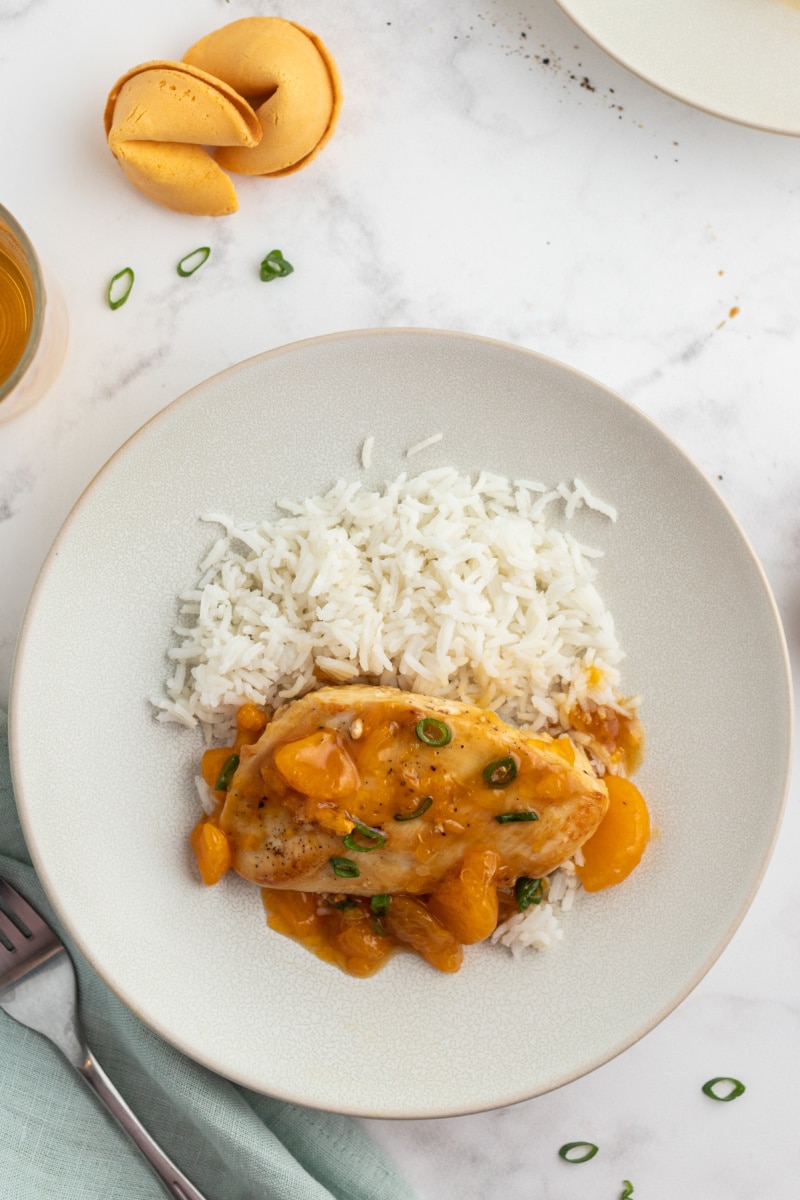 If you follow any of the WW plans, you count 5 blue or purple dots or 7 green dots for that chicken and sauce. If you are serving it over rice, plan to count the rice as extra points.
If you're not following any type of meal plan, you can just enjoy this Weight Watchers Asian Orange Chicken as a lighter, super easy-to-make chicken dinner. This recipe does not have a heavy and sticky Asian orange sauce. It is a lighter sauce with an orange flavor. We love it in my house and hope you like it too. It might even be on your "redo" list. Enjoy!
Weight Watchers Asian Chicken Orange
This super easy 6 ingredient chicken recipe has Asian flavors and is WW compatible!
5
7
5
Recipe details
Servings: 4 portions
Calories: 210kcal
Ingredients
2

coffee spoons

Sesame oil

16

ounces

boneless, skinless chicken breast

salt and pepper,

to taste

A

15 oz can

orange mandarins,

in light syrup

½

Chopped off

fat free chicken broth

1

teaspoon

low sodium soy sauce

2

coffee spoons

cornstarch

chopped green onion,

for garnish (optional)

cooked rice,

to serve (optional)
Instructions
Heat oil in a large nonstick skillet over medium-high heat. Season both sides of the chicken with S&P; add the chicken to the pan and cook until browned on both sides.

Drain the oranges and reserve a cup of liquid. Add the oranges with the reserved liquid to the pan and simmer for 2 minutes.

In a small bowl, whisk together broth, soy sauce and cornstarch; add mixture to pan and simmer until sauce thickens and chicken is cooked through, about 3 minutes more.
Remarks
The nutritional information is for chicken and gravy only, divided into four equal portions. If you are serving rice, this should be considered a supplement.
If you prepare this recipe as gluten free, be sure to use brands of mandarins, broth, and soy sauce that are known to be gluten-free.
Nutrition
Portion: 1portion, Calories: 210kcal, Carbohydrates: 15g, Protein: 25g, Large: 5g, Saturated fat: 1g, Trans fat: 1g, Cholesterol: 73mg, Sodium: 383mg, Potassium: 612mg, Fiber: 2g, Sugar: 11g, Vitamin A: 758UI, Vitamin C: 30mg, Calcium: 47mg, The iron: 1mg, WW blue smart dots: 5, Green WW Smartpoints: 7, WW purple smart dots: 5